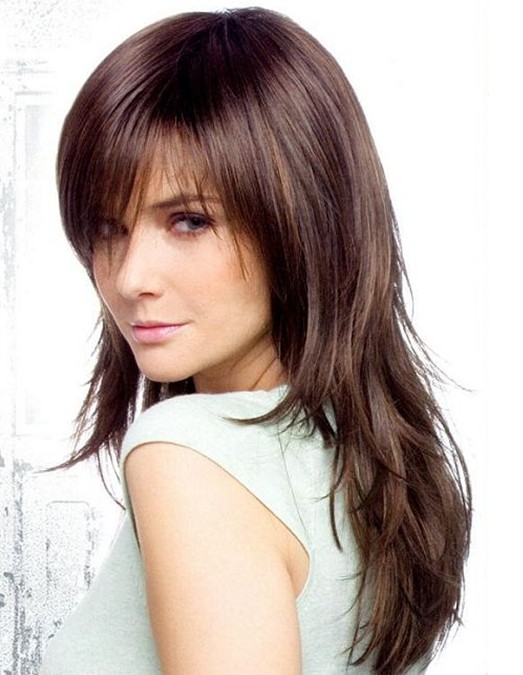 20 Layered Hairstyles For Thin Hair
A suitable hairstyle can always make your life more colorful by giving you more confidence. Any woman with the problem of thin hair may have less confidence to a great degree. However, having thin hair does not mean that you can not try out the proper hairstyles and new hairstyles. Layers can be a simple yet cool way to give the overall illusion of thicker hair. Layered hair styles and cutting hair into different length can offer internal texture and volume to the thin hair. Have a look at these layered hairstyles for thin hair.
A layered hairstyles and adding a few flicks to them will give a stylish look and add more volume to it. The splendid layers can make the cut to look elongated creating an illusion of width and fullness at the bottom. If you have bangs that are neatly tucked behind your ear it will create more fullness adding to the overall volume of the hair. Bangs will add more volume in the front and the viewers' attention will be diverted from rest of the thin hair.
If you have thin and flat hair, a Blunt layered Bob Hairstyles will give you a sleek and sexy look. With lots of layers, the hairstyle also gives the look of thickness and heft. It will help you more confident.
If you have medium length thin hair, then the edges can be given a cool shape. Very lightly layer creates a rounded shape and a little more layering on the last 3 inches of the cut will make more angled style. You can give it a diagonal forward moving line at the side and few light layers behind allowing your hair to gently kiss your shoulders.
To sum up, hairstyles for Thin Hair require a good cut, the right length of hair; suitable hair color can help your hair create volume and movement. Remember that even that you have thin or flat hair texture; you need not to worry since the layered hairstyles can add much volume and shape to the look and make you more charming.
If you like this article, you might be interested in some of our other articles on 35 Short Summer Hairstyles, Long Hairstyles, 26 Hairstyles for Medium Hair and 20 Shag Haircuts.