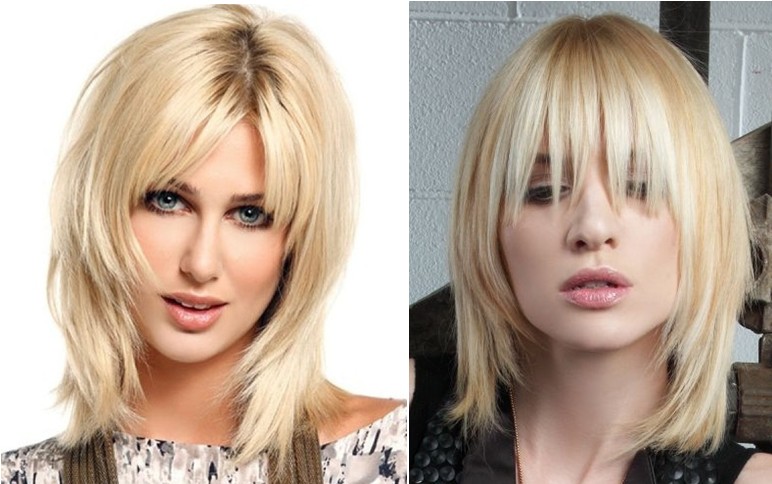 26 Hairstyles for Medium Length Hair:Modern Haircuts
Medium hair is quite versatile since there are a lot of medium hairstyles that you may style with it. In fact, medium hair has the advantages of short and long hair, since it is comparatively easier to manage than long hair, and also can be created into more ways than short hair. The following are several modern medium hairstyles and ideas which you can follow.
Layered Hairstyles for Medium Length Hair
First, we will recommend layered medium hairstyles. Smooth and classic layered haircuts look luscious with medium hair. If you want to create medium length layered haircuts, you can refer these ideas. The style is suitable for people with straight hair. To create straight hair into layered haircut, you need to part them from the middle. Then cut the hair ends into layers in a way that they are flipped inwards. Hold the front part of the hair and then cut it into side blunt bangs to form a lovely look. If you want to style lovely medium hairdos with curly wavy hair, you can follow these ideas. Cut the crown hair into layers, and then cut the other hair into deep layers. The bottom part should be cut into pieces so as to create a tapering ends look. Next, make side sweeping bangs or blunt Cleopatra style bangs with the front part of the hair, to add more to the curly hairstyle.
Choppy Hairstyles for Medium Length Hair
Edgy choppy hairstyles which have become super popular and are a great new change from the boring straight hair. If you want to style the medium hairdos with bangs, you need to create an inverted bob. For this, cut the back hair quite short close to the nape of the neck, and the side hair will be cut a little longer. Then, cut all the hair strands choppy so as to create an edgy style look. If you want to add more to the edgy hairstyle, you can have a razor cut, which will add the wispy ends look and offer a smooth style. Bob has been popular by people from a wide rank of age for many years. The little girl can choose bob since it can make her cuter, while the women can also turn to the inverted bob to stress their grace and charm.
Medium Hairstyles for Braid
Now, let check the braid medium hairstyles which are super trendy. There are a lot of ways to style braids. You can form a simple 3 strand structure, a French plait, Dutch plait or a fish bone braid. In addition, you can create your hair with half cornrows for a fresh and splendid look. For more wow factors, you can choose French braids up-do. It is a cool idea to create splendid hair up-do for medium length hair. Separate your hair to side, and at the lesser part of the separating create 2 mini French braids, and then pull the other hair back, and create a simple bun and fix it close to the nape of the neck with a rubber band. Put on some special dangling earrings to compliment the hairstyle.
Updo Hairstyles for Medium Length Hair
In addition, the updo hairstyles also look cool and charming. Updos for medium length hair are fabulous for formal party and they are also excellent to help you save from a bad hair day. If you are blessed with medium hair then up-dos is a great choice for you. Up-do look superbly feminine and graceful and are quite often created by women in their weddings or other great situations. The advantage of having an up-do is that you can decorate it with a lot of hair accessories which can make the hair look truly special, a fresher look than the old usual manes! Therefore, if you want to learn, how to create up-dos for medium length hair, you can refer the following many up-dos for medium length hair options that you can have a try or ask a hairdresser to make for you. An easiest way to get an updo with medium hair is to brush all your hair back and fix them in a loose bun close to the nape of the neck, using a transparent rubber band. Then pull out several side-strands and strands close to the nape of the neck to create messy look. You can wear the look to school or office. In addition, if you are going to a party with this look then you can accessorize a pair of dangling earrings.
French Bun Hair Up-dos for Medium Length Hair
Another idea is to create French Bun Hair up-dos for medium length hair. Brush your hair well and then create a French bun. French bun is simple to create, while if you are creating for the first time then you can ask a friend for help. For French bun, the hair is rolled in such a way that it helps create a vertical charming bun, which is tied with many hair clips. Then match a pair of dangling earrings or accessorize a floral hair clip.
There are many different kinds of medium hairstyles. When you are fed up with the usual old style, you can choose to create new chic styles. Do not wait any more just choose the splendid and fabulous medium style and then show off it.
If you like this article, you might be interested in some of our other articles on 35 Short Summer Hairstyles, Long Hairstyles, Short Hairstyles and 20 Shag Haircuts.