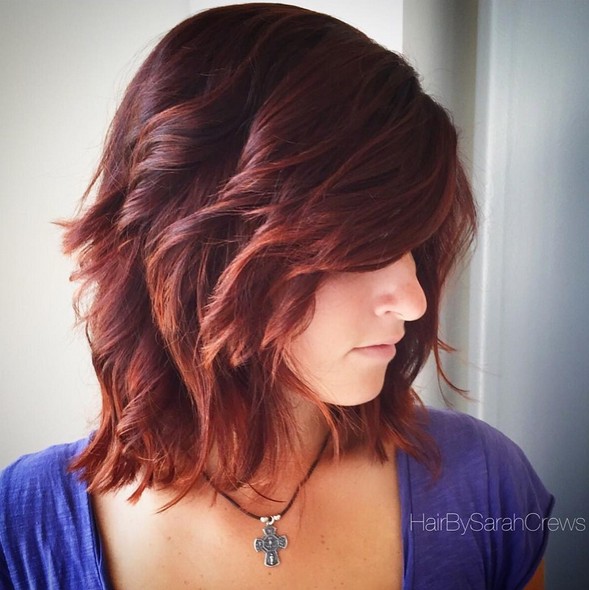 15 Hottest Medium Length Hairstyles with Bangs
You really can't go wrong with medium length hairstyles with bangs right now! Here's a resumé of the trendiest new medium length looks.
Shoulder-length haircuts
One of the most flattering medium length hairstyles with bangs is definitely the long bob, which should just brush the shoulders. This length creates a nicely balanced silhouette, not too long that it drags down your face and not too short to allow you to show off some beautiful natural (or permed) waves.
Edgy shaggy and choppy layers
To be edgy ask for lots of layers and some shaggy, broken layers that will make it easy to get plenty of body and volume. Right now, the key to a high fashion finish is working with the natural texture of your hair, whatever that may be. Women who are confident about their natural appearance are always seen as more attractive by men!
The long bob medium length hairstyles with bangs
If you have fine hair, then short or medium length hairstyles with bangs are the best choice for you. The choice is very wide and so you'll find it easy to get the perfect shape for your face, with or without a slanted fringe. Medium cuts will definitely make your hair look thicker and if you add a fringe, from a side-parting, you'll be totally on trend!
Asymmetrical medium length hairstyles with bangs
The A-line reversed bob is one of the most popular medium length hairstyles with bangs this summer. If you have an oval face, style your bangs off your face at the sides to create face-flattering wings around the forehead.
Latest trends – pageboy haircuts
The medium length hairstyles with bangs that are just coming into fashion, include the pageboy haircut. This is a well-loved classic style that is shorter at the front and longer at the back. The graduated layers in the hair around the face create a softly sweeping line down to the sides and back.
Most pageboy cuts have a featured fringe and this is definitely one of the up-and-coming new hair-fashion trends to watch.
Blunt cut or sliced layering?
If you have fine hair get blunt cut layers, which will make your hair seem thicker at the ends. However, on coarse thick hair make sure you get 'sliced layers' that make the hair much easier to manage and with a smooth, face flattering shape you'll love!
Why not take a look at our 'just in' gallery of fabulous, new medium length hairstyles with bangs and find your best new look today!