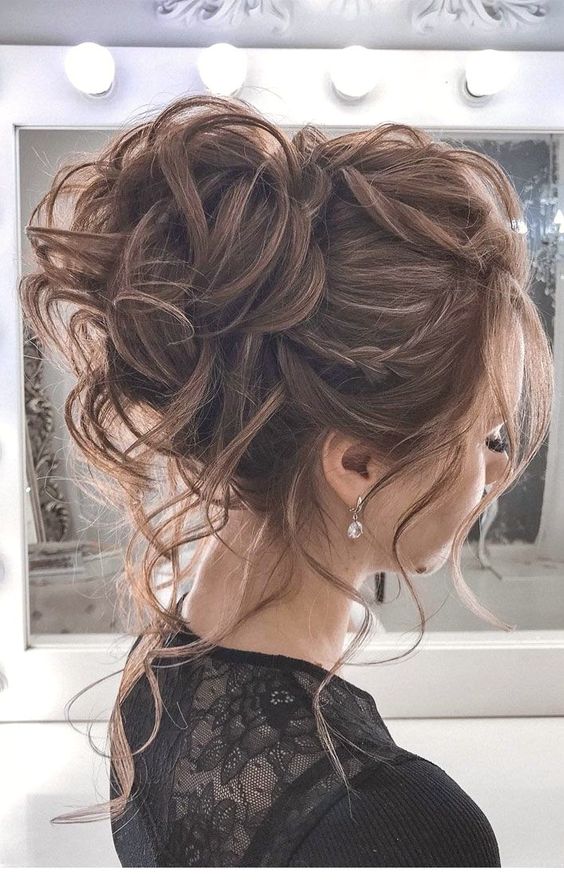 10 Wedding Updo Hairstyles for Women
Your wedding day is one of the most important, special days of your life. As the bride, all eyes will be on you and your style will be immortalized in countless photographs you'll likely keep around for life. That being said, it's natural to want to look your best on your big day.
These 10 wedding updo hairstyles for women combine classic, timeless style with modern trends to create truly gorgeous updo styles that are not outdated or overdone. They are also comfortable for all-day wear during your ceremony and are surprisingly simple, so they're definitely practical for weddings on a budget. Every bride deserves to feel nothing short of beautiful on her wedding day, and choosing one of these wedding updo hairstyles can help you look and feel your best on your special day.
1. Curled Bun Updo with Floral Headband
This classic curled bun updo is perfect for brides-to-be who are hoping to achieve a delicate, feminine style for their upcoming wedding day. It is simplistic without being boring and detailed without looking too over the top.
A gorgeous metal headband with sparkly floral accents adds feminine style to this bun. This wedding updo also features strategically placed loose strands that give it a more natural, carefree finish.
2. Braided Bun Updo with Butterfly Clips
This braided bun is teeming with texture, volume, and eye-catching details that make it a truly one-of-a-kind wedding updo for any bride.
Several light pink butterfly clips are gathered around the base of this bun to add feminine style to this wedding updo. These delicate butterflies give this classic braided bun updo a unique finishing touch without stealing the spotlight away rom the rest of the hairstyle.
3. Voluminous Curled Bun Updo with Bangs
It can be a challenge for brides with bangs to find a wedding updo that works with their hair. More specifically, finding a wedding updo that accommodates fringe can be tough.
If you're a banged bride-to-be, don't give up on finding the perfect wedding updo for your hair just yet. This gorgeous, voluminous curled bun updo is designed to gracefully accommodate bangs for an elegant finish that looks totally seamless and streamlined.
4. Double Bun Updo with Flower
If you have thin or fine hair and are looking for a wedding updo that will create the illusion that you have more hair than you really do, check out this double bun updo.
This gorgeous wedding updo features two buns with plenty of teasing at the base of the bun for added volume. It also includes a beautiful, delicate flower accent that adds balance and feminine style to this double bun updo.
5. Simple Braided Bun Updo
If you plan on dancing the night away at your wedding and don't want  your hair to fall out of place, this ultra-secure braided bun updo might be perfect for you.
This simple braided bun updo is a classic wedding updo that keeps your hair looking beautiful and out of your way through your ceremony, reception, and beyond. It adds volume and texture to your hair, and even gracefully accommodates a few loose strands.
6. Twisted Updo with Tiny Flowers
This twisted updo is a timeless style that includes plenty of eye-catching, delicate details that won't take too much attention away from the rest of your look.
Tiny flowers around the base of this twisted updo to give it delicate, feminine focal points. If you want to show your eye for detail, match the flowers in your hair with one of the types of flowers that you include in your bridal bouquet.
7. Low Bun Updo with Beaded Hair Accessories
This low bun updo is beautiful all on its own. It features elegant twists and gorgeous braided detailing at the base.
Strings of elegant pearls and sparkly beads are threaded throughout this low bun updo. These beaded hair accessories give this wedding updo a whimsical, magical finish that makes it all the more memorable.
8. Messy Bun Updo with Side Braids and Loose Strands
Messy bun updos are all the rage for modern brides these days. These messy-on-purpose knotted updos are super trendy and effortlessly flattering.
This messy bun updo features strategically placed loose strands of hair and side braids at its base to create a gorgeous, tousled style that will stay in place through your ceremony and reception.
9. Classic Low Bun Updo with Side Braid
Keep it simple with this classic low bun updo. The bun itself combines classic style with a modern twist for an effortlessly trendy finish.
Loose strands of ringlet curls in front and a simple side braid add eye-catching detail and unique style to this low bun wedding updo without detracting from its refreshing simplicity.
10. Voluminous Low Bun Updo
This voluminous low bun updo is very versatile and coordinates with virtually any bridal attire.
You can add hair accessories to this low bun wedding updo to make it your own, or leave it as is to achieve a simplistic wedding updo style that is effortlessly flattering for any bride.