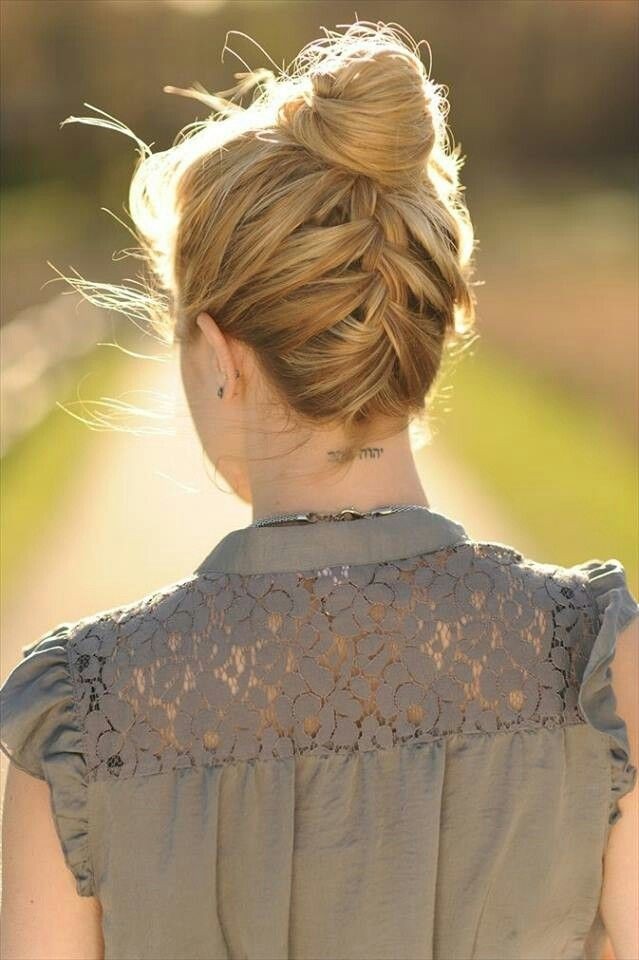 15 Braided Bun Updos Ideas
Braided bun is always gorgeous and stunning. It has been a commonly opted by people with strong fashion sense. The romantic and fabulous braided bun is great for night out and cool for the wedding.
If you have medium or long hair, you can try out many creative braided bun hairstyles to enhance your personality. You can choose the dressy braided bun hairstyles or the casual ones according to your mood and the occasions. This flowing are just a few selected braided buns from which you can choose the most suitable one to make others admiring.
Cute Braids Bun Updos: Holiday Hairstyles /Via
This is a fabulous bun with side braid which adds fun and romantic factors to the whole look. This adorable hairstyle is better for people with long or heart-shaped face. The awesome bun is full of glamor and romance. It is great for sweet date. A bit of hairspray help maintain the loose pieces of hair well.
Simple Bun Updos Pairs with Loose Braid: Prom Hairstyle /Via
The simple bun pairs with loose braid rope offers a classy and creative look with fun and ornate lines. The awesome and gorgeous t braid messy bun is great for the holidays or a night out! The textured hairstyle is great for people with long hair who search for a fabulous and artistic hairstyle.
Bun Updos with Cute braids: Back View /Via
This is a fabulous hairstyle with cute braids that add many cool factors. This is a super high bun hairstyle with a cute braid twisted around it. This glamorous braided bun creates the ideal mix of casual and sophisticated. This appealing bun works better on straight long hairstyle. The modern hairstyle can earn a number of head-turns. Some hold hairspray can help maintain it in great place longer.
Gorgeous Low Bun Updos with Braids /Via
The smashing with a sweet and luscious side braid is quite trendy and totally romantic. The crafted braid adds fun and romantic factors to the seductive bun. It is of high fashion and works greatly on medium and long hair. The stunning twist hairstyle can be your option for bad hair days. It is sure that the luscious bun can earn you admiring glances. You can add some accessories to make the bun more stunning.
Four Braid Bun Updos: Updo Hairstyle Tutorial /Via
This ornate braided bun hairstyle is radiant and magnificent. The breathtaking elegant up-style is very 3D, full of motion and romance. This dramatic braided bun looks spectacular and delectable bun created with four braids is quite cool for formal and informal events.
Super Vintage-Inspired Braided Bun: Updos for Little Girls /Via
This is a super vintage-inspired braided bun which looks delicate and stunning and is full of unpretentious sophistication. The stunning bun can enhance your charm and grace greatly.
Messy Low Bun with Double Braid: Hairstyles Tutorials /Via
This double-braid-boho-side-bun looks unique and attractive. The front hair is braided loosely down until the ear level. The remainder is dragged to the side and twisted into a low bun. It offers people an elegant and fun look. This charming up-style with braids is a true eye catcher. This stunning bun is great for hot summer days.
High Bun Updos for Braid: Updo Hairstyles Ideas for Summer /Via
Braids Bun Updos Ideas: Prom Hairstyles /Via
Braided Bun Tutorial: Formal Hairstyles /Via
Casual Braided Bun Tutorial: High Bun Updos /Via
Easy Bun Updos Tutorial for Prom /Via
Chic Braided Bun Hair Styles /Via
Cute High Bun Updos /Via
Braided Bun for Curly Hair /Via