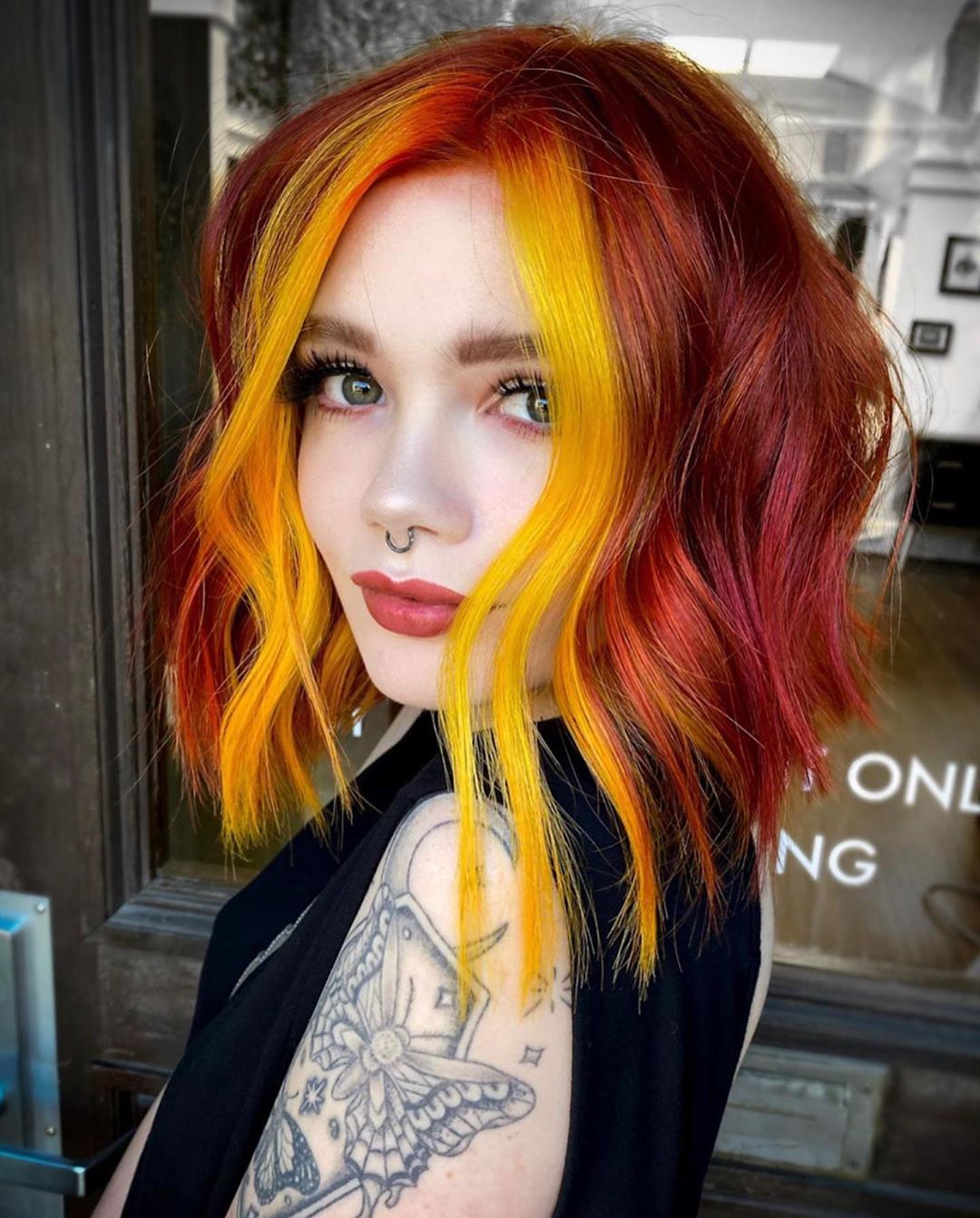 10 Shoulder Length Haircuts & Color – Fancy Triple Colors!
We're accustomed to seeing more than two colors in our shoulder-length haircuts and color, but not like these new designs! These hairstyles are a lot bolder and more futuristic than we've seen before. And they work well as easy-care, special occasion and daily hairdo's. So if you're a trendsetter and love having an arty, boho look – get a load of these fabulously bright, new color combinations!
1. Green & magenta on ivory blonde – shoulder length haircuts & color ideas
This is an edgy, ultra-modern shoulder-length hairstyle cut with heavily textured tips and a messy vibe. The main silhouette is a long, inverted bob or 'lob' haircut. And the finish is windswept and casual, so it's easy to style and will stay 'messy' all day! LOL! The inspired pairing of forest-green with magenta, introduces two, strong, complementary colors that are nicely balanced by the ivory-white blonde.
2. Ultra-modern deep-green roots on platinum-blonde – shoulder length haircuts & color ideas
Here's another fantastic fantasy hair color idea on a glam shoulder-length haircut. The dark-green roots are a totally fresh and original twist. And the colorist has blended them in perfectly to lime-green and pale yellow tones half-way down the head. But there's even more to come, as the lower lengths have a lovely hint of purple on the platinum-blonde waves. This hair color idea is the perfect choice for green-eyed gals!
3. Choppy ends on wavy cut with canary yellow ombré – shoulder length haircuts & color ideas
And this is yet another totally new idea – matching up a natural-blonde color on top, with vibrant canary yellow ombré! It's a daring and wonderfully eye-catching look to pep-up any long bob haircut. The colorist has lightened the dark-blonde/mousey-brown base to a subtle-blend of neutral-beige colors to frame brown eyes beautifully. And then the look changes completely to vivid, artificial yellow for a trend-setting look!
4. Copper, red & warm yellow – shoulder length haircuts & color ideas
This look is not only glamorous, but also designed to bring out the cool, blue color of the tattoos and the green in the model's lovely eyes. Although copper hair-color is generally seen as a warm color, this is a red-copper shade that suits skin with cool undertones best, as red is a cool color. But the colorist has also mixed orange and warm yellow into a carefully balanced contemporary color design. And the red 'stain' in the center-part echoes the fashion in India for decorating the parting with red!
5. Purple, blue & white-blonde – straight lob haircut with textured tips
This white-blonde color can only be achieved on hair that is naturally blonde or fair, as lightening darker hair this many shades would be bad for the hair's overall condition. But if you have cool skin undertones and light hair, this is a fab, futuristic look! Purple and royal-blue roots are definitely new and very flattering to anyone with blue eyes. The stylist has left the hair medium-long, without layers, which is a good style for fine hair types.
6. Delicate shades of lavender, white & gray on wavy center-part lob
We love how this dainty, romantic look is 'undercut' by the model's sham-shabby, moth-eaten sweater! It's a truly trend-setting idea, contrasting an expensive and well-groomed haircut with 'worn-out' clothes. But it all works beautifully, with the soft gray roots gently changing to faded lavender and white balayage-ombré. And that creates a vintage vibe, reminding us how moths used to love eating real wool! The center-part accentuates the symmetry of oval faces and lighter, face-framing strands finish a very flattering style.
7. Luscious chocolate highlights on wavy, brunette lob haircut
This is a great example of subtle glamor with only two colors keeping the look fairly natural. The rich chocolate vertical highlights reflect more light than the model's dark natural hair color. So the sinuous waves are accentuated and the healthy, shiny condition of her hair is more noticeable. This is a great style for medium to fine hair, as it's medium-long, with no layers – keeping all the natural thickness.
8. All-over yellow blonde layered haircut with bangs
Wow! If you thrive on attention and love to rock a high-fashion look, this all-over yellow haircut is the way to go! Canary yellow exploded onto the hair-color scene for the very first time last season and its popularity is growing fast. The long, layered cut is suitable for medium and fine hair types, but not for thin hair. And the color scheme has yellow at the top, with orange roots in the center section, switching to yellow again at the ends. Not forgetting the touches of blue-green at the tips and in the fringe! Unforgettable!
9. New blue-silver-gray on wavy long bob
This clever colorist has created a super new color with blue balayage highlighting defined waves on a gray and platinum blonde base. And it looks absolutely marvellous! The color-finish is shimmering metallic silver, with beautiful balayage colors and white blonde reflecting the light. And that accentuates the defined waves that separate to show the root color for extra, 3-D color dimension. It's a great style for medium to fine hair adding lots of volume, movement and texture!
10. Long to shoulder-length makeover cut plus blue & magenta balayage
And today's final surprise is this groovy new look that will make-over your boring straight, long haircut into a dynamic fantasy look. This is a great look for parties and it's very easy to style and then let the colors add the trendy style. The basic haircut is a steep inverted bob, with an off-centre parting that suits oval to slightly rounded face shapes perfectly. The cool colors of magenta, blue and gray will flatter skin with cool undertones. And this strong look balances really well with the model's black, square glasses.
Fantasy colors are gaining more ground with every season, as creative hair-colorists discover the freedom of using the whole rainbow! It's amazing to think that The Simpsons started all of this with Marge's bright blue hair so many years ago, isn't it?