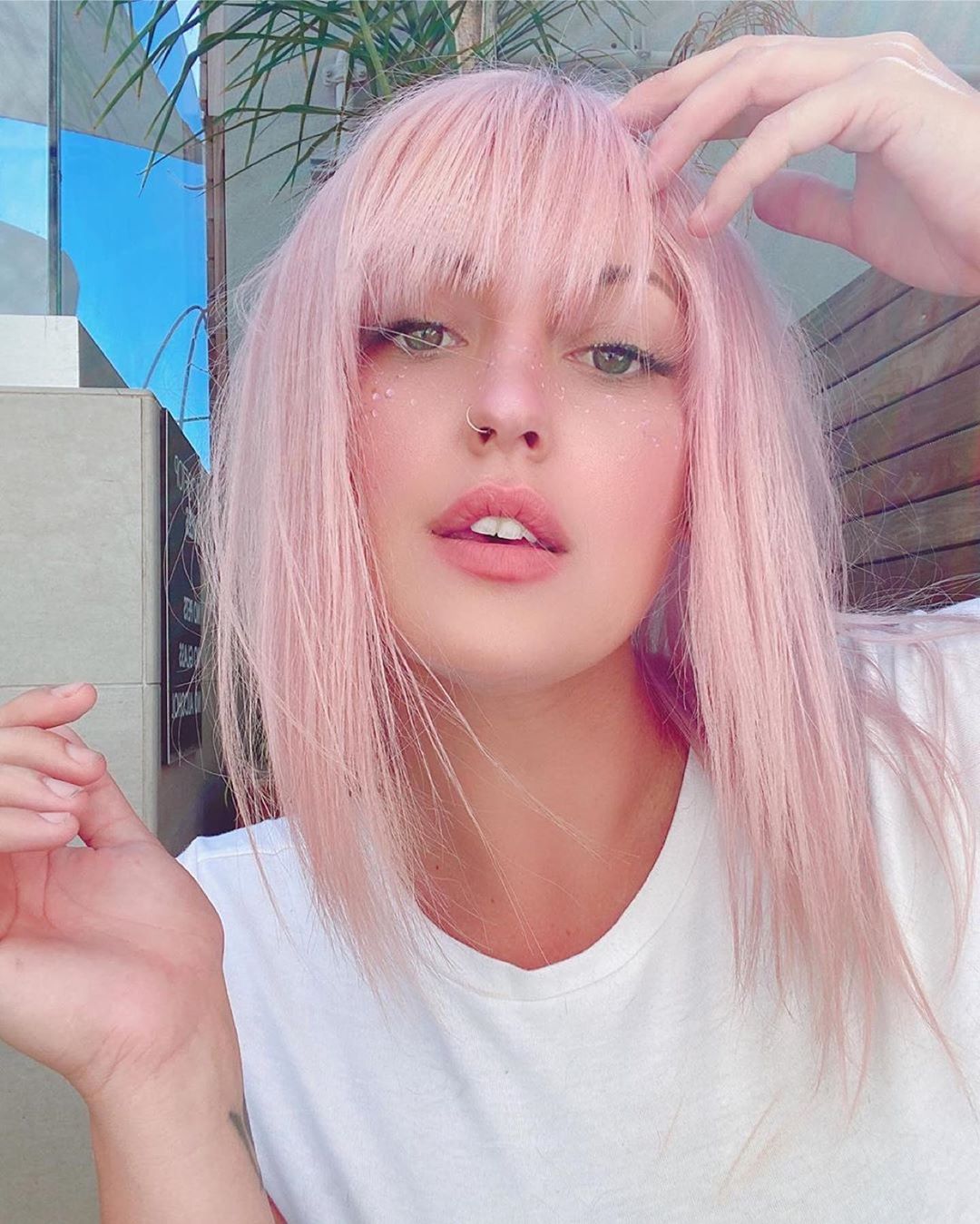 10 Lob Hairstyles for Straight Hair in Fantasy & Blonde Colors
Are you adventurous and daring with your hair color? If so, you come to the perfect place to keep up-to-the-minute with new fantasy colors and blonde trends. These fantastic hair color designs have been done by expert colorists with amazing artistic talent! So if you're looking for something extra-special, and totally original, take a look at these fabulous lob hairstyles.
1. Fab fuchsia with salmon-pink ombré – lob hairstyles for straight hair
With dark roots just showing, before the strong pink middle that fades gently into salmon-pink ends, this is an eye-catching look. The model is projecting a trendy, 'rock-chick' image with her T-shirt and jewellery. But this color design will work with most fashion styles. Fashionable asymmetry is here, too, with one side several inches shorter than the other.
2. Shocking pink with face-framing balayage – lob hairstyles for straight hair
This vivid shade of pink has more purple tones, so it's nearer to the heliotrope flower color. Pink colors are basically cool shades, so you need skin with cool undertones to get a flattering look. Candy-floss pink highlights around the face add lots of interest and style to a straight style. And there's a hint of gold at the front parting! A casual tousled finish adds a relaxed vibe and extra texture and volume!
3. Bone-white with rainbow roots – lob hairstyles for straight hair
Here's a fabulous look that only a talented colorist can do for you. So make sure you choose your salon carefully when you go in for this artistic look! It's a look for women of any age, by the way. As women with naturally white hair are becoming more adventurous with their color designs, now that white and gray are so fashionable! With so much harmonised, cool rainbow color, this style is full of texture and movement!
4. Ice-white cut with icicle-blue roots – lob hairstyles for straight hair
This is definitely a 'less is more' look that's ultra-chic! The ultra-straight fall of hair is emphasised by subtle palest-blue vertical highlights. And this creates beautiful straight line texture and movement down to the lightly point-cut tips. So the uneven ends add extra texture that contrasts with the neat lines above!
5. Stunning medium gray top with orange-fire ombré
With dark eye color this model had warm or neutral skin undertones, which mean medium-gray and fiery orange suit her. But you need an expert colorist to advise you on such extreme color duos. The center part is great for anyone with an oval face shape and creates a cute face frame. And with such dramatic colors, you can see that no waves or curls are needed to add interest to this eye-catching and fabulously trendy look!
6. Deep pink roots on orange medium hairstyle
Orange is a strong trend this season and matches lots of different shades for exciting, new hair-color designs. I absolutely love the deep, raspberry pink roots that transition to a glorious orange shade! Such strong colors don't need lots of fancy styling. But with medium straight styles, you always have the option of adding waves for a change!
7. Cute all-over baby pink long bob style with full bangs for fine hair
This is such an adorable look for anyone with cool nor neutral undertones to their skin. We all love baby pink, because it reminds us of babies! This is a great style for fine hair, which isn't too long that it looks thin. And tousled styling adds volume on medium length hair. And that lovely long, full fringe draw attention to the model's pretty green eyes!
8. Brunette to white-blonde makeover on straight medium haircut
This is definitely a makeover you shouldn't try at home, as it's needs careful attention to lighten hair through so many levels with bleach. But you can see this colorist is an expert in her work by the lovely condition in the finished style. I love the trend for softer gray roots, instead of darker colors. And they make interesting vertical texture, down to trendy point-cut tips!
9. Casual ash-blonde medium hairstyle with curvy shape
There's a definite touch of glamour to this relaxed medium-length haircut. The blonde color is a lovely blend of beige and ash-blonde, with a gentle beige ombré. Height above the forehead creates an attractive curve focussing attention on the eyes and lips. And the curved tips create soft, attractive lines around the collar-bone!
10. Fab long to medium makeover in trendy natural blonde tones
Makeovers from long to medium hairstyles can be the best beauty decision you ever make. Long, healthy hair is attractive, but shorter styles win in the style stakes! I do tend to feel that long hair draped across the front of your body hides a feminine shape. But hair cut to collar-bone length of slightly long creates better overall proportions. And you get more natural volume from hair that isn't lying long, heavy and flat!