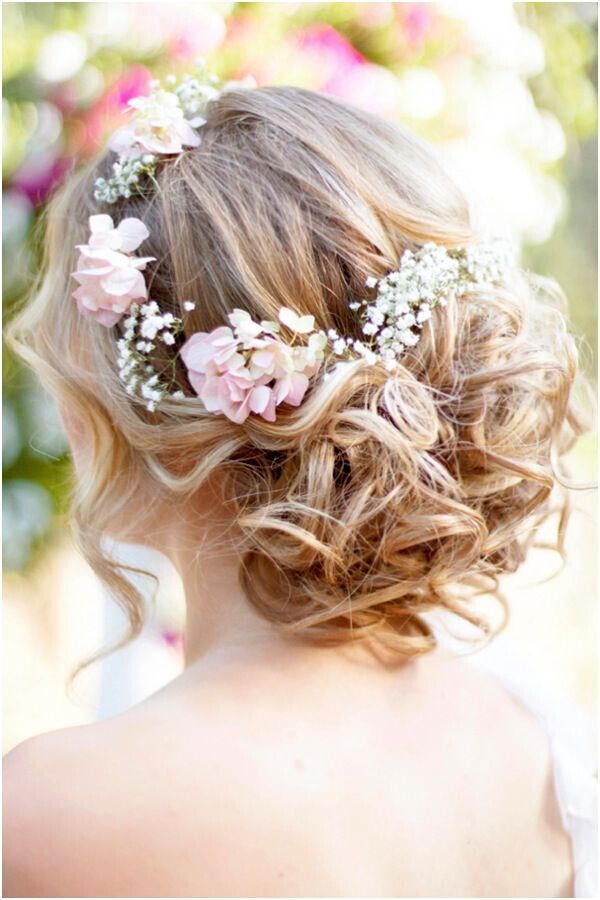 8 Wedding Hairstyle Ideas for Medium Hair
Choosing the best wedding hairstyles for medium hair need not be a worry, as there are lots of attractive new styles to choose from this season. The big thing to remember is that you should look like yourself, with just a couple of extra touches to mark this special day.
Bridegrooms in general don't like their bride to be unrecognisable as she walks down the aisle, with an over-elaborate hairstyle and too much makeup!
This year's wedding hairstyles for medium hair are full of trendy new styles for those who enjoy being totally up-to-the minute mixed with some simpler, traditional looks for those who prefer classic style.
Half up half down styles
The half up half down styles are pretty hot this year and an excellent choice for a bride. These wedding hairstyles for medium hair give a touch of formality in the up-styled section, which is beautifully blended with a casual young look below.
Half up half down hairstyles for shoulder length hair /Via
Medium bobs
Bobs are still top of the pops in wedding hairstyles for medium hair and the fashion trends this year include the shag cut, and choppy futuristic layers with uneven tips that add an edgy ragged finish.
Waves of all types are high-fashion these days, making it easy for anyone to be on trend! Fine hair can be layered to give it more volume and then worn with twisty random waves for a modern look, which adds depth and makes your hair look thicker.
Medium Bobs for Wedding /Via
Asymmetrical bobs
Anything that's asymmetrical in your hairstyle will make you look totally contemporary and suits almost every style of wedding dress!   Asymmetrical bobs are a great choice for brides with thick or coarse hair, as they give the hair lots of attractive shape and keep it beautifully under control.
Hair accessories
In addition, this year is seeing a huge interest in wearing pretty or elegant hair accessories. The 'little princess' look for brides is fading now and being replaced with a look that's chic and smart.
Wedding Updos for Medium Length Hair Trends /Via
Wedding hairstyles for medium hair look fabulous with the addition of a white, silk flower. It's simple, natural and more sophisticated than the diamanté tiara – unlessyou happen to own one with real diamondsof course!
There are some fantastic new hair accessory styles and the choice for brides now doesn't have to be between diamanté or white flowers. So dare to be different and show your individuality!
Why not browse our up-to-date gallery of fantastic wedding hairstyles for medium hair and choose your favourite look today!
Romantic Bohemian Wedding Hairstyle for Medium Length Hair /Via
Beautiful updo is the perfect hairstyle to bring out your beauty – Wedding Updos for Medium Hair /Via
Braided Updo Hairstyles: Wedding hairstyle ideas for medium hair /Via
Low Updo Hairstyle with Hair Accessories /Via
Wedding Hairstyle Ideas for Medium Hair /Via