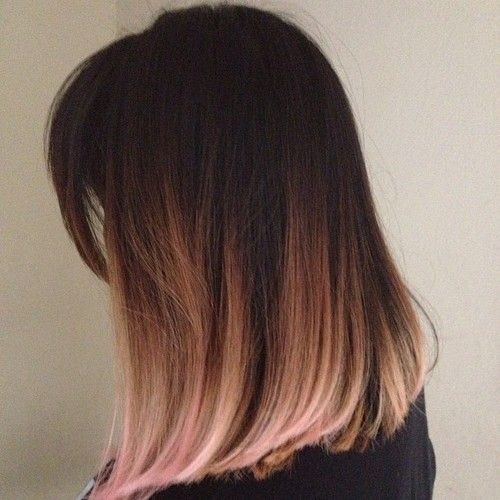 10 Fantastic Dip Dye Hair Ideas
Tired of the same old, same old when it comes to your hair, but don't want to completely change your entire look? Consider dip-dying your locks! With dip-dying, you can shake your entire look up in any color of your choosing. Don't like the color? Dip-dye into another shade and try it on for size. There's tons of different color combos to choose from, but these 10 dip-dye ideas will get the ball rolling.
Black and Aqua: Ombre Lob Hairstyles with Thick Hair
If you prefer to live your life on the dark side, consider sprucing it up a tad with some dip-dye aqua. This creates a mystical, cosmic effect that looks extra daring and unique on a rigid short bob haircut complete with a set of stiff baby bangs.
Dark Brown and Ashy Orange: Ombre, Wavy Lob Hair Styles
Ashy orange has hints of reds and pinks throughout, creating a very stunning effect that pairs up well with some darker brunette roots. Perfect for fall, this dashing duo reminds us of the fallen leaves from the trees, a rich color that's warming and luscious.
Grey and Purple: Chic Shoulder Length Haircut
If you're looking for a hairstyle that's oozing with trendy appeal, a vibrant combination that is sure to turn heads, then consider this look. The upper half of this mane is tinted with popular dark grey shades with a few lighter grey pieces, the ends dipped in a vibrant, look-at-me dark purple hue for a trademark style that's at its height of popularity.
Icy Purple Blue: Stylish Hair Color Ideas
Purple= super popular. Blue= super popular. Purple and blue together= a dynamic duo that couldn't get any cooler OR higher on the popularity scale. This icy purple/blue blend has a hint of white strung throughout for that icy hot appeal that's downright fabulous. If you're in the mood for striking colors, consider this pastel duo.
Blonde Pink: Layered Wavy Lob Hairstyles
For the girly girl who wants a bright and sassy hair color to match her bouncy personality, this is the best option. Bright platinum blonde and sassy bubblegum pink blend together for a super-cute style that's bright and perky.
Brown Blend with Hint of Pink: Shoulder Length Hair for Thick Hair
Love the pink hair trend but don't want to go overboard? By simply tossing in a few hints of pink at the ends of your locks, you can indulge in a bit of girly attitude that's very appealing against a brown base. Make your hair even more lively by opting for two shades of brown on the top of your mane.
Black Purple: Straight Lob Haircut with Blunt Bangs
With a bit of gothic appeal, this black and purple blend is about as mystical as it can get. Dark attitude is strong inside this mane, and it's the perfect pairing for a short, rigid bob haircut with a set of long, thick bangs. Don't forget some thick black eyeliner to finish off this daring, edgy look.
Blue Ombre, V-haircut
Blue hair is ALL the rage right now, but as the season turns warmer, you may want something less sky-blue or pastel, and something more warm and indulgent. Opting for a darker shade of blues, like shown here, is a great way to show off a unique, rich shade of blue in a way that's super trendy and fun.
Brown Lavender
There is something oh-so-sweet and girly about mousy brown hair and lavender tips. It's a delicate blend that works great on a long bob haircut.
Dark Brown Neon Purple
Dark brown hair, when left all one color, can be a bit on the boring side. Spice things up and make your hair a KNOCKOUT by tossing in some vibrant neon purple tips. Neon purple ends instantly shake things up a bit in a way that's super exciting and crazy!