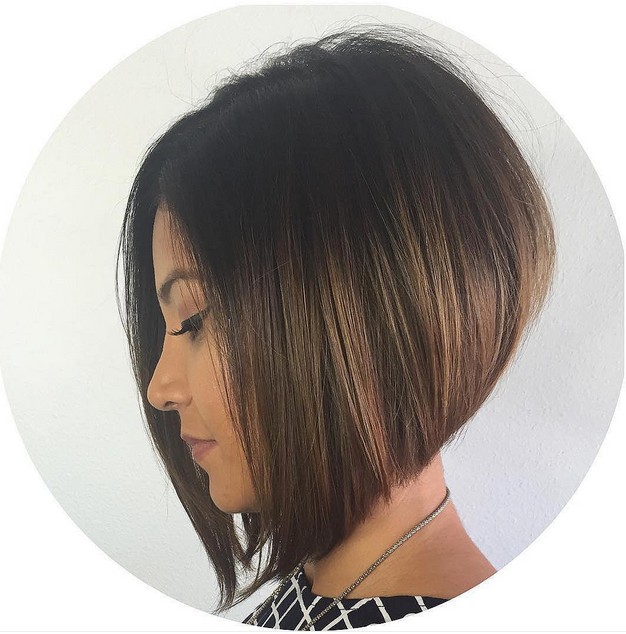 22 Cute Graduated Bob Hairstyles: Short Haircut Designs
With adorable layered stacks in the back and a little length up front, graduated bobs are undoubtedly super trendy and dimensional for a fabulous textured hairstyle that looks good on girls and women of all ages. These 22 CUTE graduated bob hairstyles will take your adorable bob to the next level in a flash.
Light Blonde Blunt Bob
Some graduated bobs have funky layers, others have crazy angles; but where's the graduated bob hairstyle for the gals who love a blunter, more refined style? This dazzling number features a blunt, subtly angled cut that's chic and trendy. Love the light blonde hue, great for summer.
Simple Short Bob
This short bob may be on the simple side with a subtle angle for optimum body and bulk, but it comes to life with her bright, platinum blonde coloring that's downright dazzling. Platinum blonde is a huge color trend for 2016; give it a try!
Messy Volume
Oh, so sexy! That bedhead style is one that's always a hit, giving off that alluring sex appeal. Her messy volume looks great paired with her graduated bob haircut, and the coloring would match perfect with a deep red pout.
Simple Chocolate Brown Subtle Stacking
This bouncy, full-bodied style utilizes tons of lengthy layers with subtle stacking in the back for a very bulky and beautiful finish. Her bodied hairdo is a wonderful option for thin hair, when you don't want to lose too much volume but still want to indulge in a graduated bob.
Casual Graduated Bob with Lengthy Side Bangs
Her haircut has just the perfect amount of angle- not too subtle, yet not too extreme. It's distinct and smooth, and the lighter ends really create a fabulous contrast to darker roots. Of course we're adoring those lengthy side bangs, as side swept bangs are stylish and NEVER go out of style!
Luscious, Full-Bodied Waves
By adding some full-bodied waves to her locks, curling the ends inward towards her face and teasing the crown and sides for added bulk, she creates a very alluring style that would be optimal for date night with your little black dress. Such a sexy, provocative look!
Vibrant Purple
Her fun, free-spirited style is ultra trendy and fashionable, from the blend of lengthy layers dangling freely from front to back, to her vibrant purple hue that's intense and eye-catching. Purple is the IT color for 2016, so you may consider this exotic color during your next trip to the salon!
U-Shaped Back with Chunky Highlights
Her unique, u-shaped cut in the back is enticing and adds loads of bulk to her look for a VERY full-bodied finish. The addition of chunky highlights adds some lovely lightness to her locks, bringing them to life and letting them shine in the sunlight.
Subtle Red U-Shape
Much like the aforementioned hairdo, this haircut rocks a subtler u-shaped back that's funky and trendy. Her light red hair is also feminine and enticing, sure to catch the eye of everyone around.
Volumized Back and Sides
The 'rounded' style is totally hip and stylish, and is really simple to accomplish. Her graduated bob has subtle angles in a U-shape, which allows the ends to curl inward for a fabulously framing style. She also volumizes the back and sides a bit for some added bulk and bounce.
Relaxed Waves and Pink Highlights
A perfect everyday style that's youthful and fabulous, her cute hair features some subtle pink highlights throughout her sandy blonde locks, creating an adventurous and unique hue that's perfect for spring and for summer. Relaxed waves add some flirty volume that's casual enough for beach but coquettish enough for dates.
Extra Lengthy Sides and Combo Colors
We're loving the extra length on the sides of this graduated bob hairstyle, really making this a standout style that's unique and funky. Some vibrant red ends and a touch of black highlights really add some interesting and quirky dimension for a stylish finish that's sure to turn heads.
Messy Waves
Looking for that perfect casual style to go with your shorts and tee? This is it! Her messy waves are a great option for everyday wear, especially during the summertime when being bouncy and cutesy is a MUST!
Tight Ringlets
Who said a short haircut can't rock some tight ringlets? Think again! These tight ringlets are absolutely flawless and head turning, creating a casual look that's great for those high-class events. Pairs perfectly with red lips and your most fabulous dress!
Messy Straight Volume
Just because your hair is straight, doesn't mean it has to be polished down to perfection. Tousle it up a bit for a casual look that's super cute and bouncy!
Relaxed Curls
That perfect, charming style that takes years off your face is easier than you think! This trendy look is cute enough for students or for women over 60, and EVERYONE in between! Relaxed curls are dainty and feminine, yet sophisticated enough for the office or for other important, elegant events; it just depends on your wardrobe!
Casual Waves
Wanting to add just a touch of flirtatious body to your locks? Make it easy by adding some casual, loose waves. They add some lovely, feminine body that can work well in any occasion day or night.
Slick Straight Angled Bob
Loving those stick straight locks, put together with an extreme angle from back to front. The front is left extra lengthy, a few inches below the chin, for a dainty and elegant finish. She leaves her locks slicked down and straight for an edgy 'do that can be worn anywhere.
Blunt Graduated Bob with Full Fringes
Such an artsy style! Her blunter bob is accented perfectly with some full fringes for a symmetrical, bold style that kills.
Simple Straight 'Do
Speaking of simplicity, it doesn't get any easier than this! Her lovely bob is kept short and straight for a delightful, charming everyday 'do that's perked up with some super light blonde highlights and lowlights.
Lengthy Relaxed Curls
When you're craving some cute volume but you're short on time, there's always an answer: some gorgeous relaxed curls. These casual curls look amazing with this lengthy cut!
Simple Flips
Sophisticated styles don't have to be extravagant or over-the-top; in fact, as the old saying goes, sometimes simplicity is best. This simple yet highly elegant do features a bold flip to the ends of the hair, going inward to frame the face perfectly. The lengthy bangs are flipped back in the opposite direction to open the face and showcase her pretty features.
Graduated bobs are always trendy and fun, whether you opt for some gorgeous ringlets or a choppy extra short bob with layers every which way. Pophaircuts.com Which one bob haircuts will you try out next?