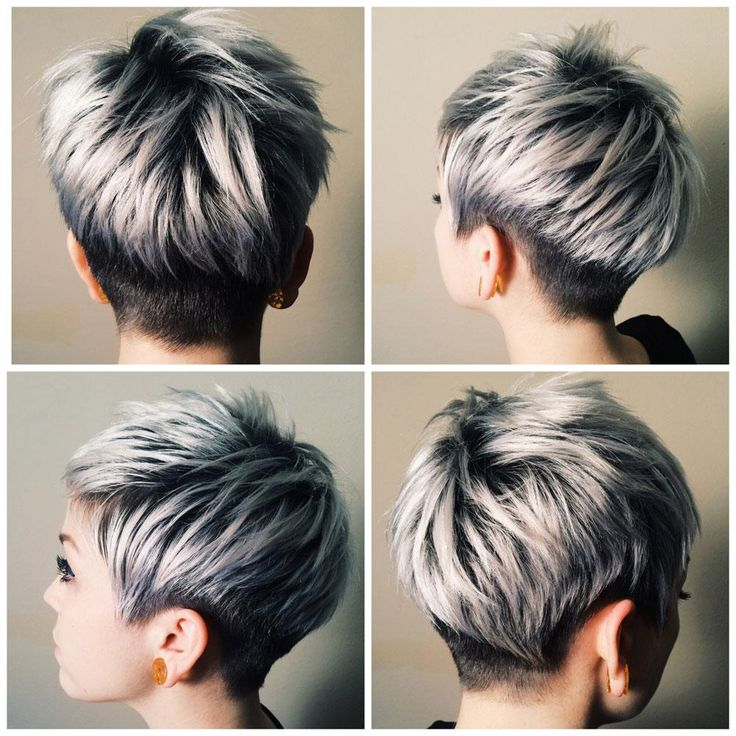 20 Hottest New Highlights for Black Hair
The hottest hair colour trends for Summer, Fall  include ombré, sombré, balayage and dip-dye – which is still a very popular look!
And the selection of colour options for highlighting black hair is wider than ever before in history. You can choose bright platinum, flame red, pink, purple, several shades of gold and contemporary copper shades – to name just a fraction of this season's exciting highlights for black hair!
Latest Highlighting Trends
First of all ombré was a hot look for brunettes, but now it has been taken up by lots of black haired women, who are thrilled to be included in hair highlighting fashions – at last!
Short Hairstyle Ideas: Brown Highlights with Black Hair /Via
Dip-dye, which beauty writers keep saying is 'dead', is actually alive and kicking in salons all over the world! And now even men are wearing dip-dye styles, so it must be here to stay for a while longer.
Can I Go Red?
Red is one of the rarest natural hair colours and one of the most popular shades requested by women in hair salons. Most women can go red and find that the addition of red streaks, stripes or balayage colour accents will warm up their complexion.
Highlighted Hairstyles for Black Hair /Via
The important part is finding the correct shade of red to suit your skin-tone. Therefore, it's best to consult a professional hair colourist first, who is trained in matching hair colour to different complexions in a totally flattering way.
And remember, one of the most common mistakes women make when trying to get red highlights at home, is that the colour turns out bright orange!
Burgundy,purple and navy blue
For sheer sophistication, consider having some of this year's hottest runway fashion colours – they look absolutely fabulous as highlights for black hair – adding a richness and depth to glossy black hair.
Dark Black Hair With Blue Highlights /Via
Tips and tricks
Before you get permanent highlights for black hair, it's a good idea to experiment with Hair Chalk to see which shade you like best. Remember to consider the clothing colours you usually wear next to your face, so your highlights will harmonise with your favourite outfits.
The benefit of hair chalk is that it will cover black hair and create a new look, but you can wash it out quite easily. It can be drying to hair, so always condition your hair well before and after using it.
Platinum and sandy blonde
If you're looking for an edgy look, platinum blonde is the best highlight shade for a rough, 'street' look. And for a strong contrast, that's not as harsh as platinum go for a sandy blonde shade. This will really liven up your black hair and accentuate the texture and movement beautifully!
 Silver Color Highlights for Black Hair /Via
So if you're curious to see the latest highlights for black hair, take a look at these stunning hair fashion pictures that range from soft and subtle to totally radical chic!
Hottest New Highlights for Black Hair: Brianna Perry Hairstyle Straight Hairstyles /Via
Blonde Highlights for Black Hair: Short Hairstyles with Side Swept Bangs /Getty Images
Long Hairstyles with Highlights /pinterest
Short Hairstyles with Highlights: Red with Black Hair /Via
Short Curly Blonde Hairstyle for Black Women: Blonde with Black Hair /Via
Two-tone and a little brown: Chic Pixie Haircut /Via
Black Hair With Blonde Highlights for Long Hair /Via
Stylish Hair Color for Black Women: Fall Hairstyle Ideas /Getty Images
Ombre Hair Styles for Long Hair /Via
Brown Highlights for Black Hair: Shoulder length Hairstyle Ideas /Getty Images
Ombre Hair Styles for Women Long Hair /Getty Images
Ombre Bob Haircut: Blonde with Black Color /Via
Short Bob with Bangs /Via
Straight Bob Haircut: Red Highlights for Black Hair /Via
Cute Bob Haircut /Via
Black to Brown Ombre Hair: Long Hairstyles /Via