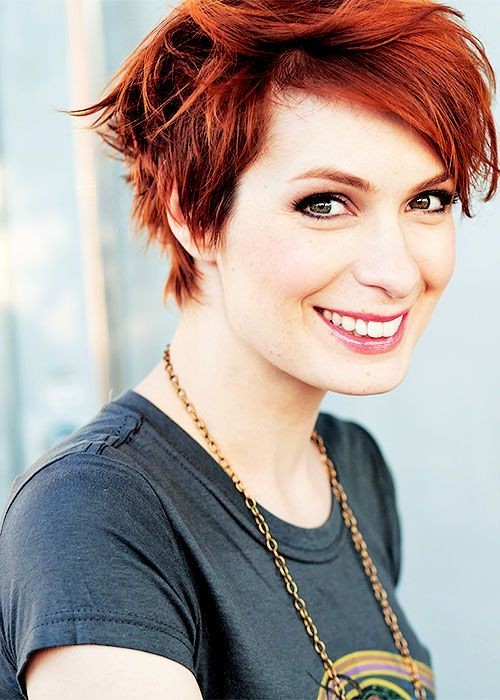 18 Short Red Haircuts: Short Hair for Summer&Winter
With summer coming, more and more people turn to choose a short hairstyle, which looks cool and luscious. Here, we will suggest some fabulous short red hairstyles which look chic and trendy.
Layered short hairstyle is one of the most popular hairstyles that are great for people with a rectangular face and people who bear thick wavy hair texture. To create it, cut your hair getting long layers on top which can create more body to the short hairstyle.
The asymmetrical bob is ideal for women with an oval face shape and it is excellent for women who have fine and wavy hair.
Short curly shaggy also looks cool and fabulous. They can be excellent for women who have smaller faces. Short curly shaggy was a hairstyle that was superbly popular in the 1970s and has been popular recently.
For more wow factor, you can use some other highlights to add a charming touch to your short red hairstyle.
Short Red Haircut for Summer /Via
Girls Hairstyles for Short Hair: Messy Hair Style /Via
Chic Pixie Haircuts for Women: Short Red Hair /Via
Funky Shaved Hairstyle for Short Hair /Via
Red Short Pixie Haircut for Girls /Via
Winter Hairstyles: Short Red Hair /Via
Cute Short Red Hair: Pixie Haircut for Girl /Via
Short Pixie Haircut with Side Long Bangs: Women Hairstyles /Via
Trendy Hair Color for Short Hair /Via
Bob Haircuts with Super Short in the Back /Via
Nice and Attractive Pixie Cut whit Spiky Top /Via
Hair Color Ideas for Short Hair: Shaved Haircuts /Via
Short Hairstyles with highlights: Red with Black Hair /Via
Dark Red Brunette Hair Color Tone is Especially for the Young Stylish /Via
Crazy Daring Hair Color for Short Hair /Via
Bright Red Pixie Cut: Women Short Hairstyles /Via
Short Red Haircut for Straight Hair /Via
Red Pixie Haircut for Women: Side View /Via