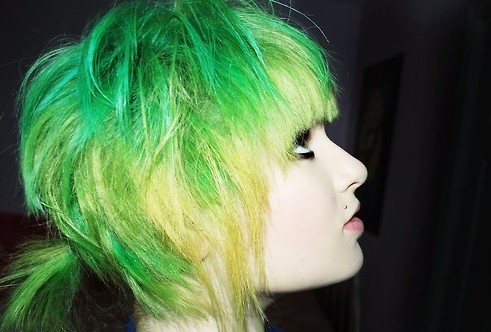 12 Stylish Short Emo Hairstyles
Scene hairstyles are quite stylish and chic. Such a style is created in a way that you cut the upper hair shorter and the lower hair slightly longer. You can also pair it with some deep layer and cool bangs. In addition, for bold effect, you can use hair colors and highlights. The scene hairstyles can be ideal for any girl.
The scene style is actually created with a razor brush where you need to cut the upper hair quite short, the middle part a bit longer and the lower part quite long. The reason of making quite short length at the crown is that it can give more volumes. After you have created the emo scene hairstyle, there will many splendid and fabulous styles for you to choose for your hair.
Straightened scene hairstyles are quite stunning and dainty. They are superbly simple to create and maintain and they look perfect if you straighten it with an iron excellently. You can create some rigid cuts with the help of a razor brash and make the rigid cuts visible. You can take your bangs and create a side parting. You can straighten and brush the hair at the back normally in order to create a pin straight style.
Curly scene hairstyles can make you quite sexy and attractive. You can choose to curl the lower part with a curling iron and get some bouncy waves at your long hair edges. You can part your bangs with the comb edge and create a side parting, pull the upper part from where the bangs begin and brush them back. You can choose a chip to fix the hair, which will look like a half ponytail.
Another cool and wonderful way to create the scene hair is coloring it with some bright colors. The majority of girls will choose to highlight their hair. For girls with black or dark brown hair, a bright color such as blonde, blue, red, burgundy will be ideal. Usually do not highlight your bangs but you also can if you want to try it out. Finally, you can pair the style with some hair accessories like bows, headbands, clips.