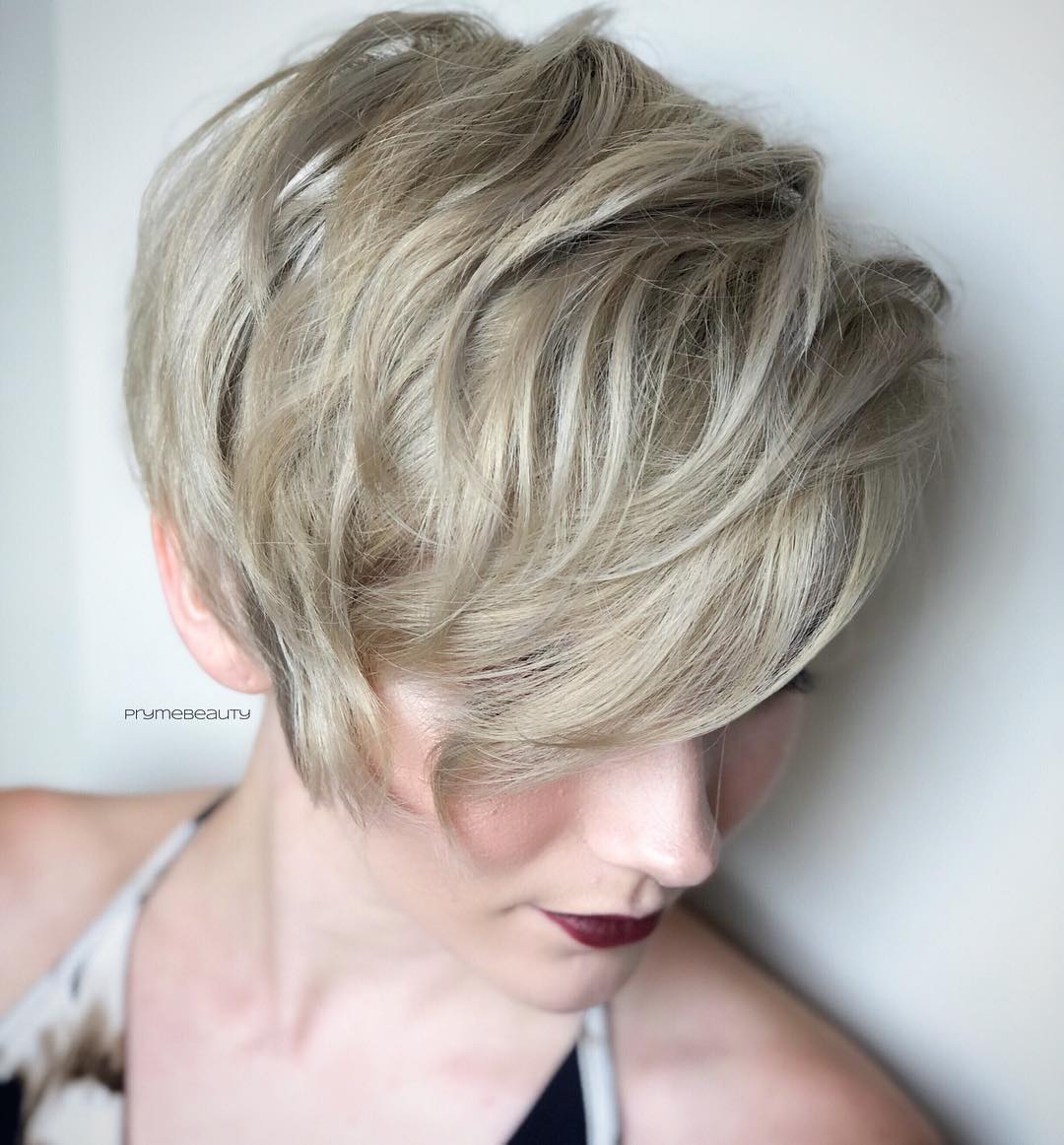 Top 10 Trendy, Low-Maintenance Short Layered Hairstyles
Short layered hairstyles are a top hair trend this summer. The light layers and cropped length of these styles help you shed heavy hair and beat the summer heat. These short hairstyles are also ultra-low-maintenace, which makes them ideal options for quick-style-and-go women who don't like to spend an hour in front of the mirror styling their strands every morning. Check out the ten style ideals in this post to discover the low-maintenace, short layered hairstyles topping the current trend charts.
Asymmetrical Bleached Pixie with Textured Layers
This asymmetrical bleached pixie is a cute and classic, lightweight summer cut that you can style within minutes.
Its short, textured layers add balance to this cut and make styling simple. Start by creating a deep side part. Then, scrunch texturizing gel or pomade through your hair from roots to ends. Lightly comb your ends and curl them under for a polished finish.
Straight Over the Ear Pixie
Stick with a traditional, classy style with this straight pixie cut. Its over the ear layers keep you cool, while straight side bangs add a balanced, trendy finish.
All you need to style this cut is a smoothing spray and a flat iron. Run the flat iron lightly over your layers to smooth and straighten. Use a smoothing spray for additional taming if needed.
Straight Asymmetrical Chin-Length Bob
Get a blend between a pixie cut and a chin-length bob with this trendy asymmetrical style. Its one-sided short layers and deep part give it an adventurous, lightweight finish while its longer layers add style and femininity.
To style this cut, start by creating a deep part on one side to separate your shorter and longer layers. Then just run a flat iron through your longer layers and add a lightweight spray for extra smoothing and shine.
Fiery Red Layered Mohawk Cut with Short Haircut
Go bold this summer with a colorful, ultra-short mohawk cut. Daring, buzzed sides keep you cool while short, spiked layers down the middle of your scalp add an adventurous focal point. A gradient of bright red dye gives this style a pop of color and a rebellious finish.
A subtle, shaved striped behind the ear adds balance and interest to this cut. The triangular point carved out at the nape of the neck gives it an unexpectedly delicate, feminine finishing touch. Style this buzzed mohawk cut in minutes by combing a texturizing gel or pomade through the center layers–no heated styling tools necessary.
Messy Layered Pixie with Volume
This tousled, layered short pixie cut keeps your hair voluminous at all times. Its choppy, long layers in back and bangs in front contrast with its shorter, over the ear layers and deep side part to create a unique, never-boring style.
Keep this style full of volume by scrunching a volumizing, texturizing spray into your hair. Make sure to choose a lightweight spray that keeps your hair in place without weighing it down.
Over the Ear Pixie with Straight Bangs
This blunt, no-nonsense pixie is a simple, trendy style. Its all-over bleach gives it a distinctive style and its straight-across bangs and short layers add a bold finish.
Styling this cut is absolutely effortless. Use a lightweight spray or pomade to gently tame your layers. If needed, run a mini flat iron lightly through your bangs to keep them smooth.
Magenta Tousled Pixie Cut
This bright pink short pixie cut is the perfect blend of delicate, femininity and bold adventurousness. Its magenta hue commands attention while its asymmetrical wispy layers give it a fairy-like finish.
Keep this style light and delicate by minimizing your use of hair products and heated styling tools. Just comb your layers into place and add a lightweight spray only at the roots to make sure they stay put all day long.
Wavy Orange Short Bob with Flipped Ends
Rock a trendy, unique style with this orange flippy short bob hairstyle. The flipped-out ends of this one-of-a-kind bob style has vintage vibes, while its bright, fiery hue gives it a modern finish.
The choppy layers of this chin-length bob add bounce and intentional messiness to this cheerful style. Style this cut with a flat iron to create voluminous waves and flip out the ends of your top layers for a flirty finishing touch.
Rose Gold A-Line Bob with Beach Waves
Rose gold is the top trending hair color this season. It's subtle, feminine, and flattering for a wide variety of hair types and skin tones. This wavy, chin-length A-line bob is the perfect bouncy, flirty low-maintenance summer style.
Style this cut with a flat iron to create subtle beach waves from your roots to your ends. Spray texturizing spray through your hair and scrunch to achieve that coveted, tousled beach-y finish.
Chin-Length Wavy Bob with Highlights
Go lighter this summer with a bright, blonde bob. Slight waves add volume to the roots of this chin-length style, while straightened ends give it a polished finish.
Style this cut with ease using a texturizing spray and a mini flat iron. Use the mini flat iron to create subtle waves at your roots and smooth your ends. Add texturizing spray and scrunch at your roots for extra volume and a tousled finish.