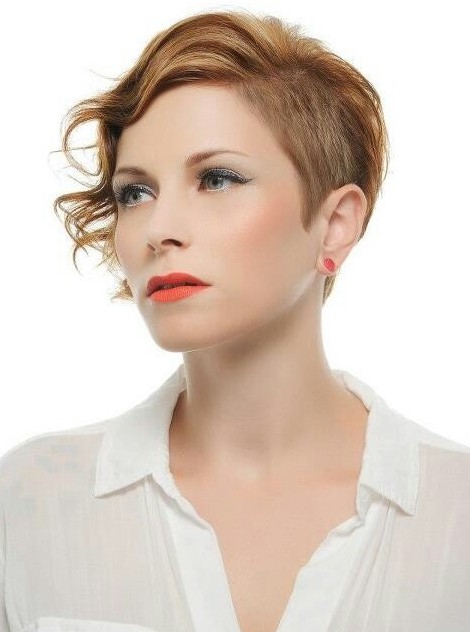 Short Haircut with Curly Hair: Classic Copper color
Shaved sides haircut with curly hair is softly layered throughout the sides and back to lighten the edges and allow the bounce of the waves added for shape and movement.
The short curly hairstyle is soft, natural and with plenty of volume that falls into place on its own. The bangs are created to one side to enhance the face and the entire hairstyle wonderfully. The back of the hairstyle is tapered into the neck, and make short, casual layers till the top and sides.
Styling Steps
Divide the curly hair into even sections-part hair vertically down the middle and again horizontally about halfway down the back of the head.
Create a side part. First, separate the manes into about one inch or more sections. Take each hair section and apply mousse on the manes with your fingers. Place the curling iron close to the roots of the hair and rotate the curling iron to a 180 degree angle, for about 5 to 10 seconds.
Release the section and then wrap it around the finger. Trim the hair section by section and create layers to add much style and charm to the look.
Create various layers to offer much shape and volume to the whole look.