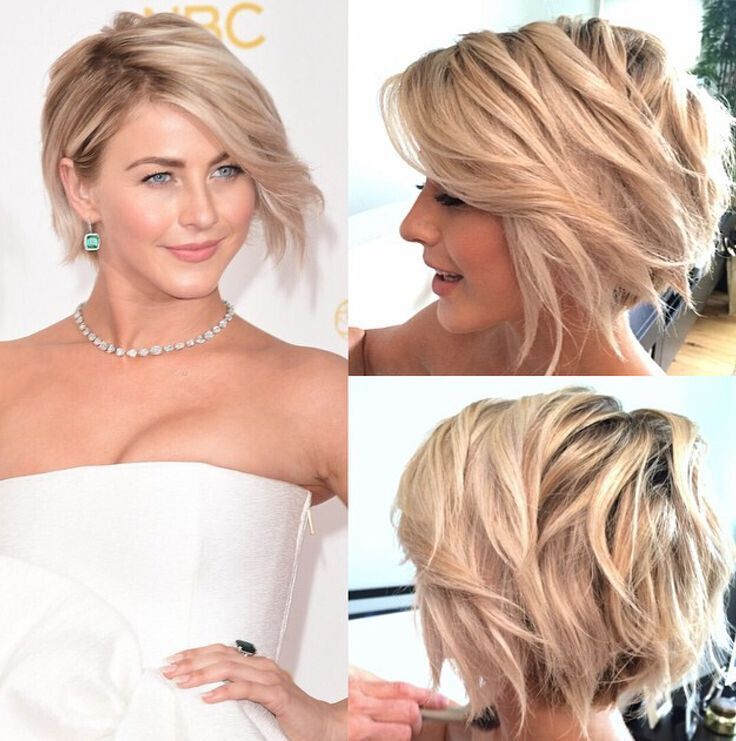 28 Best Short Layered Bob Hairstyles
Layered bobs are incredibly fashionable lately. Short hair is coming back – and with a big bang!  If you're looking in the mirror and feeling that this would be a good time for a new look, you'll be pleased to know that short layered bob hairstyles have the reputation of making women look younger!
Opting for a layered bob will give you a super trendy and textured bob to play with. It will add lots of layers and give you a totally versatile style which looks equally good when straight or curly! If you don't quite believe us, then let us change your mind. Here's 10 super stylish layered bob hairstyles for you to feast your eyes on. We're pretty sure after one look at this amazing gallery you'll be picking up the phone to give your hairdresser a call immediately.
In addition, unlike a lot of the flat, straight styles of the last few years, short bobs are a style that suits all face-shapes and all ages, too! So how do you decide which short layered bob will be best for you?
Silver Layered Bob – Stylish Balayage Hairstyles
Silver is a super cool hair colour which is totally on trend lately. Combining this with a super fashionable layered bob will give you the most on-trend hairstyle in the world. Steal this incredible style by chopping your hair to the jaw length. Graduate the ends so it's longer towards the front than the back. You can wear the hair straight or curly – both will look incredible!
Swept Back Curly Brown Bob with Blonde Highlights
Another layered bob with absolutely bags of style! Chop your hair to a few inches above the shoulder. Work lots of shorter layers throughout the hair. Dye your hair a dark brown colour and work golden highlights throughout the style. Sweep the front section backwards and add lots of bouncy, loose curls from top to bottom.
Brown to Baby Pink Loose Curls – Pastel Shoulder Length Hairstyle
Baby pink is the perfect colour to work into your hair if you're looking for something a little different which is still on trend. Style your super cool layered bob which falls a few inches below the jaw with a pink ombre blend from your natural roots. Add lots of choppy layers to the ends of the hair and loosely curl for a fantastic finish.
Curly Blonde Wedged Bob – Textured bobs for summer!
Wedged bobs are another variation of a layered bob which is super stylish. To recreate this look, add lots of short layers throughout the back of the hair. This will leave a longer section of hair towards the front of the face. Add lots of curls throughout the bob and use a little product on your fingers to tousle throughout.
Graduated Blonde Bob with Ringlets
Longer at the front and shorter at the back – graduated bobs have a stunning staggered end which creates the coolest diagonal line. This graduated bob has the prettiest light blonde shade which we think you should copy! Recreate the style by working lots of gorgeous ringlets from top to bottom for the perfect night out look.
Tousled Balayage Blonde Bob
Balayage will blend two hair colours together seamlessly creating a colour melt. Steal this incredible style by chopping your hair into a jaw length bob. Add lots of shorter layers throughout and roughly curl your balayage blonde hair. Use your fingers to tousle the hair and run your fingers through the curls to make a fantastic finish.
Brown and Blonde Bob with Loose Waves – Women Short Hairstyle for Thick Hair
Highlights can bring your bob hairstyle to life. This hair is cut an inch or so below the jaw. The bottom layer of hair has a deep and dark brown shade. The top layers, which are choppy and stylish, are full of blonde highlights. Add a loose wave throughout the top layers to create a wonderful wavy end result.
Brown to Silver Bob with Curled Under Ends – Ombre Long Bob with Straight Hair
Keeping your bob straight and sleek can be every inch as effective as working lots of curls throughout your hair. Recreate this absolutely amazing style by chopping your hair into a graduated bob which starts at the shoulder length towards the front of the face and chopped short at the bob. Work a deep side parting in and straighten the hair, curling the ends under for an amazing finish.
Tousled and Textured Ice Blue Bob
Ice blue is a super stunning shade which is a blend of a metallic blue and silver shade. This stunning lady has the coolest layered bob we ever did see and we think it's the perfect inspiration. Steal this style by chopping a cool layered bob into your hair. Dye it an icy blue shade and part to the side. Loosely tousle your locks from top to bottom.
Cream, Pink and Purple Bob with Loose Curls
Why stick to one colour of hair when you can work multiple shades together to create a totally unique and stylish end result? Steal this look of pastel perfection by starting with a luscious layered bob which finishes around the jaw length. Dye your hair a cream colour and fill with pastel pink and purple highlights. Loosely curl to show off the colour blend!
Face shape
Everything depends on your face shape, so if you're still not sure what shape your face is; do consult your stylist who will advise you about where to put the layers to bring out your best facial features.
Best New Short Layered Bob Hairstyles – Straight Haircut /Via
This year, the layered look is one of the key haircuts and that's good news for everyone as it gives styles that controls coarse hair and makes it easier to get some volume into thin or fine hair.
Shags and choppy layers
And not only that, the big trend is for shag cuts, choppy layers, asymmetry, ragged tips, waves and curls, there's a wide range of contemporary-casual cuts for all hair types.
Shags and Choppy Layers Bob Cut /Via
Fine hair
On fine hair, the short layered bob hairstyle makes the hair tend to 'puff-out' more and you'll find that a few twisty waves or curls will add volume to make your hair appear thicker.
Ombre Bob Hair Styles for Short Straight Hair /Via
Balayage highlights
Highlights have now moved away from uniform 'stripes' and are being used to add even more depth and dimension to fine hair.
For example, some lighter balayage highlights around the face and sides create the impression of more hair and can be placed to accentuate your best facial feature, too.
Try a short layered bob, with a few highlights in the same colour as your eyes, to bring out their colour in a very flattering way!
Thick hair
On thick or coarse hair, a short layered bob hairstyle can do some effective thinning to produce a beautifully shaped silhouette that will fall into shape very easily after washing.
Layered Bob Haircut for Short Thick Hair /Via
Hair colour
Short layered bob hairstyles are the perfect makeover style for anyone needing a style update, as it's easier to maintain an all-over change of hair colour. This means you can easily apply a trendy new shade at home to brighten up your face with a vivid shade or cover up those grey strands that are such a nuisance!
Short Straight Bob Haircut for Women – Stylish Hair Color /Via
Nothing is more important to your overall beauty look than a flattering hairdo, so get yourself a coffee and browse our fabulous Inspiration Gallery for your perfect short layered bob hairstyle!
Textured Layered Bob Haircut for Straight Short Hair /Via
Straight Bob Haircut for Black Women /Via
Messy,Layered Bob Haircut
Waves Bob Hairstyle Ideas /Via
Amazing Short Straight Bob Hairstyles /Via
Straight Round Bob Haircut for Short Hair /Via
Beach Waves with Bob Cut /Via
Layered Short Bob Haircut for Summer /Via
Bob Hair Cuts for Women – Heart Face Shape Hairstyles for Short Hair /Via
Classy Short Bob Haircuts for Thick Hair /Via
New Short Bob Haircut /Via
Asymmetrical, Layered Bob Cut
Cute A-line Bob Haircut for Girls /Via
Which of these remarkable layered bobs has stolen your heart? Which colour combination do you like the best? We can't wait to hear from you.