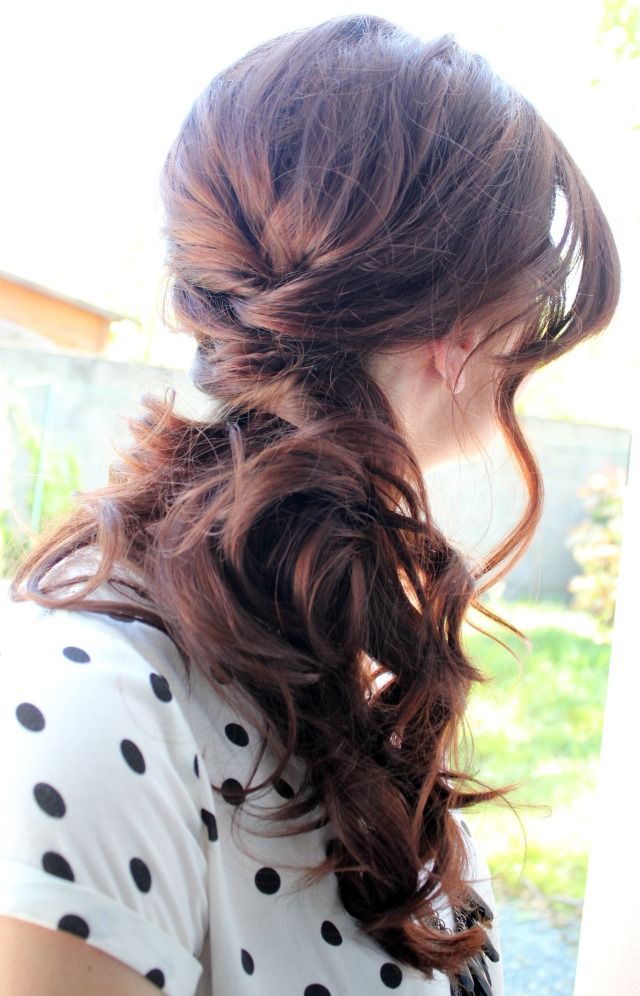 15 Hot Side-Ponytail Hairstyles: Romantic, Sleek, Sexy& Casual Looks for Long Hair
The latest trend for long hair is the side ponytail hairstyles seen at N.Y. Fashion Week, celebrity wedding and lots of red carpet awards. Side ponytail hairstyles have never been so varied and imaginative and they are a great way to get a semi-formal look whilst keeping it contemporary casual.
And with lots of movement and wavy texture, these side ponytail hairstyles are very attractive and sexy, too!
Formal side ponytail hairstyles
When you're wearing a glittery dress for a formal event, it's best to keep your hair simple in a straight, but not 'straightened out' style. On fine, straight or slightly wavy hair natural looking, low ponytails make the perfect side ponytail hairstyles for understated elegance.
Try it with the sides and top lightly back-combed to create some shape and volume and brush back from the forehead and a slightly off-centre parting. Leave the ears uncovered and wear some special earrings to complete this chicspecial-occasion style.
Glam side-ponytail hairstyles for curly hair
This style is best on long, curly hair or you can fake it with a couple of curly hair-extension pieces for a glamorous look that's soft and ultra-feminine. The hair is swept into two side ponytails one above the other on one side.
This creates a lovely double-fall of curly hair down over one shoulder with the top ponytail covering up the base of the lower one underneath.For a different twist at the front, loosely plait the front hair to make a thick soft braid framing the face.
Sophisticated chignon side-ponytail hairstyles
The chignon side ponytail hairstyles create another attractive look with the low side-pony encased in a broad band of hair wound horizontally around the base and top to create a chignon, with the rest of the pony hanging loose underneath.
The ponytail fastener should not be tight as you want to make the side-ponytail look as thick and voluminous as possible. This new style looks fabulous with a wavy side-swept fringe hanging casually over one side of the face and loose wavy tendrils pulled down to decorate the shorter profile!
60's retro side-ponytail hairstyles
For a totally trendy, sleek and professional look try a 60's side ponytail hairstyle! Brush your hair back just before the crown and back-comb it to give it some bouffant volume. Smooth it over and then gather your hair into a loose ponytail set behind one ear.
The pony is curled into a loose long ringlet or barrel curl, with the hair arranged to define the strands that fall beautifully over one shoulder!
There are lots more fantastic asymmetric ponies in our gallery of contemporary side ponytail hairstyles, so why not find your favourite style right now!