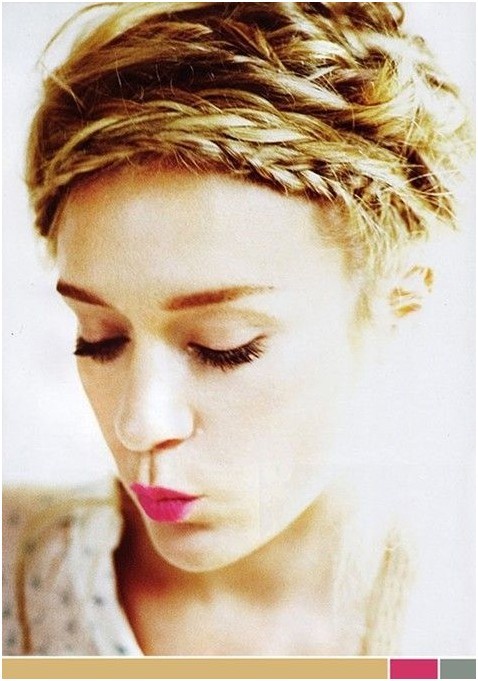 10 Trendy Braided Hairstyles
Many people agree that people will notice your hair at the first sight. Thus, it is of great importance to make your hairstyle more charming and suitable for your face shapes and personality.
Braids always look romantic and fashionable and it can be created on medium and long hair by everyone. Besides, it can be a great savior for your bad hair days and when you want a quick and luscious hairstyle.
Here, let's have a look at different braided hairstyles. Dutch braid is the reverse of a French braid, you braid them under. It sits as a 3-D section above your hair. Waterfall braid is created by letting strands of hair hang loose from a French braid, looking like a waterfall. A braided headband is a small and thin braid that goes from ear-to-ear across your forehead, like a headband. It makes use of the process of French or Dutch braiding to style the bangs into a piece of art. A rope braid is a splendid braid that appears like a spiraling rope strand.
 Cute Braided Hairstyles: High Ponytail /Via
This high and voluminous front and the small cute side braids make the smooth long ponytail special and impressive. The teased up front and the high ponytail contrast each other.
Volumised French Braid Hairstyle /Via
This side braid works best with longer hair. For a more bohemian effect, you can gently pull the braid with your fingers loosely. In addition, you can add hair accessories to it.
Braided Bangs Hairstyles for Long Hair /Via
In this fabulous hairstyle, the bangs are styled into a cute braid. And the hair ends are tucked behind the ear. The rest hair is just left loose. It can be a cool option for your bad hair days and when you are busy to style your hair.
How to Do Waterfall Braid Step by Step /Via
The charming and daisy waterfall braid looks like a great and wonderful piece of art. It is of high fashion. To style it, you may need some skills and it looks better on long smooth straight hair.
Splendid Braids: Wedding Hairstyle /Via
The splendid braided hairstyle can be a great option for wedding and other important occasions. The hair is braided obliquely and the hair ends are fixed with a shinning hair pin. The rest hair is dragged to the side to add more glamour.
Side Fishtail Braided Hairstyle /Via
The amazing double side braids add much cuteness and fun to the long braided hairstyle. The hairstyle can be created for medium or long hair and on nearly all kinds of face shapes. It is perfect for a date night and a good cooperator to dress.
Braid into Low Ponytail /Via
The braided tipsy tail appears super charming and trendy. It works greatly on straight and curly hair texture. The front braid creates more charm to the look. The braid can form a halo around your head, adding a subtle sweetness to the overall appearance. You can choose the way you braid and style it as you wish.
Updos with Braids for Medium Length Hair /Via
The version summer braided bun works for medium-length to long hair. It looks cool and trendy. The double braids make the bun special. It is one of the most welcome hairstyle for all occasions.
Messy Asymmetrical Braid: Low Ponytail /Via
This is a messy asymmetrical braid which is ideal for medium or long hair and it can actually promote personal temperament. When braiding, the tightness can be controlled by yourself.
Boho Crown Braid: Summer Hairstyles /Via
The braided headband Boho crown braid makes the whole hairstyle a perfect piece of art. It can be styled for formal and informal occasions. Besides, it works better on hair without many layers. To make it more luscious, you can insert some flowers or pins.