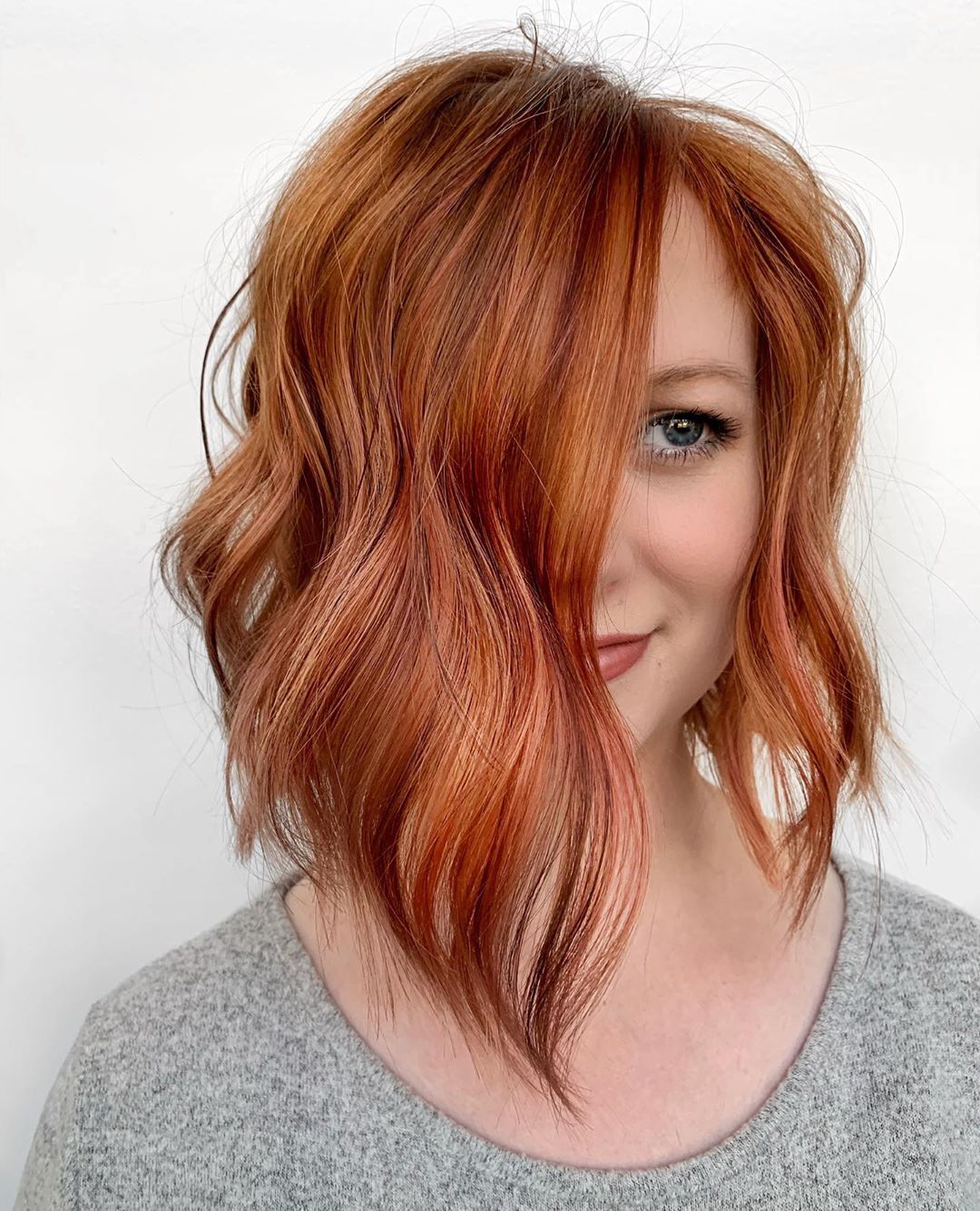 10 Manageable Trendy Bob Haircuts for Women
Bobs are never going to go out of style. They are flattering, timelessly trendy, and quick and easy to style on a daily basis.
If you're interesting in exploring the latest in on-trend bob styles, check out these 10 super stylish, easy-to-manage bob haircuts for women.
1. Chin-Length Wavy Bob Haircut with Deep Side Part
The straight-across ends of this short bob fall bluntly just below your chin, and a deep side part adds a bold finishing touch to this chin-length wavy bob haircut.
The blunt ends and deep side part of this cropped cut maintain a delicate balance that prevents the layers of this style from looking heavy or overly bulky.
If you have naturally wavy hair, you can leave this cut natural. If your hair is naturally straight, scrunch it with texturizing product or use a curling rod or flat iron to create loose, relaxed waves all over.
2. Wavy Blonde Bob Haircut with Brunette Shadow Root
This blonde bob haircut is perfect for women with naturally fine to medium and straight to wavy hair types. Its ends fall an inch or two below your chin to frame and flatter your face. Its platinum blonde all-over color is fun and flattering, and its darker brown shadow root adds a natural-looking finish to this bob and helps you stretch out your time between salon appointments.
If you have naturally wavy hair, you can pull off this cut without any styling. If your hair is naturally straight, add volume and a slight wavy finish to this cut by scrunching your hair with texturizing product. Start at the ends and scrunch up toward your roots.
3. Wavy Cool Blonde Bob Haircut with Side-Swept Bangs and Lowlights
Cool blonde hair is very on-trend right now, but it can be a tough all-over color to pull off naturally. This bob haircut is the perfect example of cool blonde done right with a natural-looking finish. It combines cool blonde all-over color with subtle lowlights that add warmth and contrast and look completely natural.
Side-swept bangs and a relaxed, wavy finish add interest, dimension, and style to this trendy bob haircut that falls just an inch or two below your chin.
4. Straight A-Line Bob Haircuts of Varying Lengths
The picture above shows four different bob haircuts, all of which have angled ends and are styled to be pin-straight. These four haircuts, all of which are shown on the same woman, show just how easy it can be to pull off A-line bob haircuts of varying lengths.
The bob haircuts that you can see in the above picture range–from shortest to longest–from chin-length to shoulder-length. These haircuts demonstrate how flattering A-line bobs can be, whether they are super short or veering into long bob–lob–territory.
5. Bright Orange Cropped Bob Haircut with Blunt Bangs
Yes, it is possible to pull off a bright-colored blunt bob without looking like a clown, and this bob haircut proves just that
This bright orange bob feature blunt medium-length bangs in front and straight-across ends that fall a couple of inches below your chin. The slightly-longer-than-chin-length ends and blunt bangs of this bob haircut flatter your face and balance out the warm, bright orange all-over color of this cut that catches your eye in the best possible way.
6. Lavender Rounded Chin-Length Bob Haircut
Unnaturally-colored hair is fun and stylish, but it can be admittedly tough to pull off colorful hair and still look professional, elegant, grown-up, etc. The bob haircut in the picture above offers the best of both worlds: colorful hair and sleek style. Who knew purple hair could look so elegant?
This super sleek bob haircut combines all-over light lavender color with smooth, pin-straight hair that falls to your chin in rounded, curled-under layers that give this cut a sleek and elegant finishing touch.
7. Bright Auburn Tousled A-Line Bob Haircut
It's impossible not to be cheerful when you have this haircut. This bright auburn bob haircut is warm and fun. However, it still manages to look natural even with its bright, multi-dimensional all-over color. Its messy-on-purpose style complements its bright all-over color that gives this cut its one-of-a-kind style.
The ends of this bob fall between your chin and shoulders, missing your shoulders by only an inch or two. This haircut has enough length to give you plenty of styling options, but it's short enough to be super manageable whether you have it up or down.
8. Cropped Brunette Bob Haircut with Highlights and Long Front Layers
This bob haircut is so short it's almost a pixie cut. In fact, it can serve as the perfect, flattering in-between cut for women who are trying to gracefully transition from a shorter pixie cut to longer layers.
This brunette cut features long, smooth layers that are heavily texturized to prevent bulkiness. It also has longer layers in front that reach a few inches below your chin to add warmth and dimension. Its layers are cut longer in front to give you more styling options and frame and flatter your face.
9. Curly Cropped A-Line Bob Haircut
This cropped cut is for all the women out there with wild, curly unmanageable hair who don't believe they could ever successfully pull off a short, natural-looking cut.
On the contrary, this curly cropped bob was made for women with naturally curly hair. Its many texturized layers and multi-dimensional color balance out this cut and help it maintain a cheerful, put-together finish even for women with the most unmanageable hair types.
10. Short Tousled A-Line Bob Haircut
The asymmetrical, texturized ends of this super short A-line bob skims the nape of your neck in the back and reach a few inches below your chin in the front.
These longer layers in front flatter a wider range of face shapes. Also, they help you feel protected by length while pulling off a super easy-to-manage cropped cut.