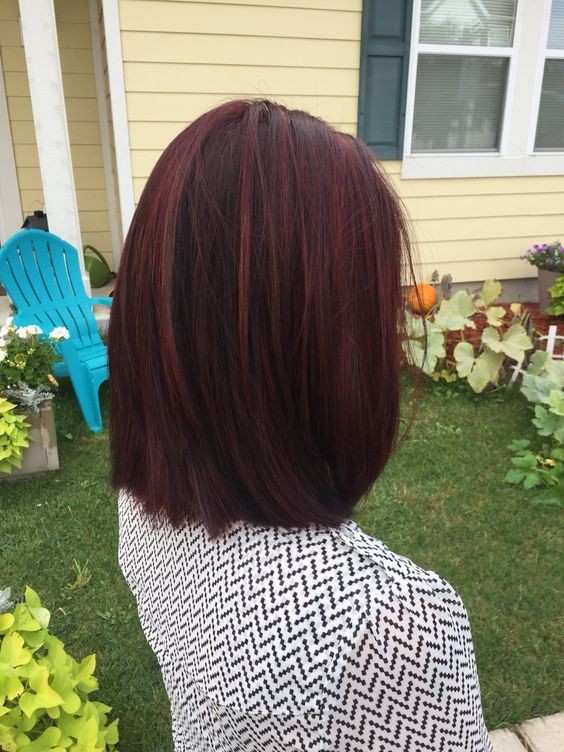 10 Mahogany Hair Color Ideas
Mahogany is undeniably a sultry shade that looks great on all hair lengths. But these mahogany color choices add for a bit more definition and depth, some hues showcasing light highlights, others allowing some striking red tints.
Chocolate Mahogany with Copper Balayage
Brunettes who desire to leave their lovely shade of brown untouched, but rather enhance it, this is an excellent choice. Chocolate mahogany is a rich, warm shade that's perfect for colder seasons, while golden highlights perk things up a bit. The duo is simply stunning and is loaded with fascinating hues, quickly amplified by some luxuriously loose waves.
Red Mahogany
Red is undeniably a sexy hair color, but to achieve an even deeper sense of luxury and allure is to indulge in a rich red mahogany hue. These locks are oozing with a sensuality that just can't be ignored.
Deep Purple Mahogany
A hint of mystery is weaved in this hairstyle, with a delicious deep purple tint infused in a rich mahogany shade. The deep hair color is enthralling and enchanting, especially when wrapped inside of some voluminous waves.
Rich Red and Copper Highlighted Mahogany
Adding a bit of brightness to your spicy locks is a great way to shake things up a bit. The copper highlights offer some break in the richness, one that is sensationally appealing to the eye.
Red Violet Mahogany: Chic Pixie Haircut with Side Swept Bangs
A pixie haircut is the perfect platform for exotic, striking colors. Hints of violet cast through a rich, deep red mahogany hue creates a sense of sensuality that's dark and mysterious. Use your favorite wine shade of lipstick to enhance the majestic appeal of this hair color.
Golden Highlights
Mahogany doesn't have to be removed for summer; instead, lighten it up a bit with some bold golden highlights. It adds some summertime fun to the hair without diminishing the exotic hue of this red mahogany shade.
Black with Mahogany Highlights
Mahogany can also be used as the perfect highlighter, especially when paired with a black base to create more luxurious depth.
Mahogany with Black Undertones
On the other hand, black can also blend well as an undertone for a rich shade of mahogany. The look is sultry and seductive, adding a fierce splash of darkness to this attractive Bob.
 Dark Brown Mahogany: Ombre, Balayage Lob Hair Styles
Like milk and cookies, mahogany and dark brown go together in harmony. The end result is sultry and sophisticated, the perfect combination.
Mahogany Copper Color Melt
Color melting allows for the subtle transition of colors, which means you can easily combine mahogany and copper without it being too extreme. The slight tint of copper adds some brightness to the look, making it the ideal mahogany hair color choice for spring and summer. Pophaircuts.com which one mahogany hair color is your favorite?