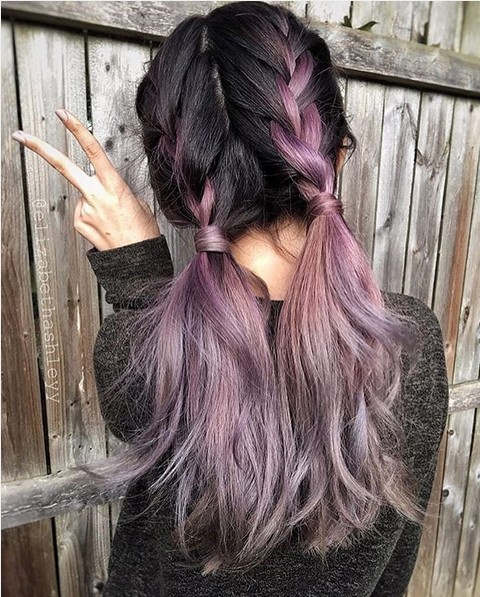 20 Purple Ombre Hair Color Ideas
Purple hair is undoubtedly one of the hottest hair trends right now, but hey, so is Ombre! Combine the two and you have an incredibly stylish 'do you can wear all year round. Here you'll find an amazing compilation of purple Ombre from dark to light and everything in between.
Chunky Platinum and Lavender
Sensationally bright and perky, this lovely Ombre combines the striking hue of platinum blonde with pastel lavender ends that are extremely dainty and fun. The chunky colors are bold, but given femininity with a touch of wavy texture.
Gray and Light Purle Pixie
We all know how popular pixie haircuts are, and this lengthy pixie is all the rage. The lengthy strands ensures you can easily style- even if it's just a touch of texture like you see here. But what really makes this pixie pop is the gorgeous blend of gray and purples, two of the trendiest colors for 2016.
Dirty Blonde and Deep Purple/Pink
Natural blondes typically love to showcase their beautiful golden hues, but that doesn't mean you have to shy away from pops of color. Adding hints of deep purple and hot pink to the end of your tresses is an awesome way to perk up your look with trendy colors without losing sight of the natural blonde hues above.
Icy Blonde and Purple
The darker shades of both blonde and purple come together in a subtle and dainty way, making this purple Ombre hair color a wonderful choice for younger girls who want to keep things delicate while still enjoying colors.
Ultra Dark Purple
Deep, sultry purples are an excellent choice when you're seeking contrast to your platinum blonde mane. The contrast is downright stunning and adds some sexy dimension to the overall style. Looks extra delightful with some loose, feminine waves.
Electric Purple Ombre
Match your electric personality with his electric purple hair! A warmer tone sits up top while vibrant shades of purple down below light up the night. Shocking- but in the best way possible.
Purpley-Pink Ombré
With long hair like this, one-colored locks can be a bit of a drag. We love how she lightens and brightens and adds some serious attitude to her locks by mixing in some purples and pinks at the ends. A gorgeous way to switch up monotonous long black locks!
Brown and Purple
We are in love with the unique shade of purple she chooses for her purple Ombre hair. The deep purple shade plays off of her mousy brown locks beautifully and those waves provide a delicate appeal that's perfect for the office or a first date .
White and Lavender
This fairylike styles  features a gorgeous combination of white and dainty lavender.  The two lighter shades provide A feminine look that also brightens her overall complexion.  Leaving just a smidgen of her dark roots hanging out to play, it's a color mixture that's both youthful and full of contrast.
Platinum and Neon Purple
Ready to light up the night with your hair color?  You are sure to have all eyes on you with this exotic and eclectic color combo. Her lengthy slicked down locks look magnificent and striking with a platinum upper half and neon purple lower half. Love this purple Ombre hair!
Black and Purple-Gray
Needless to say, we are in love with this super feminine and cutesy 'do! Double braids in the back showcase the intertwining shades of black and purple majestically, while the rest of her locks are left loose to show off that unique blend of purple and gray- a super fashionable blend that goes really well with dark hair.
Platinum and Dark Purple
Earlier we saw a completely awesome platinum and neon purple mix,  but if you prefer a darker shade of purple this style is for you.  Her Platnum loaks are contrasted wonderfully by this dark purple shade and with some luxurious ringlets it's a hairstyle that just won't quit!  Tie in some hot pink to the mix to really set your hair apart from the crowd.
Purple Underlights
This particular hairstyle breaks free from the omore mold where typically you would see two distinct colors side-by-side,  but there's nothing wrong with that!  These bright purple under lights are playful and vibrant,  peeking out majestically from a platinum base.
Gray and Purple
Gray and purple = the perfect shade for the sultry lady. This gorgeous shade cascades beautifully within bold, voluminous waves for a gothicy look that's downright flawless.
Lilac Unicorn
What, you've never dreamed of being a unicorn? Yeah right! It's every girls dream come true, all wrapped up into a perky and vibrant Ombre of light lavender and platinum ends. Looks extra lovely on lengthy locks volumized with delightful waves.
Mermaid Shade
Being a real life mermaid is simpler than you think: start off with beautiful hair of a longer length. Add in some striking, mystic shades, one of our personal favorites shown here with an enticing bright turquoise, shocking neon purple, and platinum blonde ends. Finish off with some glorious ringlets to wrap up this incredibly feminine yet breathtaking look.
Gray and Dim Lavender
If you prefer a less dramatic head of hair, then consider this soft yet stunning blend. Gray and purple are both incredibly trendy for this year, so combine the two for a very high-style finish. Just make sure to use a dim lavender tone to keep things subtle.
Dark Grey and Purple
Want to make more of an impact with grays and purples? Then choose deep, warmer shades of both to create a mysterious and sexy finish that is also very fashionable for 2016.
Purple Paradise
Purples of all shades and hues combine in this awesome, stunning pixie for a look that's truly eye-catching. For girls out there who love purple and love a punk-rock appearance, there's no better way to do it than like this.
Brown and Gray/Purple
There's a lot of colors going on here – pophaircuts.com, from dark chocolate brown roots to light lavender tips with hints of gray throughout. The color quad is exciting and brilliant, yet subtle enough to remain ultra-feminine. Let those colors collide gorgeously by adding some tousled loose curls to your mane.