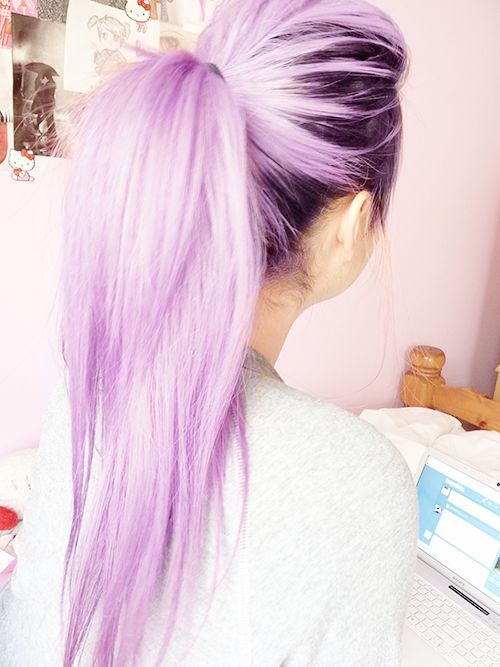 17 Stylish Hair Color Designs: Purple Hair Ideas to Try!
Now that rainbow coloured highlights have made sweeping in-roads in the world of hair fashion and highlighting, it's not surprising that purple hair ideas are so popular this year!
Rich and dark
On dark or black hair, purple streaks and highlights add fantastic richness and depth and as an all-over colour, purple is a superbly eye-catching look.On an ash-brown base colour you can add some wonderful balayage colour effects that will add dimension and make your hair look thicker.
Dark Purple Hair Color /Via
Futuristic and edgy
And on ash-blonde and edgy platinum-blonde, you can add some fantastic drama with flashes of purple hair. Ideas for new hair colour techniques and colours are revolutionising our hairstyles and it's only a matter of time until the non-natural colours become a mainstream look.
Youthful and stylish
Purple looks great with silver hair, too, and it was a popular trend for the over-60's in the 1960's and 70's. However, it's the younger women – who love an unconventional look – who are wearing the most purple hair ideas this year!
Fortunately, purple hair ideas come in a wide range of shades – so there's a perfect purple for everyone's personal style.
Purple Hair Highlights – Straight Medium Hairstyles /Via
Sweet or spicy glamour
If you love a soft, pale blonde look and pretty flower-print clothes, then a pale lavender shade will add a special touch that highlights your personality. And the lavender-pink shades added to blonde hair look very sweet and pretty.
Furthermore, if you're keen on vampire chic, then purple hair is an absolute top trend for you to wear this year! Matched with purple eye-shadow and lipstick, purple hair creates the ultimate contemporary-Goth look.
Balayage purple hair ideas
The rules about highlighting have loosened since the more artistic balayage style took over from those uniform straight lines. So you can design your own flash of purple hair to accentuate your brown or green eyes, which both look fantastic next to purple!
Ombre colour
Dip-dyeing, ombré and the gentler sombré colouring techniques are everywhere this year, and a graduated purple running through your hair is an opportunity to show off several beautiful lavender, violet and inky-dark purples.
Matching
Ask your colourist to help you choose a shade that will complement your individual skin tone. Pale skins with a cool undertone look best with a bluey-purple or lavender-blue colour. This is also a good shade to choose for anyone with a complexion that's too red.
However, pale skin with a warm undertone looks super with a touch of pink in the purple or lavender shade. And very dark skin and hair look absolutely stunning with purple streaks or highlights, too!
So, if you're itching to see exactly what this year's trendy purple hair ideas actually look like, here's our latest gallery to get you all fired up!
Blue Pastels Hair – Ponytail Hairstyle with Long Hair /Via
Purple Hairstyles – Long Hair with Braid /Via
Stylish Purple Long Hair /Via
Cute Hair Color – Updo Hairstyle with Braid /Via
Gorgeous Purple Hair Color Ideas – Straight Long Hair /Via
Gorg Purple To Platinum Melt: Medium Wavy Hairstyle /Via
Messy Buns with Purple Hair Color – Girl Hairstyle Ideas /Via
Subtle Purple Hairstyle Ideas for Women /Via
Funky purple and pink hair /Via
Dark Purple Highlights /Via
Katy Perry Purple Short Hair – Messy Hairstyles /Via
Asymmetrical Long Pixie Haircut with Purple Hair /Via
Nice Short Haircut with Stylish Color /Via
Purple hair colour Ideas for the coming season – Asymmetrical Short Haircuts /Via
Modern Pixie Short Hair for Women and Girl /Via