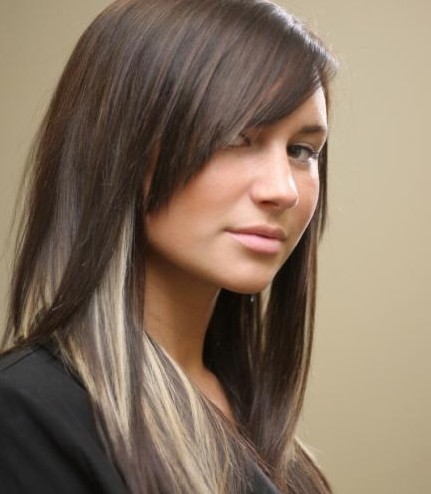 Long Straight Hairstyles: Peekaboo Hair Highlights
This long straight hairstyle can be a great option for people looking for a brave and cool hairstyle since the blonde peekaboo highlights make the whole look charismatic and markedly eye-catching.
The hair ends are softened with a razor-cut texture. The side swept blunt bangs can enhance your pretty face structure and pair the luscious smooth hair wonderfully.
Styling Steps
Use a blow-dryer and flat paddle brush to blow the hair straight, and a flat iron for a silky finish. Trim the hair section by section.
Create more layers at the hair ends and the top to add much volume and style to the hair and make the look full of life.
Create a side part and some long neat blunt bangs.
Add some blonde peekaboo highlights to get make the usual long sleek hairstyle unusual and impressive.