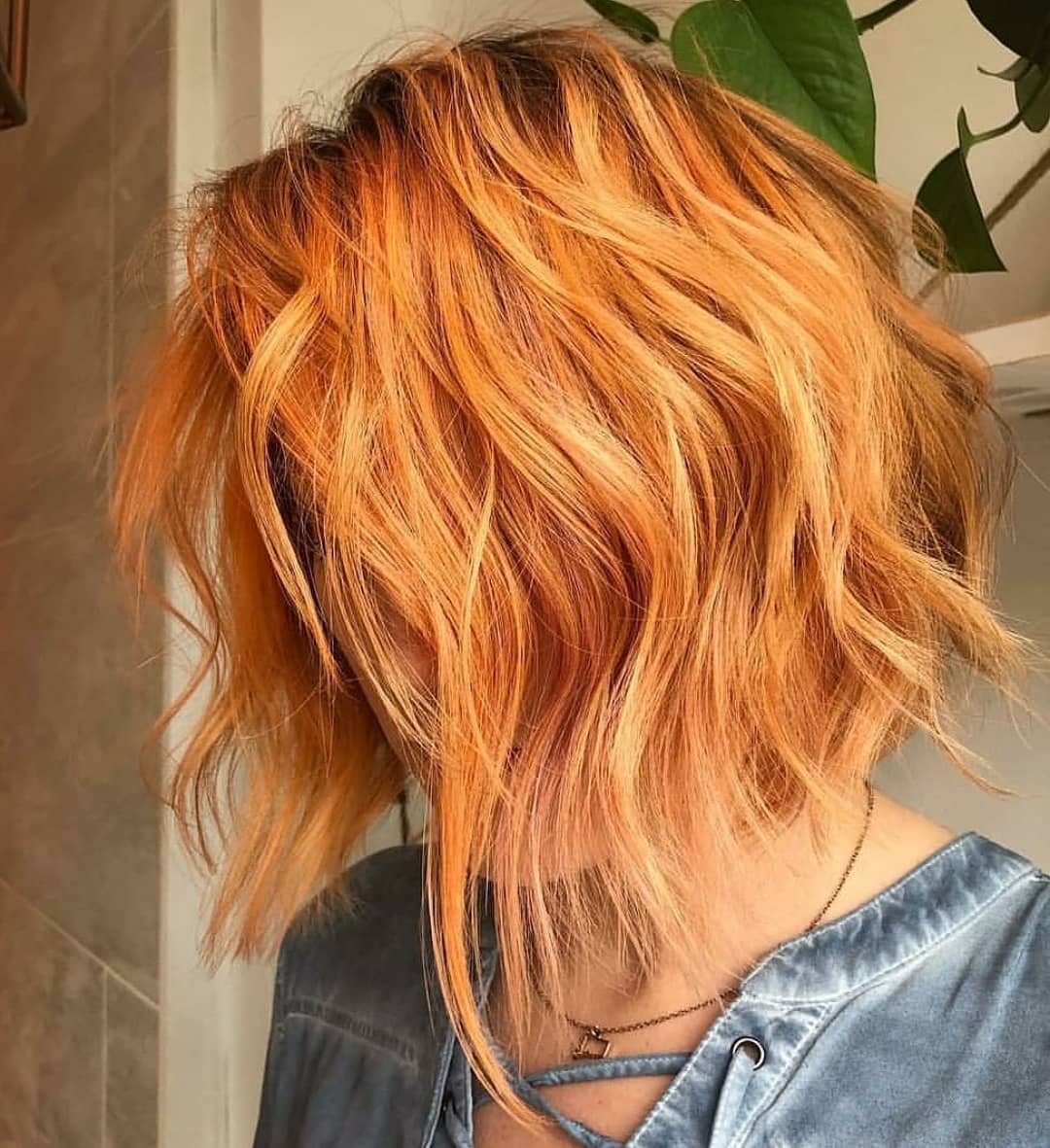 10 Trendy Choppy Lob Haircuts for Any Face Shape
Lobs–or long bobs–are a cute, flirty style that can still be considered short without being too much of a commitment. Haircuts that classify as lobs usually rest somewhere between your chin and your shoulders. These manageable styles are the best of both worlds. They're in line with the short hair trend, but still give you the option to pull your hair back.
These lobs have a choppy, messy-on-purpose style that is both low-maintenance and universally flattering. Many of the choppy styles pictured here feature waves, relaxed curls, or balayage color that adds dimension and volume to these bouncy, ultra-trendy lobs.
1. Wavy Orange Lob Haircut for Thick Hair
This bright orange wavy lob style is bold without being too overwhelming. Its tousled, relaxed waves maintain volume but don't look over the top.
Slightly darker roots and lowlights give this ultra-bright lob a subtle finish that looks more natural. Layers of varying length in front frame your face for a flattering finish that prevents your bold hairstyle from taking all the attention off your facial features.
2. Wavy Auburn Lob Hairstyle with Bangs
This relaxed wavy lob is elegant and choppy at the same time. Its relaxed roots and straight-across rounded bangs give this style a smooth finish that looks ultra-sleek.
Relaxed waves at the ends add natural-looking volume to this cut, making it the perfect trendy lob style for women with thin or fine hair types that struggle to hold curls and volume.
3. A-Line Lob with Balayage and Side Bangs
This lob cut is ideal for women with naturally straight hair that want more volume without waves or curls. A sharp A-line cut and long side bangs give this cut volume and depth while minimizing bulk and heaviness in the back.
Beautiful balayage effortlessly blends dark brown together with several shades of blonde for a seamless finish that adds dimension to this style.
4. Flipped Out Lob with Bangs, Office Hairstyle Ideas for Women
This shoulder-length lob gives new life to the classic flipped out style that topped the trend charts in the 90's and early 2000's.
Feathered, flipped out ends add volume and trendy choppiness to this lob cut. Smooth, heavier roots and sleek, piece-y bangs maintain the integrity of this style while warding off frizziness and ensuring an elegant, modern finish.
5. Curly Blonde Lob with Bangs, Ombre Balayage Lob Hair Style
This sweet, flirty lob is the perfect cut for women who prefer to style their straight or wavy hair with a curling iron.
Loose curls with relaxed ends give this style bounce and volume that still looks elegant. Smooth, straight-across bangs and blunt ends add structure that frames and flatters your features while balancing out your curls.
6. Subtle A-Line Lob
This A-line lob style is sleek, simple, and far from boring. It is extremely low-maintenance and is effortless to style on a daily basis.
Curled under-ends, a zig-zag part, and subtle A-line angle add interest, volume, and dimension to this cut without disrupting its smooth, elegant finish. To style this lob hairstyle, start by running a small amount of smoothing serum through the length of your hair. Then, just use a flat iron to curl under your ends as a finishing touch that helps you look more professional and put-together every day.
7. Wavy Blonde Lob with Highlights
This shoulder-length wavy lob is bright, cheerful, and ultra-trendy.
Its relaxed waves add just the right amount of volume while maintaining a relaxed style that doesn't make your hair look poof-y or frizzy. Highlights and lowlights throughout this blonde style add dimension and help its color look more natural.
8. Wavy A-Line Lob with Side Bangs and Blonde Balayage
Wavy side bangs and roots add volume to this A-line bob, while its relaxed piece-y ends give it a trendy, choppy finish. Slightly shorter layers in the back give this style a subtle angle that minimizes bulk and adds interest.
Balayage blends dirty blonde with cool-toned silver blonde highlights together in this style with impressively seamless results that allow you to indulge in the silver blonde hair trend without looking artificial.
9. Piece-y Lob with Balayage
This shoulder-length lob is the ideal style for women with thin or fine hair types. Its piece-y, feathered ends accommodate fine hair and add lasting volume that creates the illusion of thickness in thinner hair.
Balayage blends auburn and blonde together in this style for an amazingly seamless finish. Darker auburn bottom layers and lighter blonde top layers add depth and dimension that also help make your hair appear thicker and more voluminous than it really is.
10. Wavy Subtle A-Line Bob with Balayage
This sleek A-line bob is simple, manageable, and ultra-trendy. Its angled ends are subtle but help this lob cascade effortlessly against your shoulders with an elegant, modern finish.
Balayage blends dark brown bottom layers with light blonde highlights on top to add depth to this style. Relaxed curls create natural-looking volume that flatters but doesn't overwhelm.