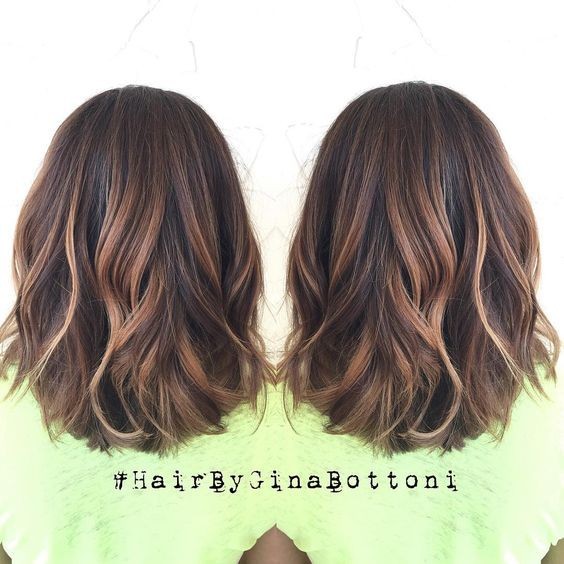 10 Lob Hairstyles to Add to Your Mood Board in 2024
Not too short but not too long, the lob is the ideal choice for ladies who want something "in-between". Check out these super hot lob haircut ideas!
A lob with a blunt cut just below the shoulders can be a bit rigid and strict, but you can quickly soften those blunt ends by adding in some sexy waves. Not only does it create some feminine fullness, it also showcases those charming light brown and blonde highlights.
Light Blonde Balayage Wavy Lob
To create a more brighter, summery appearance, consider a lighter shade of blonde. The brighter Balayage hues blend beautifully with sandier blonde strands for a very lovely style that's enhanced with some flirty waves.
Angled Blue-Gray Ombré Lob
By simply forming a subtle angle at the end of her strands, she creates a beautiful fullness that's amplified with some charming loose curls. To really display a standout, trendy style, dive into an ombré hair color style with dark roots and blue-gray ends.
Classic Blonde Ombré Lob
Classic cut, but it never goes out of style. This long bob is cut right at the shoulders for a bouncy, refreshing length that's brightened with a charming blonde ombré that captures the sunlight beautifully.
Wavy Ombré Angled Bob
Got long hair but don't want to cut it TOO short? Then leave plenty of extra length with an angled lob like this. The angle is perfect for showcasing some sassy attitude, and that contrasting ombré is a sultry blend that really brightens up her appearance. Messy waves are super bouncy and cute for an on-trend finish that kills!
Textured Balayage Lob
Her middle part is hip and trendy, but what really takes this style from casual to fabulous is the lovely Balayage shading she creates through her mane. Slightly texturing adds depth to this already stylish and dimensional number.
Beach Lob
Summertime means tan skin, short shorts, and of course beach waves; and this look showcases those charming beach waves perfectly! Her lob is cut bluntly on the ends with some fabulous layers, looking soft and casual with soft beach waves and a glamorous blonde ombré hue.
Angled Sunkissed Brown Lob
If you're a lady who loves a little quirky attitude in her step, then consider this little cute style! The slight angle from front to back is funky and coy, with Sunkissed highlights providing a special spark to her locks. Love this sexy 'do.
Platinum Lengthy Lob
Let those strands dangle just past shoulder length for a really glamorous, full finish, and for a hairstyle that's sure to lighten every room you enter, douse your mane in some lustrous platinum coloring!
U-Shaped Balayage Lob
The classic 'U-shape' in the back is a very popular choice for ladies with short or long locks, creating cool texture that bounces effortlessly. Add a little flare to your mane by using some hints of highlighting throughout your dark tresses. Pophaircuts.com what's your favorite lob hair styles?