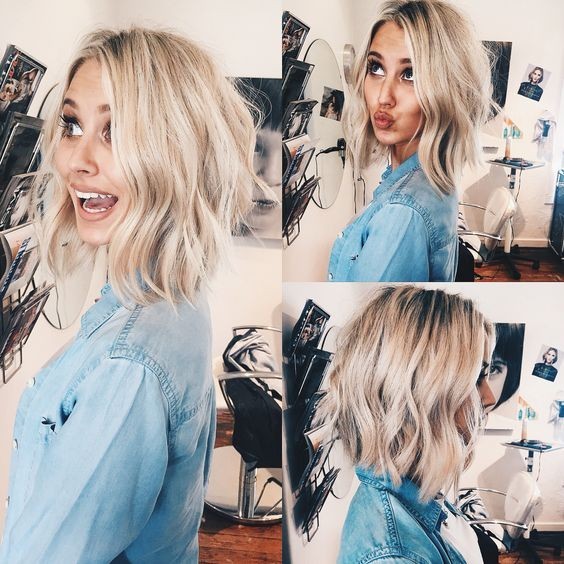 20 Trendy Ways to Style a Blonde Bob
Calling all blondes! If you're rocking a blonde bob but feel the need to switch up your look, you need to check out these styles! From gorgeous Balayage coloring to dazzling colorful hues, charming ringlets to tousled waves, you're going to fall in love with these unique blonde bob styles!
Pinky Ringlets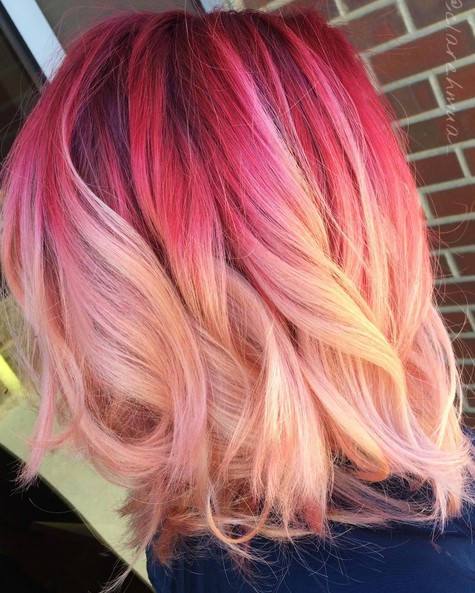 One quick way to enhance your blonde bob is to douse it in some fun colors! Her roots are an eye-catching red while the lower half is softened with subtle pink hues against her light blonde base. Ringlets provoke charm and elegance for a knockout style you can wear anywhere.
Dirty Blonde Voluminous Curls
Natural blondes typically love to showcase their beautiful tresses, but to achieve that sunny, beach vibe, consider a few streaks of lighter blonde in an effortless Balayage style that looks grand with some super messy big curls.
Rosey Ends: Ombre Balayage Hair Styles
Pretty as a flower? Absolutely. Her luscious rosey ends are a super feminine way to highlight natural dirty blonde manes. Her light red shade is a great match for her lighter complexion as well, and this match up is perfect for short bobs cut right above the shoulders.
Balayage Stacked Bob
Bored with your Bob? Stack it up! Stacking your Bob instantly provides a glorious bounce that looks even more lively with a few simple curls throughout. Add some depth to your dirty blonde mane by indulging in Balayage light blonde coloring as well.
Sunflower Lengthy Bob
Earlier we saw a beautiful rose-inspired look, but if you're more of a sunflower gal, this one is for you! Her lovely blonde is a stunning sunflower-yellow shade that's sure to dazzle in the summer sun. Leaving her locks with plenty of length leaves room for styling, even if it's just a few flips on the ends for immediate bounce.
Soft Pink Ombre Curls
There is only one word that comes to mind when we see this look: sassy! Boasting with sassy attitude, she enhances her blonde graduated Bob with a soft pink lower half. Where it straight for a feminine look that's sassy and empowering, or add glamorous ringlets for a very elegant and high-class finish.
Laser Blonde Blunt Cut
So much precision, so much flare! For the gals out there who thrive off rigidity and careful planning, this tight-knit yet artsy style is just right. Her blunt Bob showcases perfection from front to back with slight asymmetry around the face. Super chunky platinum highlights against a darker base creates a show-stopping contrast that matches perfectly to the edginess of the cut. FIERCE.
Casual Blonde Lob
Looking for a hairstyle you can wear anywhere with little to no maintenance? Consider a cute, casual blonde lob. Simply run a straightener through your locks and toss it back, then be on your way in no time at all.
Creamy Blonde with Short Fringes
Not quite platinum, this creamy blonde shade is an excellent choice if you want a desirable, bright blonde hue that's not verging on white. The creamy tons blends with her complexion well, and the short fringes add a quirky vibe to this blunt bob.
Champagne Blonde Lob
If you're not quite ready to chop your locks super short, then consider a long bob= the lob. This delightful champagne blonde color is also an awesome switch up from the norm, with hints of warm blondes and grays and a few lighter tones mixed in.
Strong A-line Bob Cut
A-line hair is typically seen lengthier, so this extra short a-line is a great change from the usual. The contrast from her dark roots to a bright blonde base gives it an all natural appeal.
Tousled Blunt Bob
Blunt bobs are all about rigidity and straight-and-narrow lines, but tousling them up a bit switches up the look and texture as well as the personality of your Bob. Just a pinch of styling gel and hand scrunching can create a casual unkempt look great for everyday wear.
Bronde Waves
The newest trend that's hitting the hairstyling world by storm is bronde! It's the perfect compilation of blondes and Browns, a perky light brown shade that's dimensional and youthful. With some subtle waves tossed into the mix, she gets an extra dose of feminine volume with a summery vibe.
Voluminous Flip-Back
Older women who want to flash a youthful and trendy Bob can easily make it work with this charming number. Her Bob is cut at jaw-level to frame the face and create a framing bounce, and she adds some volume up top for extra perkiness. By simply curling the tips of the strands and tossing them back, this look gets a professional yet sassy appeal that's great for work.
Extreme Angle Bob Hair Styles
There's nothing like adding intensity to your look to really spice things up! This sharp angle looks beautiful with that blonde hair color, featuring a light blonde base with plenty of brown for contrast.
Textured Waves
With summer around the corner, we're all searching for that perfect beach babe look- and this is it! Let those natural waves shine through, or texture it up while blow drying; don't forget plenty of styling gel and scrunching.
Bouncy Waves
So flirty, so cute! This is an adorable hairstyle that can look lovey on any woman. Part down the middle and give your hair that fun bounce with some light waves on the bottom half of your mane.
Balayage Blonde Waves
This lob is the ideal length for fab waves like these. Her Balayage blonde coloring creates an all natural, textured hue that's sure to dazzle against the sunlight.
Casual Texture
Short on time? Then keep it simple! Blow dry your hair in the morning but don't run a brush through it when you're done; let that natural unkempt look be your look for the day paired with your favorite wardrobe.
Asymmetrical Texture
An asymmetrical Bob is automatically sassy and edgy, but you can loosen up the look a bit with some textured waves. Put some loose strands behind the ear to showcase those cheek bones flawlessly. Pophaircuts.com what's your favorite Blonde Bob Styles?