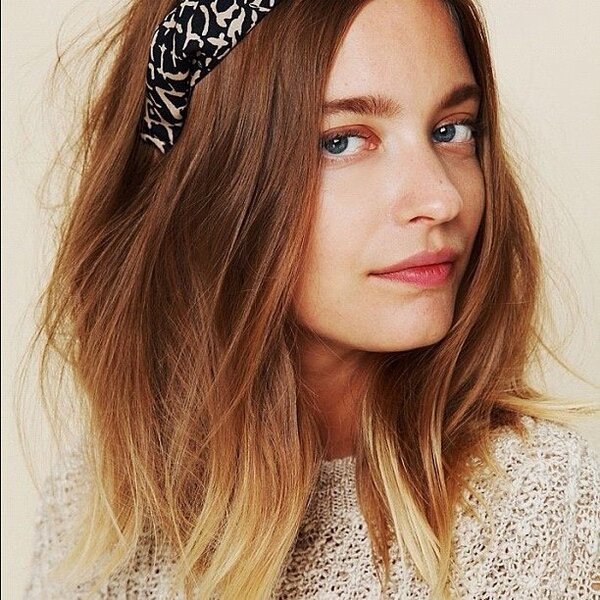 22 Simple Bob Hairstyles for Thin Hair: Easy Bob Haircuts
It's true it can be slightly harder to style thin hair; but if you think certain styles are completely out of the question because of your lack of locks, think again! A bob hairstyle is an easy way to make your hair appear more full-bodied and full of life, and these dazzling bob hairstyles for thin hair will really make your hair dazzle.
Light Blonde Relaxed Curls
Want to know a secret? If your thin hair is really straight and lifeless, consider bleaching it! It will help rule out greasy roots and add a bit of lift and body; not to mention it's a gorgeous color. We're loving her light blonde locks, glammed up with some extra relaxed curls, projecting almost a beach wave style that's certainly beautiful.
Highlighted Subtle Wave
Adding texture to thin hair is a cinch with some highlights and lowlights, and when you add some subtle waves to the ends and tousle them up a bit, you get a really casual and ultra trendy appearance. We love how the lengthy sides around the face are swept back, opening up her face beautifully.
Lightly Teased
Jennifer Anniston certainly knows how to work her a-line hairstyle. Here, she simply teases her crown at random places to achieve just a touch of sultry height.
Tousled, Wavy Bayalage Ombre
Undoubtedly a versatile look, this delightfully tousled and wavy hairstyle can be glammed up for a fancy event or left casual with a pair of jeans and tee for an everyday occasion. We're loving the addition of bayalage ombre coloring, with darker shades of brown up top and a honey blonde on the ends.
Light Ombre Toss Over
Ombre can add some much needed contrast and dimension to thin hair, and we're especially loving this lady's ultra light ombre shade! Her dark roots pop through to some very grayish/blonde locks, and she tosses them over for a sultry finish. Don't forget to perk up your pout with some nice lipstick to tie this enticing style together.
Toss Over and Tousled
Looking for an easy way to give your hair some 'oomph'? There's NO easier way than to simply tousle them up a bit! The bedhead look is ALWAYS sexy, and when you toss is over to one extreme side you get an extra burst of alluring attitude.
Asymmetrical Platinum Ombre
We love platinum ombre. For one, platinum is SUPER trendy, and for two, it really brightens the complexion and gives your look a light and youthful appearance- while still having a touch of darkness in your mane for contrast. Her asymmetrical look is flawless and her makeup really dazzles up her look-at-me style.
Extra Lengthy Waves with Headband
There is a LOT of awesome things going on in this hairstyle, from the beautiful mousy brown hair coloring up top to the lovely blonde tips, the adorable voluminous waves to the lengthy bob haircut that's just below the shoulders. Her gorgeous hairstyle is given life and attitude with the addition of a funky headband.
Peek-a-Boo Highlights
If the purple trend makes you nervous and you don't want to splash your locks in a sea of purple, then consider some awesome peek-a-boo dark purple highlights. They perfectly accent her jet black mane and the addition of purple eyeliner and lipstick is a beautiful bonus.
Subtle Body and Flipped Side Bangs
Perfect for older women (women over 50s, even women over 60s), this subtle hairstyle combines the beauty of gentle waves throughout with some lengthy side bangs that are flipped to the side. She leaves her makeup all natural for an earthy and feminine finish.
Large Romantic Curls
Her style is heavily romantic and luscious, those large, voluminous curls adding such a beautiful depth to her mane. She accents her alluring hairstyle with a pair of dark eyes to really set the mood.
Loosely Curled Graduated Bob
You'd never guess she had thin hair; her locks are boasting with body! She starts off with a graduated bob that is extra choppy in the back for additional bounce, while loose curls and a trendy side sweep add a feminine, full-bodied touch.
Slick Straight A-line
Her chocolate brown locks are delightful to the eye while a trendy a-line keeps her style trendy and posh. She decides to keep locks slick straight for an ultra-stylish look that's artsy and refined with a pair of bright red lips.
Slick Straight Side Parted Bob
With a little bit more length, she leaves room for a darling underflip to frame her face. She tosses her mane off to one extreme side part for a trendy burst that's accented perfectly with an ultra-bright pink pout.
Loose Waves with Highlights Around Face
An easy way to brighten your complexion and take years off your face is to simply add highlights surrounding your face. The light color in front will make your eyes pop and brighten your entire face! Adding loose waves to your short, blunt bob haircut will give it a touch of flirty attitude, perfect for all occasions.
Extra Short Crimped Waves
Blunt cuts are a great option when your trying to achieve that full-bodied look, and when you add some loosely crimped waves you get a very heavy style that frames the face perfectly. Who said our crimping tools were out, anyways? Crimped hair is coming back with a vengeance for 2016!
Bouncy Bob with Subtle Flips
Her haircut is the perfect length and has JUST the right amount of layers to create some depth. She adds just a hint of flips to the end of her locks to add to that bouncy, youthful attitude. Love this style!
Wavy and Cute
There's nothing cuter than waves; except when you tie them into a cute asymmetrical bob! There's tons of texture and depth in this 'do, really giving her that full-bodied finish that's anything but thin and boring.
A-line with Highlights and Lowlights
Thin hair doesn't have to stay away from an a-line; in fact, an a-line haircut welcomes thin locks with plenty of love. Her lengthy a-line has that Jennifer Anniston look all over it, a trendy cut that's amplified with contrasting highlights and lowlights for a vibrant, perky look.
Tousled Short Bob
Sometimes it's best to stay away from bangs when you have thin hair, as this can make your hair appear even thinner. That's why we love Kiera Knightley's gorgeous style! She has a cute choppy bob that lays perfectly by her jawline, and her lengthy bangs are swept back. Her tousled mane gives just the right amount of casual body.
Asymmetrical Slick Straight Bob
A full-bodied look needs just one thing: contrast, contrast, contrast! What better way to achieve contrast than by indulging in a sexy asymmetrical haircut. We're loving her lengthy asymmetrical 'do, slicked down right product and a straightener for a very casual yet glamorous look.
Trendy Front Braid
Braids never go out of style, and they are one of the easiest ways to add bulk and femininity to your look! Her trendy front braids snags up all those bangs and loose strands, leading back to a teased crown that's got plenty of height and flirty attitude. A great look for beach!
As you can see, thin hair can get a lively makeover with the right cut and style. Pophaircuts.com which is your favorite?