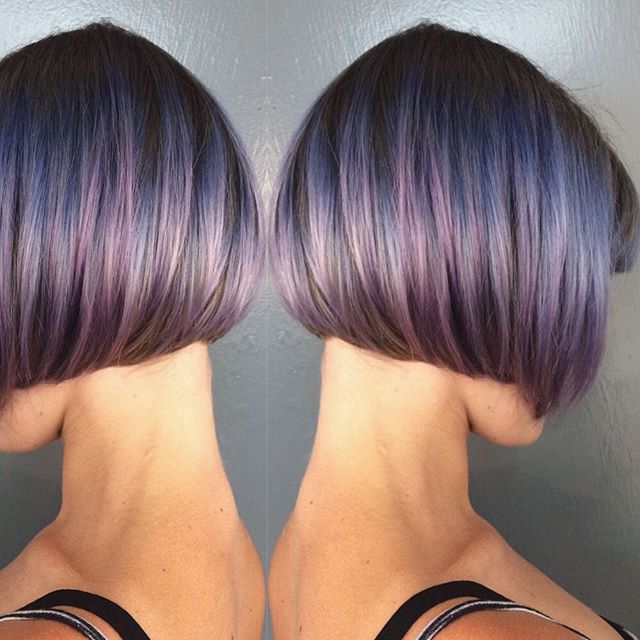 Beautiful Blunt Bob Hair Ideas
The blunt bob is super chic and polished, and it's the perfect choice for ladies with thick hair. Looking at making the blunt bob your next hair choice? Check out these absolutely beautiful blunt bob hair ideas!
Medium Length Straight Ombre
Ombre is a definite style trend for 2016, and it's not going ANYWHERE anytime soon! We're loving this refined yet trendy style, featuring a dark-on-light brown ombre contrast that's subtle yet fun. Leave it straight and part down the middle for some sexy attitude.
Blunt with Baby Bangs
This pinup inspired look features a blunt cut at jaw level and a set of baby bangs that are super retro, funky, and hot. Don't forget to grasp that pinup style with red lips and some spicy sharp eyebrows!
Shoulder Blunt Bob with Contrasting Fringes
Some go up, some go down. These modern bangs have a variety of contrasting lengths for a super edgy look, while the shoulder blunt bob cut frames her face gorgeously. Loving her ultra-white hair color, too!
Tossed Baby Bangs
Baby bangs always look fabulous when paired with a shoulder length blunt bob cut; and we're LOVING this look! Her dark auburn locks are mysterious and sexy while her baby bangs let her eyes POP! A very enticing look.
Edgy Side Part Platinum Bob
This look has 'edgy attitude' written all over it, from her platinum blonde coloring to her bright red pout. She tosses her hair over in an extreme side part that's super swank and sexy.
Blunt with Side Swept Short Bangs
Her lengthy blunt bob haircut is given a lovely touch with a set of short bangs swept off to the side. It's a great look for older women, like women in their 60s, who want a cool cut that's not too edgy.
Gradual Ombre and Framing Blunt
Framing your face is key to achieving a soft and complementing appearance, so we highly recommend this lovely framing blunt cut that's chopped below the chin. We're also loving her gradual natural ombre coloring, with dark brown lightening to honey blonde tips. The contrast is simply gorgeous.
White Hot Blunt Bob
'White hot'? Absolutely. This eye-catching hairstyle features super white coloring that's sure to turn heads, while the short blunt bob haircut is trendy and chic.
Unnatural Ombre
When it comes to ombre hair coloring, feel free to spice it up! Let your natural color shine through up top, while the lower half flaunts an unnatural- yet totally cool and trendy- color. Consider pink! It's one of the hottest colors for 2016 along with purple, gray, blue.
Semi-Natural Ombre
On the other hand, consider a semi-natural ombre hair color like you see here. She lets her darker roots pop through the top while light blonde locks make their appearance on the bottom half.
Natural Below-the-Chin Bob
Not too short, not too long, this style has the hair cut just below the chin, allowing the hair to dangle gracefully without being too much of a hassle. A great choice for women of all ages. It's very versatile, but we love how she chose a natural light brown color for her mane.
Blunt Bob with Lengthy Side Bangs
Side bangs are always hot and trendy, but when you pair them up with a gorgeous color of brown in a medium-length blunt bob haircut, they instantly get hotter- SCORCHING, even. Loving this attractive style!
Blunt Bangs with Flipped Ends
Blunt bobs look great when they're left alone, but they look even better with a little flip on the ends! This is an easy way to add some cute, flirty body to your tresses without going overboard. Try out some sexy blunt bangs if you're feeling daring!
Cute Blunt Bob with a Hat
Is she heading to a baseball game? The
Extra Short Purple & Blue
Okay, ladies- listen up. It simply doesn't get ANY more stylish than this. The extra short blunt bob is extremely edgy and chic, but it doesn't stop there. Her tri-layered locks feature 2 of the hottest hair trends for 2016- enticing blue and vibrant purple. With black left on top, this is undoubtedly one of the trendiest and edgiest 'dos of the year.
Shoulder Length Bayalage
Her bayalage locks are tasteful and trendy while a shoulder length blunt cut leaves plenty of room for styling. It's an elegant 'do that doesn't require much- unless you want to, of course!
Graduated Blunt Bob
Graduated bobs are always in style, no matter what year it is and no matter what age YOU are! This graduated bob features a sleek angle and a sharp blunt cut, creating a very enticing and modern finish.
Striking Ombre with Fringes
Eye-skimming fringes are very delicate, making her appearance very feminine and youthful. The rest of her hair is brought to life with a striking ombre coloring, featuring extra dark roots up top leading to light blonde hues on the ends. A trendy, yet pleasing style.
Laid Back Blunt
Natural blonde hair is given a cute and very laid back makeover with this lovely blunt cut. This is a wonderful choice for thick hair, as it's the perfect length and won't look to overly bulky.
Straight Middle Part
Short on time, but still want to look your best? This is a great option. Simply run a straightener through your locks for a sexy, slick straight finish, and part it down the middle for a bit of sexy attitude.
Wet Down
One of the hottest style trends of 2016 was the 'wet' look, and it will continue to grow in popularity for the coming year! For this trendy yet incredibly simple 'do, all you'll need is a tad bit of styling gel to give your mane that 'wet' and sexy appearance.
Cool and Casual
Hair doesn't have to be quirky or wild to be cool; in fact, this hairstyle has cool and casual written all over it. She leaves her locks a cute sandy blonde shade that's great for the summer, and her medium length blunt cut lets her keep some length.
Blunt Bob with Blunt Bangs
When you pair a blunt bob haircut up with a set of full blunt bangs, you get a style that's edgy enough for a 20 year old in a punk band yet beautiful enough to be worn by women over 50 who crave an elegant yet trendy style. So versatile, your whole look can be changed with the use of makeup!
Highlights!
Want to switch up your style in about an hour? Consider highlights! Highlights are stylish and can completely brighten up your locks instantly. So pretty!
Platinum Medium Length Blunt Bob
Bobs don't have to be short- as you can CLEARLY see in this stylish 'do! Her blunt bob haircut is cut just above the shoulders, leaving length for styling. It's a great option for girls with long or square faces.
In love with blunt bobs yet? Always chic and always looking fab whether you're rocking tri-layered locks or baby bangs with your bob, we highly suggest giving it a try. Pophaircuts.com which one is your favorite?