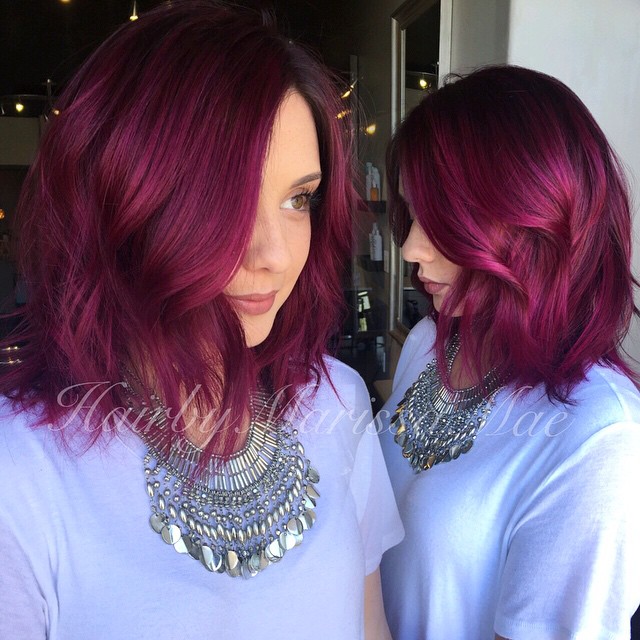 23 Cute Bob Haircuts & Styles for Thick Hair: Short, Shoulder Length Hairstyles
For women blessed with thick, beautiful hair, any hairstyle goes. They can easily rock luscious lengthy locks past their shoulders but can easily sport a short haircut with no problem. These layered bob hairstyles for thick hair are cute and bouncy, perfect for amplifying your mane without it looking too bulky.
Short Blunt Bob
A blunt bob is a trendy cut that's absolutely fabulous. Chic and beautiful, dark brown locks are cut just about jaw-length, perfect for oval faces.
Simple Short Gray Bob
Did you know that gray hair is undoubtedly one of the hottest trends of 2016? Paired with a simple short bob haircut like this, this is clearly one of the trendiest short bob hairstyles for thick hair 2016.
Simple Wavy Ombre
Beach, anyone? This particular bob is one of our favorite short hairstyles thick hair, and it SCREAMS summertime fun. The natural blonde ombre is beautiful and summery while simple waves keep things looking youthful and fun.
Dark Blonde Relaxed Curls
We're thinking this is a makeover that ROCKS! Without removing too much length, she gives her locks a perky new look thanks to subtle long layers and cute relaxed curls.
Bayalage Blonde A-Line Bob
This gorgeous blonde a-line bob is one of our favorite bob hair styles for thick hair. The beautiful blend of natural highlights and lowlights creates a refreshing bayalage blonde that's illuminated by the sunlight while the classy a-line cut frames the face beautifully.
Dark Red Graduated Bob
This is an excellent choice for girls with round faces that need to add a little bit of length to their face. We're loving the seductive deep red color of her mane while the slick straight graduated bob to the shoulders creates one of the most stunning long bob hairstyles for thick hair.
Lovely Ombre Long Bob
Ombre is a super hot trend, and we're loving it on this extra long bob. If you're not trying to cut your mane too short, consider medium length hairstyles thick hair like this.
Chic Messy Tresses
This lovely look has 'style' and 'chic attitude' written all over it. Adorable wavy tresses are tousled up a bit for a sexy bedhead style that rocks. Keep it casual with a leather jacket or switch it up with some elegance in your fanciest dress.
Messy Long Bob
The haircut starts at shoulder length, which is great for the gal that wants to keep her length. With a touch of messy waves, this style is perfect for everyday wear.
Medium Length Wavy Bob
A gorgeous medium length wavy bob hairstyle is a great look for summer, adding some beautiful volume that's bouncy and fun.
Elegantly Curled Ombre
Elegance meets trendy attitude with this lovely look, an excellent choice when it comes to short hairstyles for thick hair that are romantic enough for prom, homecoming, or date night. Love the rich dark roots with lighter blonde tips, a lovely blend!
Voluminous Curls with Peek-A-Boo Highlights
Highlights are a HIT for spring and summer seasons, and that's why we're loving this style. Her peek-a-boo light blonde highlights really bring some brightness to her complexion while stylish voluminous curls give her mane tons of luxurious and sexy volume.
Medium Length Blunt Cut with Waves
This beauty is sporting a light blonde color with tons of highlights and lowlights which instantly bring texture and life to her locks. She tousled it up a bit with some loose waves, a great look for the beach!
Messy Lowlights and Highlights
We can't get enough of this cool and casual hairstyle, one of our favorite long bob hairstyles for thick hair. The collection of lowlights and highlights give her mane some lovely contrast and is a great choice for girls with round faces.
Purple with Accenting Curls
Chic and EDGY doesn't even BEGIN to describe this rockin' hairstyle! Her mane is vibrant and eye-catching thanks to the intense purple hue, while a few accenting curls give her mane some serious bouncy attitude. We love everything about this ridiculously trendy 'do.
Side Swept Medium Bob
Cut just under shoulder length, this is one of the best medium length hairstyles for thick hair. Tossed to the side and revved up with lots of messy waves, this hairstyle can be worn for your next interview with a pencil skirt or with your bikini at the beach.
Ombre with Loose Curls
We've seen a lot of blonde ombre we adore, but don't forget how gorgeous you can look with brown ombre too! Here we see dark roots leading to lusciously light tips, a perfect contrast that looks lovely when loosely curled.
Blunt Cut with Waves
This blunt bob is cut right above the shoulders, which instantly gives hair a huge boost of body and life. She adds some simple waves throughout the mane, a perfect finish for everyday.
A Hint of Retro
One of our absolute favorite inverted bob thick hair styles, this luscious cut features just a hint of retro with these fabulous curls.
Asymmetrical with Blonde Top
Not a hair color option you see often, but one that should certainly be adored! She brightens up her locks with a bit of dark blonde on top, which softens her face and brightens her complexion. The asymmetrical cut with a seductive sweep back is nothing short of stunning.
Platinum Blonde Beach Curls
Beach curls are perfect for what? The beach of course! These bouncy and coquettish curls are utterly trendy and the platinum color is perfect for spring and summertime fun.
Voluminous End Curls
By leading her hair slick straight on top and only volumizing the ends with tons of luscious curls, her hair gets a boost of body and lusciousness that can certainly be worn anywhere.
Tons of Layers
Layers are key when giving body to lifeless locks, and that's why this is one of the best layered bob hairstyles for thick hair. This short bob haircut features loads of cute layers ranging from short to long and side swept bangs add a hefty dose of trend that frames the face.
So many adorable hairstyles to choose from. Pophaircuts.com which one of these bob haircuts for thick hair will you consider? And after you've taken the plunge, which bob hair styles for thick hair will you rock?