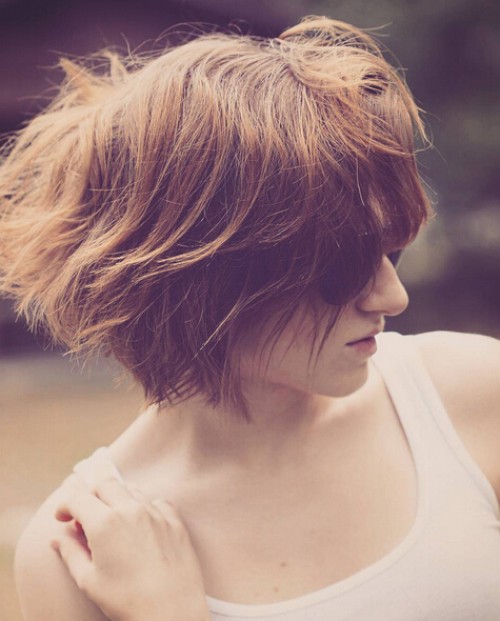 20 Popular Messy Bob Haircuts We Love
Bob haircuts have soared in popularity over the past few years, and why wouldn't they? Bob haircuts add an instant bounce to your mane as well as a flirty and fun attitude that can't be dismissed. But why leave your bob straight and narrow when you can amplify it with subtle waves and curls? We've come up with a list of 20 messy bob haircuts you'll adore, with everything from coquettish waves to knockout curls and SO much more.
1. Side Swept Textured Bob with Highlights
Adding pizzazz and volume to your messy bob haircut is a cinch with a bit of texture. Throw some loose waves into your hair and part it generously to the side to achieve that glamorous, highly sophisticated finish. We're loving the gorgeous combination of brown with dark blonde highlights, a sultry finish that pairs well with dark lips.
2. Blunt Dirty Blonde Bob
If a casual look is what you're after, we highly recommend this cute dirty blonde blunt haircut. It's dazzled up with a bit of loose waves and the dirty blonde coloring isn't overpowering. The end result? A simple hairstyle that can accompany you to the office or the beach with ease.
3. Long A-Line Bob
Known as the classic Jennifer Aniston hairstyle, this gorgeous long-length a-line bob haircut frames the face beautifully. It's the perfect style for girls seeking to accent their best features as the longer layers drape delicately around the face, flipping slightly inwards towards the jaw and creating a soft yet highly polished look.
4. Voluminous and Bold Blue Bob
Piled on top with heaps of volume and finished off with a bright, look-at-me blue hair color, this bold style surely isn't for everyone! If you're looking to make a statement wherever you go and love the edgier styles in life, consider this vibrant and powerful style. Don't forget the side part and tousling to add to the edgy effect.
5. Lightly Curled Graduated Bob
One easy way to add some serious volume and femininity to your overall look is to simply add a splash of soft curls to your mane. This short graduated bob haircut is amplified with some subtle teasing in the back, followed by some light curls to bring the look together perfectly. Perfect for date night or when you simply want to add some feminine style to your look.
6. Tousled Two-Tone Bob
Aside from the enticing tousled style of this bob haircut, we simply can't get over the stunning two-toned hair color! It's left darker in the back, with a sultry light brown with hints of red around the face. This lovely combination really enhances the entire look and brightens the face, leaving you with a gorgeous and glistening finish.
7. Tossed with Highlights Graduated Bob
This modern hairstyle is filled with plenty of lowlights and highlights, creating a colorful finish with plenty of pizzazz. The back is lightly teased to create some casual height while the lengthy bangs are flipped back coyly for a casual style that fits just about anywhere.
8. Elegant and Lengthy Dirty Blonde Bob
There's simply no denying it: there is nothing more graceful and elegant than a set of loose romantic curls; and that's why we adore this hairstyle. The sultry finish is perfect for the finest occasions, matching with the little black dress for dinner parties or your cutest ensembles for girls night. The hair coloring has the slightest touch of ombre, darker at the roots leading towards lighter ends, which just so happens to be one of the trendiest looks for 2015.
9. Black and White Wavy Long Bob
Simply captivating. How often do you see a hairstyle that combines super dark locks with hints of light blonde and it actually comes out perfectly? We're simply mesmerized by the color combination of this mane, and the long loose waves add a dose of casual femininity that is simply stunning. Loving everything about this hairstyle as it can go from day to night with ease!
10. Rigid Graduated Bob with Light Texture
A rather rigid graduated bob is lightened up with a bit of super loose waves, adding some casual texture that calms down the overall bluntness of the haircut. Great idea for when you want to loosen up and enjoy a day at the beach with your girlfriends!
11. Two-Tone Bob with Subtle Curls
For the women out there seeking a simple way to bring their dull manes to life, consider a beautiful two-tone bob sporting a rich combination of dark and light brown highlights. Leave the lighter highlights around the face to brighten your complexion, and add a generous amount of curls to your locks for a classy yet super flirty finish that is sure to get you noticed.
12. Wild Ombre A-Line Bob
With ombre hair coloring being so insanely popular this year, we're always looking for ways to switch it up with different colors; and this black and green mix is exactly what we've been looking for! Yes, it's an incredibly bold hair color, but it's perfect for the gal who craves intensity and life. And just look how amazing this hair color looks when it's amped up with some light waves? Simply mesmerizing.
13. Violet and Pink Bedhead Bob
If there's one style trend that took over the world of hair this year it's this: purple! Purple locks are undoubtedly a top trend everyone's indulging in, and that's why we love this violet and pink  bob. She adds some violet and pink highlights to her blonde hair, creating a vibrant pastel look that's simply flawless. With some super messy curls, this alluring look has 'beadhead' written all over it.
14. Shocking Blue Long Bob
We have to admit: we love both of her hair colors. But if you're like this young lady and looking to switch up your 'do without losing out on shockingly bright color, consider this energetic and intense shade of blue! It's certainly a show-stopped and will have heads turning wherever it goes. Leave it lengthy to frame the face and tousle it up for some cool and fun volume that lasts into the night.
15. Curly Short Brown Bob
It's no secret: elegance is written all over this woman. From her beautiful dark brown mane to her luscious pink lips with bold accessories, she's certainly nailed the classy '50s style we all know and adore. For this look, all you need is to add some medium-size curls to your locks. Put it in a side part and sweep your curled bangs over your face, letting them dangle gently to create a soft appearance.
16. Curly Blonde Bob
So much bounce, so much flirty attitude! This curly blonde bob is nothing short of bouncy and adorable, the perfect combination! Leaving the roots darker so the color isn't too overbearing, the rest of the mane is left with a super light blonde shade that is sure to glisten and shimmer in the sunlight. An excellent option for summertime hairstyling!
17. Crazy Back Volume Bob
There's your typical volume and texture, and then there's this. This woman decides to throw caution to the wind and really amp up the back of her hair, tousling up the rest of her mane generously for a really relaxed and casual finish. We're loving this style on days where being free and easy is an absolute must!
18. Bright Wavy Long Bob
Sunkissed to perfection, this bright blonde hairstyle has the perfect combination of lowlights and highlights to create a stunning finish. Brought to life with a bit of soft waves, this flirty style is made complete with some soft pink lips and light eye makeup for a coy finish that's absolutely perfect for summer nights on the sand.
19. Short Red Wavy Bob
When it comes to looking alluring and enticing, nothing does it better than some red locks. We're loving this enchanting shade of red, which compliments her skin tone beautifully while the slight a-line haircut frames the face perfectly. All in all this is a highly glamorous look that belongs in the Oscar's. Amp it up with some red or pink lips and a silver necklace!
20. Simple Short Brown Tossed Bob
Ladies, this is brown hair done right. The brown shade is amplified to the max with some lowlights and highlights, making for one amazingly decadent hair tone. Here we see a simple tossed back look, which is great for days when looking trendy yet casual is imperative. Don't forget to pair this hair with a set of red lips!