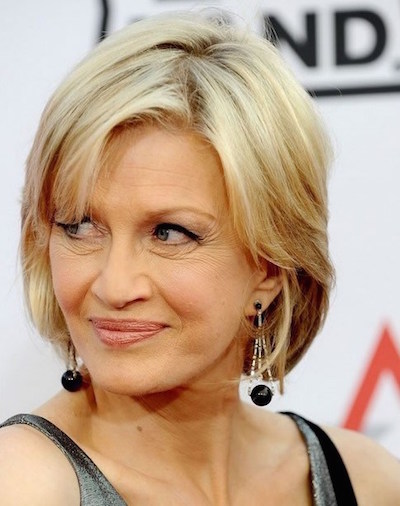 20 Stylish Hairstyles for Women Over 50
Middle aged doesn't have to mean what you think it does. This is a wonderful time of life where you are given a second chance to reinvent yourself. Why not take advantage of it? Continue to live youthfully and explore new things. Just because you're getting older doesn't mean your hair has to show it. While you may not want to have the same hairstyle as your 20-something daughter(s), you can still have fun playing up styles that work for you. Here are some great short hairstyles to get the ball rolling.
1. Feathered Medium Bob Haircut for Women Over 50
This feathered bob is both flattering and fun! It's long enough that you can still play around with it.
2. Subtle Layers: Bob Hairstyles with Bangs
You can really never go wrong with layers.
3. Long Pixie: Cute Short Hairstyle for Women
A long pixie is another excellent choice that is both classy and playful.
4. Long Front
Get the best of both worlds with this pixie.
5. Chopped Pixie
Get edgy with this sexy pixie cut.
6. Wavy Bob
Youthful and elegant, this is definitely a look to try.
7. Funky, Messy Pixie Cut for Women Over 50
This ruffled pixie is just the thing to add some spice to your style.
8. Wild Pixie
Or, get wild with an elegant look like this.
9. Proper Pixie
But, if that's not your style, you can always resort to a more proper cut.
10. Thick Bob
Another incredible bob that is worth a try!
11. Elegant Bob
This "queen" should be the queen of style.
12. Sleek Bob
This sleek do may just be the look for you!
13. Feathered Pixie
Jane Fonda has been rocking this look for years. It's no wonder why.
14. Curls Galore
Let your curls roam free with this natural look!
15. Simple Bob
Simple and brimming with elegance, why wouldn't you want this look?
16. Sleek Pixie
Sleek and smooth, Kris Jenner shows us how to rock this look.
17. The Streep Sweep
How could anyone forget this classic look?
18. Classy Bob
A personal favourite on this list, it's no wonder she looks amazing.
19. Classic Pixie
Jamie Lee Curtis rocks a classic pixie, showing us not to be afraid of short hair.
20. Perfect Bob
So have fun with your hair, no matter what look you choose.