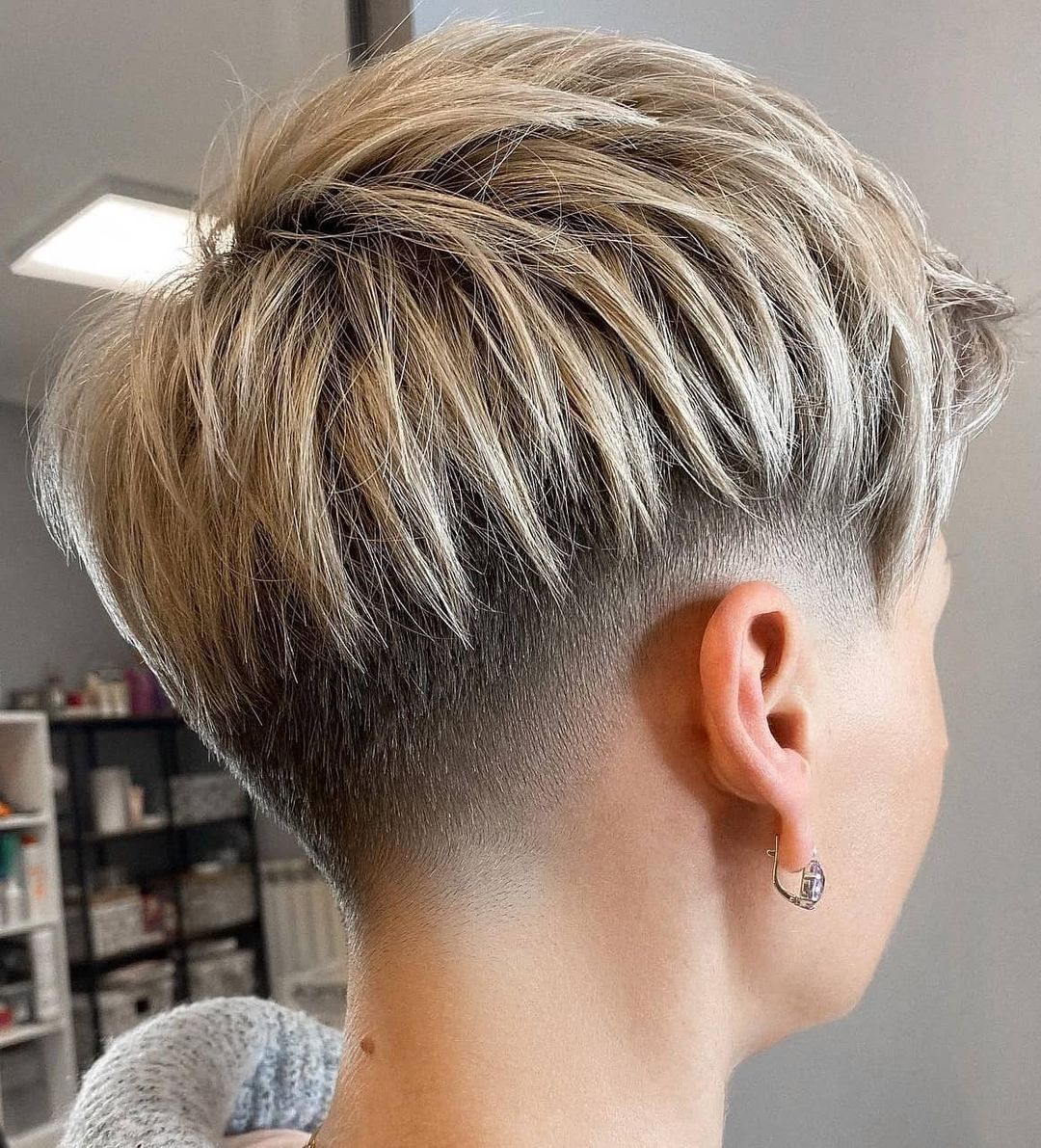 10 Short Layered Hairstyles – Bobs & Pixies with a Modern Twist
Short, layered hairstyles create trendy, modern haircuts for all hair types. But do you know the latest hair fashion twists that show your hairstyle is totally up-to-the-minute? And when you can't get to the hair salon as often as you'd like, it's easy to lose touch with what's 'in' and what's 'out'! Because the one thing that never changes is that hair-fashions keep changing! So whether you have thick, medium or fine hair, find out what are the latest trends here. Take a look at these exciting new cuts and the fabulous hair color designs that make them so popular right now!
1. Cute crown volume & curved surface texture – short layered hairstyles
Lots of height at the crown mimics the elegant look of long hair in an 'updo'. But the advantage is that short hair is cooler, lighter and very much easier to manage! The curved bob shape graduates beautifully into the nape, where it's styled into a piece-y finish to soften the line. And the surface texture, with blonde balayage, gives this bob a totally trendy, new season look. The lovely beige shade is a medium-blonde hair color that's very flattering to warm/neutral skin undertones.
2. Simple glamor from blunt-cut gray-blonde bob – short layered hairstyles
Very light blonde hair is usually finer and thinner in texture. However, if you lighten it to this level it will gain body as the chemicals thicken each hair strand. So your stylist can add plenty of volume and create this contemporary casual bob. The cool blonde color is a high-fashion, blue-gray wih cute face-framing, lighter balayage, which always accentuates eye-color beautifully. The windswept finish adds a trendy, relaxed vibe to an easy-care, daily hairstyle that's also subtly glam!
3. Racy brunette bob haircut with ombré balayage – short layered hairstyles
The stylist has created lively movement on thick hair with sliced layers and fashionable, ombré balayage. The warm colors in the copper-blonde highlights harmonize perfectly with the model's rich brunette base color. And with the latest deeply textured finish, this classic short bob haircut has a super, modern look!
4. Street-kid messy silver-blonde bob – short layered hairstyles
Here's a super, chin-length bob with full bangs that's a great choice for fine hair! The messy, tousled finish gives fine hair extra volume and great fashion credentials! Deep texture is the way to make your hairstyles look trendy this season. And adding a straight-across fringe down to eye-lash length creates the classic, French 'gamine' or 'street-kid' look. So as well as being a cool, silver-blonde high fashion shade, this is also a super-cool image for young fashion fans!
5. Dusty-pink & apricot tones on layered bob haircut
Now fantasy colors are a part of mainstream hair-color design, we can match them up with classic, bob haircuts super-chic, high-fashion trends.  And this stylist has produced a fabulous short hairstyle, with a blunt-cut, curved line creating a defined 'step' around the nape. This makes a creative contrast with the lovely, feathery texture above and the edgy, disconnected layers around the chin. In addition, the colorist has added purple and apricot tones to the lovely, pink color accentuating the texture with a sophisticated, color design!
6. Bendy waves on a soft blonde messy bob
What a great new look! I can see that flipped-out tips are creeping back into fashion, but in a modern, untidy look. Flipped-out ends were very popular in the 60's, but they had to be perfectly finished then! Today's relaxed versions show the modern women don't need to be 'picture perfect' to look feminine and attractive. This fantastic, messy style has curvy volume around the top, defined bendy waves and spiky flipped-out tips. And the subtle pink-blonde, with apricot tones, is perfect for this year's trends!
7. Soft copper bob with long layers
This colorful shade of copper has gentle touches of beige and coral-pink, which I think softens it beautifully. The brunette roots look natural in this hair color design and avoid the hard contrast you get with edgy, dark-roots-and-white-blonde styles. And the stylist has made an excellent job of blending the colors for a subtle, ombré balayage. The cut itself is a simple, chin-length bob with highly textured tips. But with lots of defined, tousled texture and cute balayage, the end-result is super-trendy!
8. Boyish blonde bowl-cut pixie with trendy low fade
This short, pixie haircut's full of this season's trendiest features, which come together to make a fabulous, young, edgy look. The stylist has cut the top into a short basin-cut. But it has a great modern twist in the defined, sliced layers and forward volume. There's also a slight undercut vibe here, with a contrasting, dark, buzzed band around the head. And just above the ears and the nape, the hair fades into a low, bald fade. It's a totally trendy steal from the boys, which looks ultra-feminine on girls!
9. Chic deep-bangs pixie-cut in soft platinum blonde
One of the best ways to add natural volume to fine hair is to sweep it forwards against its growing direction. And this stylist has done a great job creating a modern, highly textured pixie cut on fine hair with a chic finish. The side-points are buzz-cut for an edgy detail. And the long layers on top look fabulous in a forward-swept style, which continues down to create a cute, curvy fringe. Finally, light, golden-blonde roots look soft and appealing, as they transition to delicate, white-blonde.
10. Textured mid-blonde asymmetric short bob
Medium and thick hair will stay in place all day, in this smart and sassy short layered bob! The stylist has taken a very popular short bob and added extra style features for a completely fresh look. The deep side-part is highly fashionable, and creates a lot of flattering volume on top. And with the latest deep-ridged texture around the crown, it comes right up-to-the-minute. Finished off with a soft, medium golden blonde you get a hairstyle that looks extra-special every day – and evenings, too!
Which is your favorite from today's hair inspiration gallery?