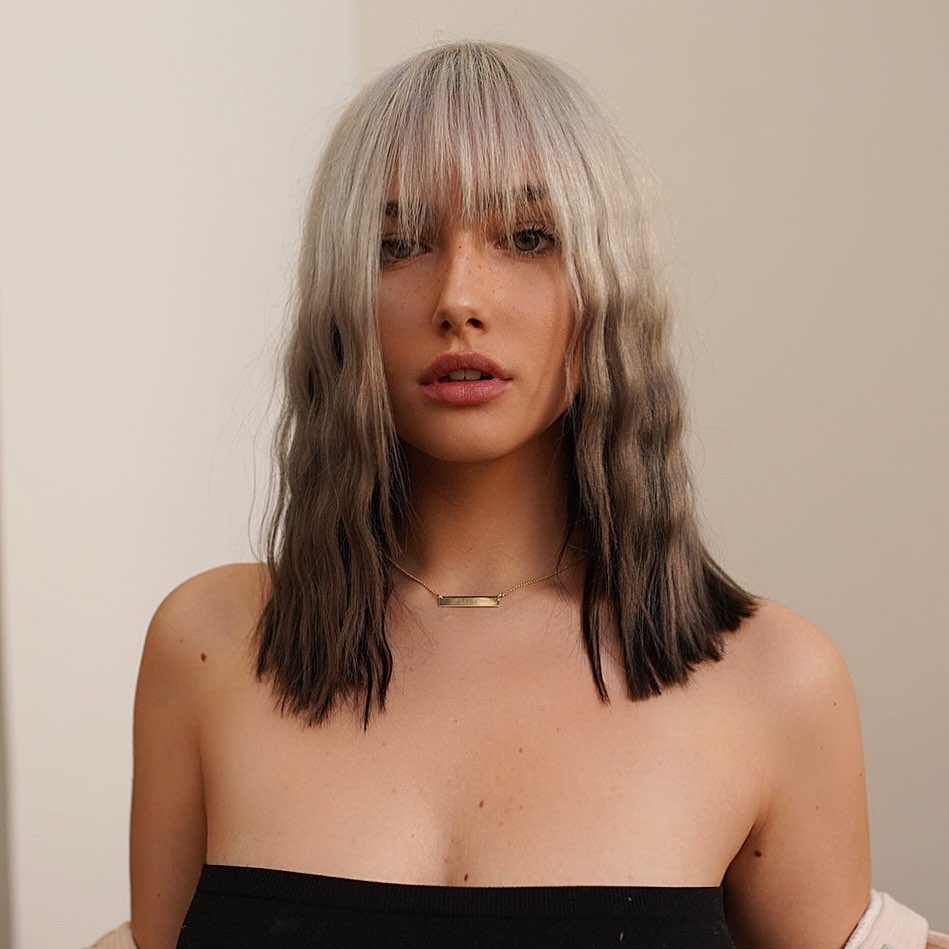 10 Ombré-Balayage Haircut Ideas for Women with Long Hair
Looking to freshen up your ombré balayage haircut? Now's the time to get a new color makeover, so your hair looks up-to-date at work and in your leisure time! This gorgeous gallery focuses on the latest ombré balayage ideas for women who like unusual, trendsetting hair color designs. So whether you like grunge, fantasy color or a chic, natural look – these flattering, long haircut-and-color ideas will turn last season's faded tresses into a fresh, fashionable hairstyle!
1. Ash-blonde with neutral-brown reverse ombré – ombre balayage haircut ideas for women
A reverse ombré flips the colors around, so you have a lighter tone on the roots and top sections, which gradually transforms into a darker color down to the tips. And this ash-blonde top focuses lots of attention on the top of the face, which means the model's eyes, nose and cheekbones are nicely framed by bangs and side layers. Long, straight-across bangs suit the symmetry of this hairstyle, which has a center-part behind the fringe. And shorter layers cut to to jaw-length, reduce the width of a broad face.  This ombré is eye-catching and trendy, making a simple style chic and unusual!
2.   Auburn & cream-blonde balayage – ombre balayage haircut ideas for women
This fabulous balayage includes the season's top fashion colors, like burgundy, tan, cream and camel. And there are different shades of copper, ash-blonde and shell-pink in there, too. So the mix of dark, medium and light colors creates a 3-D color depth for thicker-looking hair! This is a richly colored hairstyle, which has an expensive and trendy look. But it's also easy-style for every-day wear, so you'll always look great with very little effort!
3.  Grunge taupe with subtle purple & pink-blonde balayage  – ombre balayage haircut ideas for women
This is a grunge hair color idea, with a touch of added color, in line with this year's fashion for pastel pink and gray outfits. Taupe means 'mole' and this color is a mix of gray and neutral brown that's a favorite shade for grunge fashion fans. On a long hairstyle with attractive, defined waves, this creamy-pink and ash-blonde balayage really highlights the movement. And with taupe lowlights applied exactly where the waves bend, you get a strong, 3-D effect!
4. Light taupe roots & ash-blonde ombré – ombre balayage haircut ideas for women
This is another cool color hair design, which suits skin with cool/neutral undertones. It's a hybrid, with grunge taupe at the top, and a contrasting, platinum blonde ombré section that's totally glamorous! There's an up-to-the minute touch of blue toner on the blonde section and yellow-beige balayage around the head and at the ends. And with heavily textured tips, you get an edgy look. This gorgeous, long ombré hairstyle is finished with loose waves and straightened tips!
5. Beige-blonde to white-blonde makeover hair color design on long hair
From warm-beige to platinum-blonde – how is that possible? Surely, you can only wear warm or cool shades for a look that complements your particular skin undertones? Well, yes and no. LOL! Some women have neutral skin undertones, which allows them to wear warm or cool colors with success. And clever colorists have their own little tricks, like mixing in a touch of color with a white-blonde hairstyle, so it suits your skin perfectly. For example, this white-blonde long hairstyle has gray, shadow roots and touches of golden-beige balayage to soften the effect of white-blonde!
6. Updated black & white long hairstyle for 'scene' fashion fans
'Alternative scene' hair fashion colors cover a broad palette, but if you want a sharp hairstyle with lots of impact, you can't beat a classic black and white dual color design.  And this version has a superb, modern twist from shell-pink ombré on the white side and a little, shell-pink balayage on the underneath layers of the black side. Check that these cool colors suit your skin undertones before you go ahead. And make sure you consult an experienced colorist, to get this stunning new look!
7. Messy lavender-pink & baby-blue wavy lob hairstyle with centre part
The 'random' way that color is applied on this messy lob echoes the casual, tousled finish of a boho or 'scene' hair-color design that will show your individuality. Warm light-brown roots transition to complementary cool pink and pastel blue, which really bring out the color in the model's eyes. And then warm, light brown pops up again in an asymmetrical pattern around the tips! This fun style will show you have lots of personality and a trendy fashion sense!
8.  Romantic beige, copper & pink blonde balayage on long wavy hairstyle
Here's a lovely, feminine hair-color design to make fabulous long wavy hair look even more enticing! It's perfect for attracting attention to gorgeous, long, shiny hair. The colors are all soft and subtle, creating a chic and romantic image that will win compliments wherever you go. And as pastel colors are trendy for summer fashion outfits this year, this expert mix of cool pink, cream-blonde and warm copper colors will go with perfectly with your fashion clothes!
9. Orange, coral-pink & aqua fantasy hair color design on long wavy hair
Are you getting ready to party, party, party this year? Well, let everyone around you know that you are looking for lots of fun with this fabulous, fantasy hair color design! This is a super-charged hair color experience which moves from red-orange roots, to creamy coral-blonde and aqua tips. Will you have to wear white, black or gray colors to get a suitable match with your clothes? No, not at all! Look how well this set of pastel-blonde shades complements the model's lavender tee-shirt! Just go for it!
10. Neutral beige blonde with centre part & soft golden-beige balayage-ombré
And if you prefer a natural look, then this casual, beige-blonde look is the season's softest color option! All of the gentle, light-brown shades in this flattering hairstyle are hot fashion colors this year, so you can make your khaki, camel, beige and cream fashion outfits match from head to toe! Beige-blonde, ombré balayage is a popular color you can wear to the office, a romantic date and a formal dinner. And it looks great with this year's summery pastel fashion colors. A center part flatters an oval face shape, and those cute, 'curtain' waves make a lovely face-framing finish!