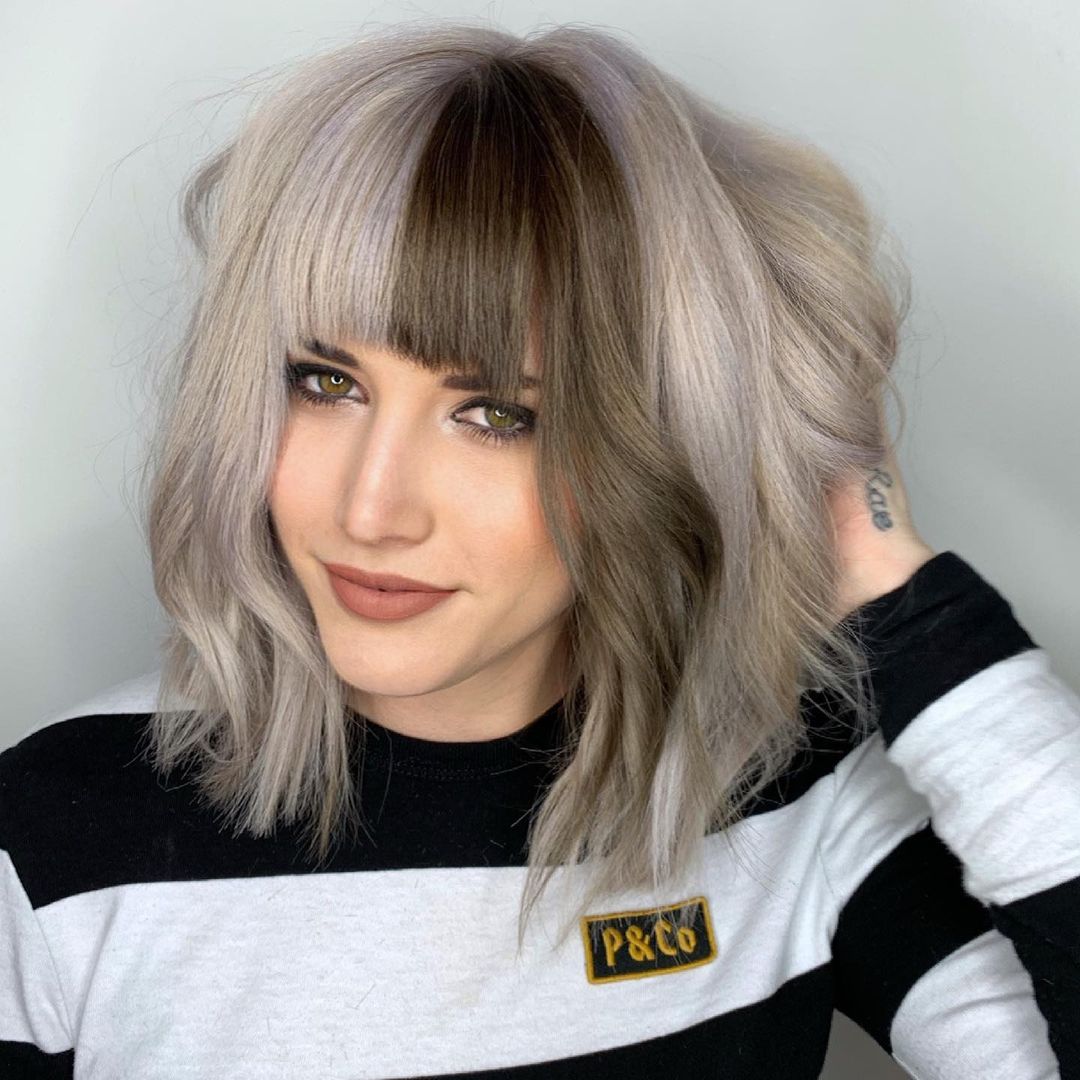 10 Lob Hairstyles for Thick Hair | Crazy Lob Hair Color Ideas
Have you tried an 'alternate scene' or fantasy hair color design yet? They are a lot of fun and can also be extremely chic and sophisticated. Lobs are popular for being face flattering and easy to manage, and they provide a smooth background for some adventurous hair colors. So how about pushing the boat out this season with a daring, new look that will surprise and delight you!
1. Black with asymmetrical white-blonde sections – lob hairstyles for thick hair
We are seeing more and more 'alternate scene' hairstyles breaking into mainline hair color designs this season. This super look has taken the black and white theme and added a contemporary twist. At first glance, it appears to be a half-and-half black/white look, but the white sections are slightly asymmetrical. On one side the white-blonde is on the top section, but on the other it's on the underneath hair! It's a super-trendy look that's also easy-care and easy to match to any color in your wardrobe!
2. Raspberry roots with peach-blonde & black – lob hairstyles for thick hair
This highly creative hair color design just shows that the color permutations available with fantasy colors are pretty much infinite! Straight hair has lovely, light, raspberry-pink roots, that transition smoothly to a gorgeous, peachy-blonde, main color. Lighter, apricot-blonde vertical highlights add even more 3-D color depth. And somehow this becomes stunning, black tips that define the edges of a flawless, fantasy hair color, straight lob!
3. Beige-taupe straight bob & blue border-highlights – lob hairstyles for thick hair
We really love this trend-setting new hair color style of coloring the 'edges' and tips of the hair, creating border highlights. The centre-part creates cute, face-framing strands which, colored in baby-blue emphasize a pair of blue eyes beautifully. And as taupe and pastel-blue are high-fashion colors for clothing this year, you can create some fabulously trendy, matching hair and clothes outfits!
4. Flame-orange ombré with white-blonde roots – lob hairstyles for thick hair
Want to liven up your look? This is a funky, eye-catching look that will look great against black and gray tops! The top section is a sophisticated ash-blonde shade, with chic, shadow roots. But there's a tremendous creative contrast half-way down the head, as the brash orange with touches of red and yellow dominate the rest of the hair! This is a fantastic, 'alternative scene' look that will definitely shock your parents! LOL! And it's also a real trendsetter – like you!
5. Cool turquoise with ash-white blonde centre-part bob hairstyle
Turquoise and aqua are not only high-fashion colors for this season, but also a super way to complement cool and neutral skin undertones and ice-blue eyes! The chin-length straight bob is a simple, easy-care style for all ages. But with a centre-parting on an oval face shape, it lends itself to some amazing hair color ideas. And a natural make-up look balances out fantasy colors. This latest way to highlight face-framing strands in a contrasting hair color, takes the idea of 'baby-lights' a step further to produce a stronger, trendier look!
6. Shades of gray & beige with straight-across bangs
If you enjoyed 50 Shades of Grey, you might like to try this lovely, new idea of three gray shades! The model has hazel eyes, with a hint of green in them, so lilac tones on the light-gray sections help to accentuate their attractive color. The half-and-half light and dark gray full fringe is a lot of fun. And although the haircut is symmetrical, there's a fashionable touch of asymmetry in the contrasting face-framing strands! And gray is a high-fashion color this year, which you'll find very easy to match with subtle and brightly-colored fashion outfits!
7. Pearlized soft orange with lavender face-framing sections
This simple, chin-length bob with a centre part is a truly classic hairstyle for an oval face shape. But when short, bobbed hair was first invented and so shocking to society, I doubt they could even imagine it would eventually be colored in orange and lavender! LOL! However, we think this is an absolutely fantastic mix of softly, pearlized hair colors. It's a clever blend of warm and cool blonde shades, which accentuate the model's blue eyes and complement her neutral/cool skin undertones. Great for parties, night-clubbing and weddings!
8. Centre-part beige-gray long bob haircut
Soft and sophisticated colors are also highly fashionable this season. And a shoulder-skimming long bob is a great makeover look to freshen up your image. Shadowy gray roots make a perfect background for some gorgeous vertical blonde highlights. If you look closely, you can see there are at least five different shades in this expertly applied gray-blonde hair color design. The centre-part has a long, trend-setting, divided fringe swept to each side to make a super profile feature at the sides!
9. Choppy wavy taupe bob with off-centre parting & blonde balayage
If you really prefer something more natural, this neutral blonde blend is a chic, classic look you can wear anywhere, anytime! Not all employers welcome fantasy hair colors, so if you want to look like the best version of your natural look, this is a great new haircut. Instead of the centre-, or deep side-part, this asymmetric style has an 'off-centre' parting. It's a super way to flatter an almost oval face and a slightly round, face shape. The dark-blonde roots are the model's natural shade, and light-gold balayage and baby-lights, accentuate soft, feminine waves!
10. Lavender-blonde bob with parted long fringe from centre-part
The centre parting with a long, divided fringe is the hot, new style for this season. It's a retro-look from the 1970's that's matches the trend for flared and bell-bottom jeans perfectly! However, this pretty hairstyle has a lovely, modern twist in the beautiful, lavender, fantasy color that suits green eyes so well! The benefits of having a straight style are how easy it is to manage, and keep in excellent condition. So although the color is artificial, the overall look is youthful and natural!