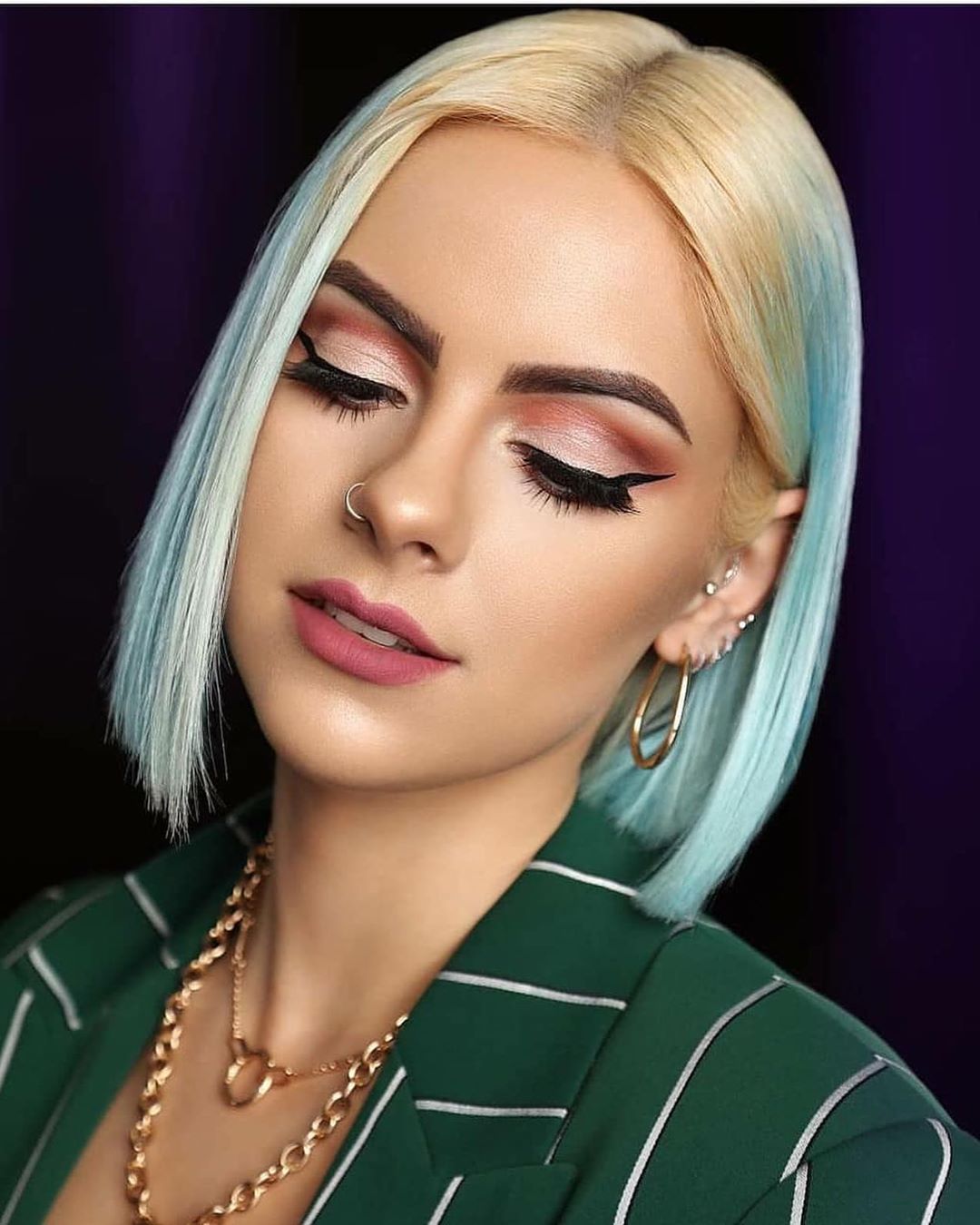 10 Trending Short Bob Hairstyles in Colorful Hair Designs
Short bob hairstyles always lead the way in high-fashion looks! And I promise you won't be disappointed in this crop of fabulous, new cuts and the imaginative hair color designs that are the latest trend. Whatever type of hair you have and whatever your face shape, you'll find a super-flattering short bob hairstyle to bring out your best features. And if you like easy-care styles, that don't take up lots of your valuable time, these cute, edgy and simply delicious looks are perfect for you. So come on in and enjoy choosing your perfect, new season look!
1. Straight center-part in blonde & aqua – trending short bob hairstyles
There's something 'dreamy' about the lovely, soft colors in this fabulous short bob. The gorgeous golden-blonde roots are miles away from the dark roots of previous seasons. And they create a gentler image, especially when combined with light-aqua and mid-turquoise ombré. And worn with a smart jacket and pretty gold jewelry, you can see this is not just a summer-beach, hippy-look any more!
2. Youthful silver-gray on trending short bob hairstyles
Silver-gray may seem to be a cool hair color, only suitable for cool skin-tones. But as you can see here, if it's subtly blended with a little warm-brown color, it suits medium skin-tones and brown eyes perfectly. This is a great style for medium and fine hair, as it's short enough to avoid too much weight flattening the silhouette. And without layering, you keep the natural thickness of the hair. The center-parting is flattering for oval face shapes.
3. Magenta roots with flaming orange tips – trending short bob hairstyles
Here's another way to have a simple, but eye-catching, short bob on fine hair.  Magenta pink roots , fading to cool and warm beige mid-way down transition effortlessly to bright orange citrus in the lower lengths! Instead of having to style your hair every morning, just let the colors be the personality and enjoy an easy-care look!
4. Jet-black sculpted bob for thick hair – trending short bob hairstyles
Thick, black hair always looks trendy and chic in an inverted short bob haircut. And this version has a fabulous, volumized back above a cute point in the center of the nape. The front can have a center, or side part, with daring disconnected layers sweeping down several inches below the chin. And to add the illusion of incredible shine to this hair, the colorist has lightened the center section and added a hint of green color! Wow!
5. Peach & raspberry wavy inverted short cut
This is definitely a 'delicious' look that makes you think of yummy desserts! It follows the latest trend for mixing cool and warm hair colors, to create an edgy twist on soft, fantasy colors. You can achieve a mixed color look by matching the face-framing color exactly to the skin-tone, which in this case is cool. And keep the warmer shades at the roots and on the back. And defined waves with textured tips create lots of lovely texture and movement!
6. Vertical golden highlights on straight brunette bob
This precision-cut bob is all about curves and you need reasonably thick hair to get the natural volume this hairstyle relies on. It's chin length, which is one of the most flattering lengths for most face shapes and ages. And this classic cut is brought right up to date with lovely sweeping curves in the bottom edge, leading to a cute point detail at the nape.
7. Choppy boho blue short hairstyle
This model has unusual, medium blue eye color and her colorist has cleverly copied the same color in her trendy haircut! The edgy short style has an 'urchin cut' around the top, with a short fringe, separated in defined strands to look uneven. And that adds face-flattering volume on the top. The sides are trimmed in longer layers that soften the line around the face, but stay edgy with pointed tips!
8. Messy & wavy short haircut for fine hair
Lovely tones of lavender add 3-D depth to this cute, high-fashion fantasy look. The hair is cut into a medium-short inverted bob with highly textured tips to blur the bottom and add an untidy look. And the hair has a little layering to allow the top to lift up and give added shape and volume. This fabulous hairstyle is full of lively movement, texture and fun!
9. Choppy center-part short straight haircut
We love this neutral blonde look, created with subtle beige. And there's nothing better than cute pink side strands to bring out the deep brown of this model's eyes. It's a great style for medium to fine hair, with a blunt cut bottom edge to add bulk at the tips. And a choppy disconnected layer framing an oval face. The shorter length and straight lines add a youthful, edgy vibe!
10. Smooth short haircut in beige and blush pink
Cool, calm and collected is how I would describe this model's image – with her hair in a simple, but sophisticated short bob. There's an off-center part to flatter an oval – round facer shape. And the inverted bob shape adds trendy style to a pretty, face-framing bob. But the inspired mix of cool pink with warm, golden beige lifts this easy-style haircut into a subtle, high-fashion look!
Fantasy colors are now acceptable in workplaces, especially if you have a smart-looking short hairstyle that shows you're well-groomed. So brighten up the new season with one of these attractive new looks that range from subtle to special occasion and youthful daintiness. What better way of lifting your spirits than having a super, new makeover cut and hair-color!