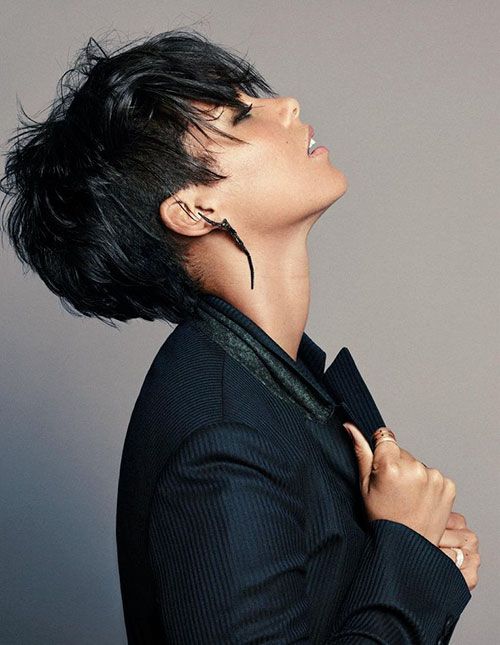 10 Short Layered Hairstyles in Fashion Right Now
Short layered hairstyles are so easy to keep fashionable, as you can make changes every few months. So you never need to wait ages for your hair to grow. And all of the latest trends are shown in the new short, layered hairstyles as each season begins. This gallery has exciting new looks with fabulously fresh balayage twists!
Futuristic chopped-off bob in white-blonde – short layered hairstyles
Adding a blunt-cut, chopped-off bottom line instantly makes a straight, chin-length bob look futuristic! And it's the perfect way to make medium – fine hair appear a lot thicker. You can achieve this very light blonde shade on hair that's naturally fair, but not on darker hair. The top has a few shorter layers around the crown and tapered tips on a few sections add even more texture. The trendy new color design has ash-blonde tones around the crown and the last few inches for extra edge!
Chic brunette chin-length bob – short layered hairstyles
You don't need to wear fancy, hard-to-style haircuts to look your best. And this is beautifully shown above in a simple, brunette chin-length bob. It's a little longer than the chin, giving more length to wear in up-, or half-up styles for variety. The off-centre part flatters round and oval faces. And long lengths at the sides are useful to hide a strong jaw-line. The pretty, little quiff and gentle wave on one side soften the line. And ultra-fine blonde balayage adds extra texture and movement!
Sculpted short bob in coffee & toffee-brown – short layered hairstyles for coarse hair types
Thick, coarse, straight hair can be a challenge to style easily in the mornings. So the clever option is to have a sculpted style cut into your hair with a razor – as shown above. The layers are vertically-cut, 'sliced layers' with long, tapered tips. And the coffee-dark roots, with medium, neutral brown around the top, create a fabulous color graduation – for a dark ombré. This is a super-trendy version of the inverted bob, with a cute quiff and side-swept bangs creating an attractive face-frame!
Modern honey-blonde short layered hairstyles
This super-chic, honey-gold, short bob hairstyle is absolutely adorable! It's also one of those lovely hairstyles that suits all ages. So if you love being fashionable, it's a style that looks great on just about everyone! Short layers at the back can be fluffed up to create a lovely curved shape and a super profile view. The roots are a warm medium-brown, which harmonizes tastefully with shades of honey and pale golden blonde in this classy, short short layered hairstyle!
Well-shaped bob with bangs for fine hair and long, round or heart face
If you love stylish, but easy-style, short haircuts this could be your perfect makeover style. It has a blurred, side-parting which adds to the relaxed vibe echoed in the hair tucked casually behind the ears. And the style suits long, round, oval and heart-shaped faces very well. Asymmetry breaks up the symmetry of a round face, and the lovely long side-swept bangs cover the wide forehead of a heart face. And the diagonal, long bangs reduce the length of a long face perfectly!
Tousled short bob in warm honey with ash-blonde balayage
This is a masterclass in hair color design, with perfectly-judged balayage on a chin-length bob. There are at least 5 different blonde shades included in this tasteful honey-blonde hair color design. And they range from warm, light-brown through pale, neutral blonde to ash-blue tones around the sides. Taken together with the lovely inverted bob cut for fine hair, the result is a super-chic short hairstyle with a trendy tousled finish!
Pretty pixie cut in neutral blonde with brown roots
Dark coffee roots create a dramatic background for bright neutral blonde balayage on this perky, short pixie haircut. And this is a great way to get the modern, 3-D color depth that always makes fine hair appear thicker. Not only that, adding neutral blonde balayage to brunette hair gives it a fabulously edgy look and lots of interesting texture. The short layers can be fluffed up easily for flattering volume. And the little front quiff adds a jaunty, boy-cut vibe!
Classic oat-blonde color on windswept textured bob
You can achieve this look on medium or thick naturally fair hair. It's a very light shade of blonde, underpinned by lovely neutral beige-blonde, so needs lightening several tones. And that is only possible on hair that's dirty-blonde, as it would be too harsh for brunette hair color. The balayage is white-blonde, which adds 3-D color depth and accentuates the highly textured, 'raggy' tips. With a windswept finish, this is a fabulous easy-style bob that's full of high-fashion style!
Coffee & cream long pixie haircut with bangs for fine hair
Straight, fine hair can be a curse, or a credit to you! And the secret is not wearing it too long, as this tends to make the weight of the hair pull it flat and make it look thin. This is a long, pixie cut with defined and separated, side-swept, long bangs, which have lots of texture and soften the line. And the side-parting allows the hair swept over the top to be a thicker section, making your hair look denser. Adding fine, blonde highlights to dark hair adds lovely texture and movement, too!
Hi-style edgy black long pixie
This fabulously dramatic, black pixie haircut contrasts extra-long bangs combed forwards, with short, sharply textured side-points.  The back is full of fluffed up layers creating a superb curved profile graduated down to just cover the nape. And the tousled layers on top add flattering height to a chic, smart hairstyle that's always easy to style!
So whether you prefer short, sharp pixie cuts, or short layered hairstyles in one of the latest bob styles, you can chop and change your image several times a year with inspiration from today's gallery!