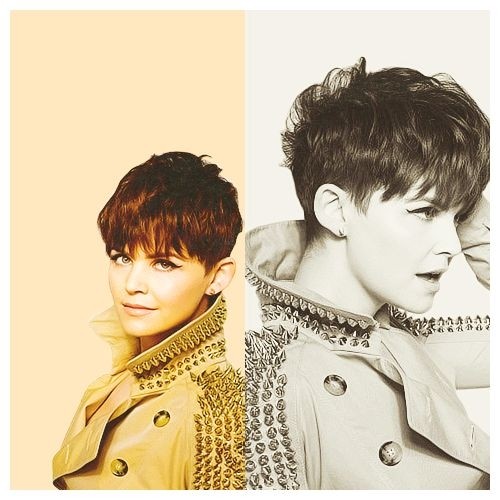 30 Stylish Short Pixie Haircuts for Women
In the past, people always consider the long manes represent charm and grace. Recently, more and more women begin to choose pixie hairstyles. If you desire to change your usual long locks, we will show you some popular and cool pixie hairstyles. An ideal pixie hairstyle can definitely stress your charm, grace and femininity. A perfect haircut can also make you more attractive and stylish. There are many superstars are creating such hairstyles. The pixie hairstyles are quite simple to manage and they are quite charming and trendy.
Pixie cuts are an ideal option if you desire quite a short hairstyle. Pixie styles are best for people who have round face and heart shaped face. A pixie style appears superbly attractive and chic. In addition, such hairstyle is ideal for women with thinner hair caused by the aging process. Pixie haircuts are ideal for women who have fine hair; pixie haircut can be cooler and more stylish for people with straight hair. The pixie cut is quite also chic. There are different ways to get pixie cut. It is quite simple to create it into a pixie cut. To create the pixie cut, cut your back and side hair into short crops, and keep the hair at the crown slightly longer. Cut the hair at the back and near the neck short. You can create the crown hair close to the forehead into various ways, for example you can choose small locks with a messy style, or style them to short/long side bangs. Some lowlights can create more style to pixie hairstyles. Pair it with some sweeping short bangs which can make the hairdo more charming. If you want a smooth look, you can apply some gel.
The pixie hairstyles are classified by the hair length into very short, medium and medium hair. To create very short style, you can apply some wax on your wet hair and then blow it dry to create the punk short hairstyles. Such cute styles for short hair can certainly make you much younger than you are. For the medium pixie hair, you can also create some layers so as to add volumes. You can experiment with an asymmetric long fringe which can help create more volume and get rid off the dullness or you can try out a jaw length crop. Some hair highlights can enhance your personality and add style to the whole hairstyle.
Choppy layers can bring you an edgy and chic look. The choppy layers look quite unique and they can give more volume to your hair. The choppy layers are ideal for people with thin hair.
Well, the above mentioned were some popular pixie hairstyles. Choose one and then enjoy the cute and charming pixie hairstyle…
Well, the above mentioned were some popular pixie hairstyles. Choose one and then enjoy the cute and charming pixie hairstyle…It's time to re-assess your beauty look! These 30 stylish pixie haircuts and short hairstyles for girls and women make it so easy to choose a seasonal makeover to a trendy new haircut and color design!
1. Boho messy-texture stylish pixie haircuts & short hairstyles for girls & women
Short on the top, but extra-long at the sides and back gives this messy pixie cut a definite Boho vibe. The style is combed forwards from the crown for a modern look, which continues down to create trendy straight bangs. The texture is a major part of this look, with tousled strands making attractive volume on top.
The bangs are cut to be shorter in the centre, before graduating down to the long, layered side-points. And this creates a lovely frame for the eyes. And this medium-blonde shade with light-blonde balayage is a flattering shade of blonde for mature complexions.
2. Cute & curly brunette stylish pixie haircuts short hairstyles for girls & women
This cute pixie haircut uses natural curves and curls to create a lovely feminine hairstyle. The sides and back are cut short to make an interesting contrast with the curly top. And the model's naturally curved hairline is accentuated before moving down into a dainty side-point.
There's another attractive curve in the shape at the back, which is cut into a neat short finish at the nape. And the front hairline is softened by a few tousled curls in this modern pixie haircut suitable for a wide range of ages!
3. Edgy long to short makeover – stylish pixie haircuts short hairstyles for girls & women
This model has updated her look from a long, typically teenage hairstyle to a super-trendy, asymmetrical short haircut! And in the process, she has gained a lot of fashion style. The short haircut has edgy buzzed detail in a side undercut, with short side-points.
And the side-part creates a lovely wavy fringe effect on the long layers draped over one side of the face in a sexy, peek-a-boo look. Tapered, textured tips add a little ragged texture to this lovely natural look!
4. Classic blonde highlights on stylish pixie haircuts short hairstyles for girls & women
This short bob shows how you can liven up mousey-brown/dark-blonde hair with light-blonde highlights and totally transform your image! The processing also thickens up fine hair and helps you create attractive volume for a puffy short bob haircut.
Defined strands of hair give this look a deeply textured finish that's trendy for this season. And this is a great everyday style that's easy care with a touch of blonde glamor!
5. Short haircut makeover for fine dark-blonde hair
This is not a dramatic makeover, but it does demonstrate how much style a short, graduated nape and precision-cut hairline adds to any short haircut. It's another great, short haircut for fine hair that has plenty of creative contrasts.
Long layers around the crown, contrast with the short-clipped sides and back. And blonde balayage in shades of mid-blonde warm up the model's natural, dark-blonde roots. And this contrast also adds 3-D color depth the fine hair, making it appear denser!
6. Super silver short basin-haircut for fine hair
Here's an eye-catching look that's suitable for fine hair. It's easy to style, yet super-trendy owing to the short back and sides contrasting with long bangs. The bangs have been separated with defined strands softening the line and accentuating the brows and eyes.
And for color contrast, the buzz-cut sides and precision-shaped nape are graphite-gray, which creates 3-D color depth. Teamed with a light, silvery top this help make fine hair look thicker. And various shades of silvery-gray add lots of fashionable texture on top!
7. Everyday short neutral-blonde haircut with deep texture & long bangs
This beige-blonde shade has very subtle balayage highlights and lowlights added to create highly fashionable texture in a straight short haircut. And to finish off this easy-care, everyday hairstyle, the stylist has created defined strands with styling product for deep texture.
And although it's a very short haircut, that will stay in place all day, the long sides and bangs soften the lines for a feminine look. The side part can be adjusted to suit a range of face shapes and long, side-swept bangs draped seductively over one eye, create an attractive, peek-a-boo look!
8. Amazing makeover from gold to silver-blonde asymmetric short haircut
This makeover shows how you can wear different hair-colors. The first image shows the model in the summer with a tan, and in the winter, with her paler, natural skin-tone. The stylist has cut a short style into a trendier, asymmetrical cut with shorter sides and back, which instantly lifts the look into a high-fashion category.
And the forward styling, with a blurred side-part also creates a modern look. The long bangs are cut to cover the forehead and frame the eyes in bright, silver-ash-blonde that accentuates green or blue eye color brilliantly!
9. Chic wavy ash-blonde with beige tones & bangs
This chic pixie haircut has attractive volume added at the back and on the top. And this makes the style appear more sophisticated, especially when highlighted with a lovely, silvery ash-blonde hair color design. The sides are cut neatly around the ears, allowing you to show off a selection of fashion earrings.
Darker roots add more depth and light, beige balayage softens the color over the forehead. And the whole style is softened by loose, tousled waves that add height and shape before moving down to fluffy bangs. This is a very flattering way to wear a feminine short haircut for social events!
10. Light chestnut-blonde balayage on short brunette bob haircut
This is a great short hairstyle for anyone with thick, dark hair. Thicker hair can be cut in sliced layers that remove all the bulk from the tips and allow the stylist to sculpt the shape, for a very easy to manage haircut. This style has lovely curves at the back and from the long bangs at the front for a feminine look.
And to add texture to a straight style, just add some light chestnut balayage. These orangey highlights add warmth to dark brunette hair, in a way that light blonde streaks can't achieve. And in my opinion, orange shades are far more flattering on dark hair colors!
Undercut Pixie: Short Haircuts /Via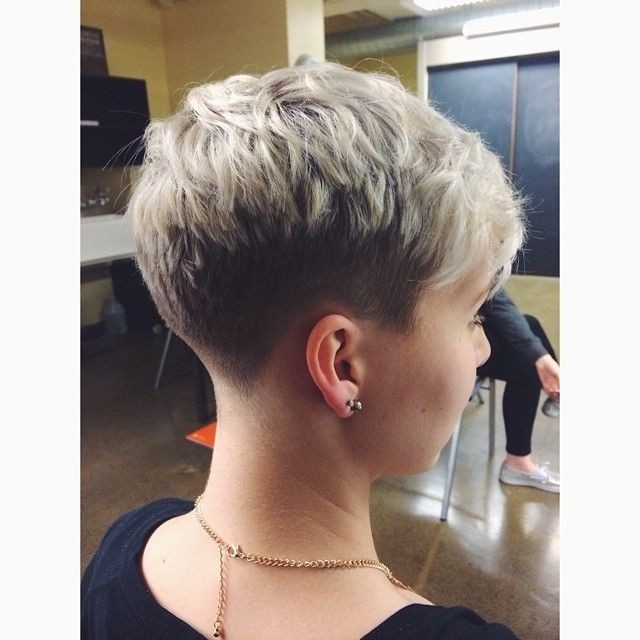 Straight Short Pixie Hairstyle for Women and Girls /Tumblr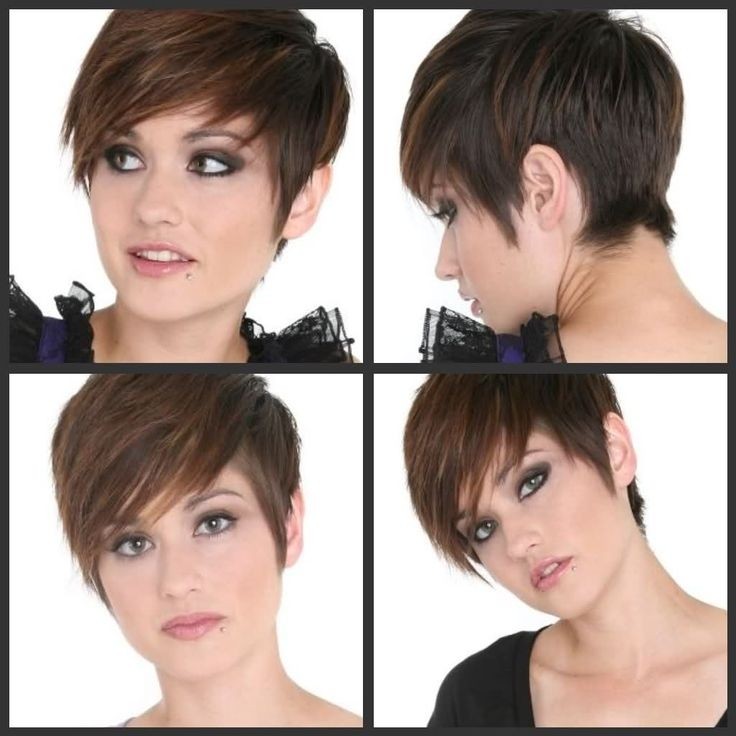 Short Pixie Hairstyle for Long Face Shape /Via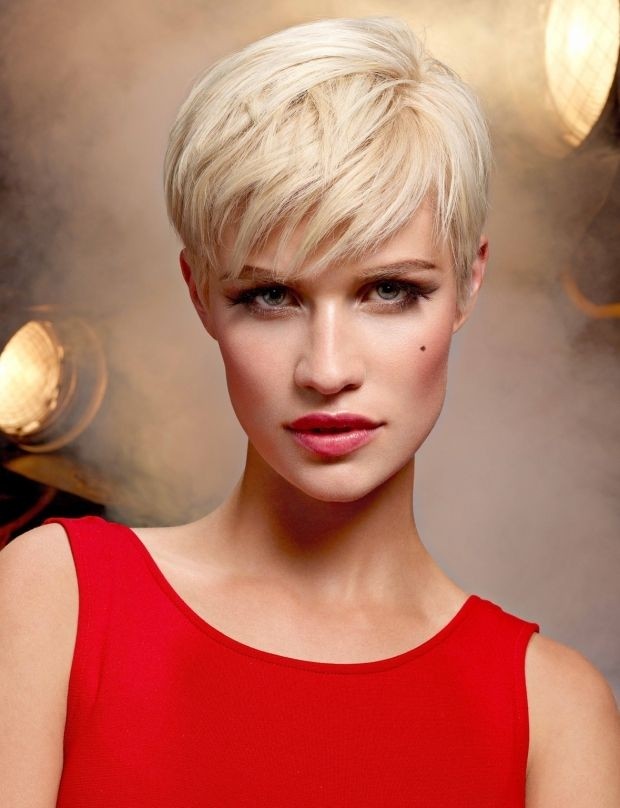 Short Hair Color Ideas: Pretty Straight Pixie Haircut with Side Bangs /Via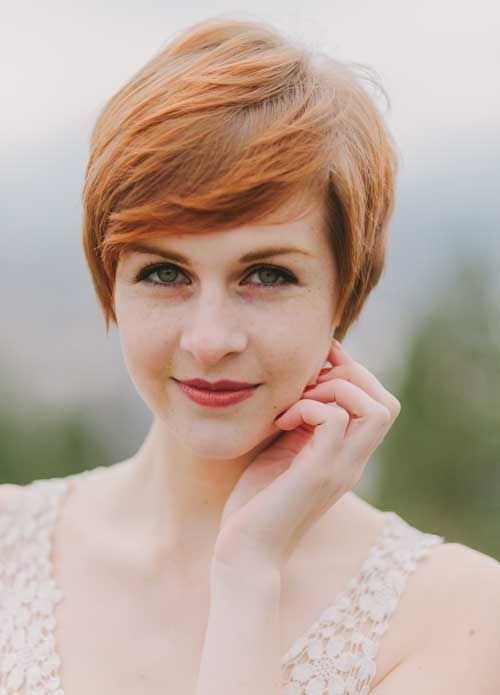 Shaved Short Hair Styles /Via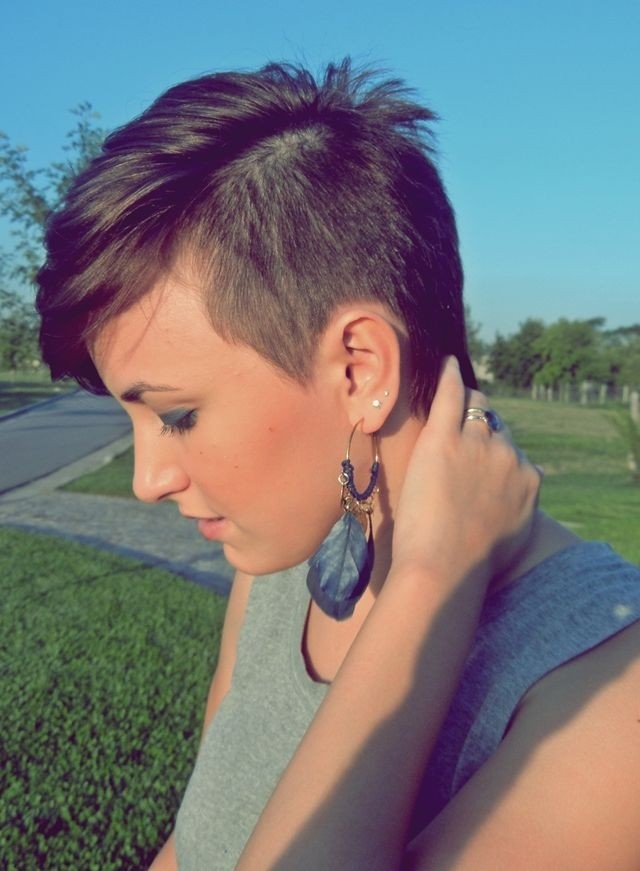 Pixie Hairstyles with Long Bangs /Tumblr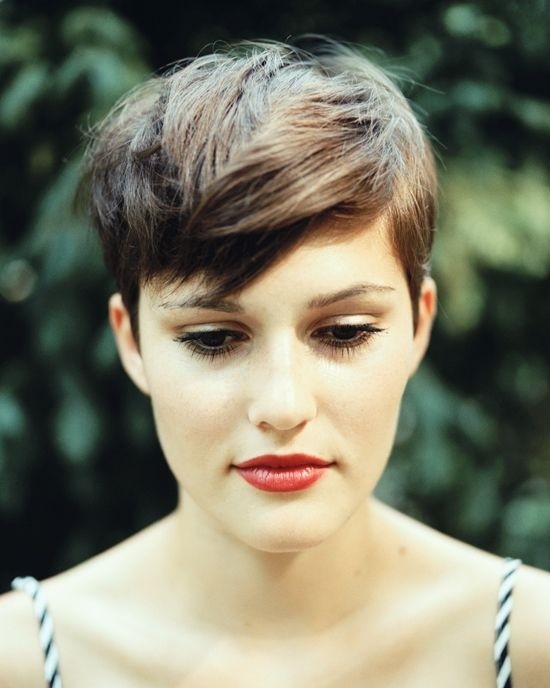 Pixie Haircuts Trends: Ombre Short Hair /Via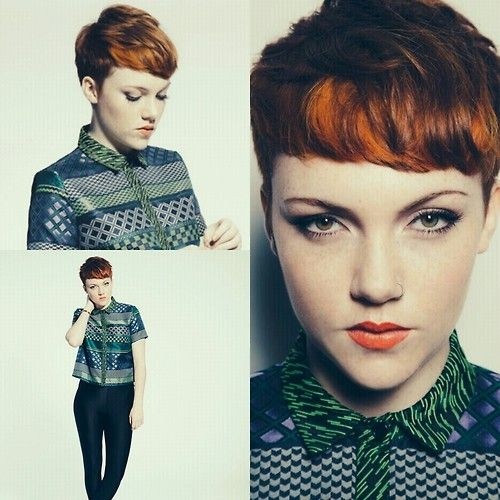 Pixie Haircuts Ideas /Via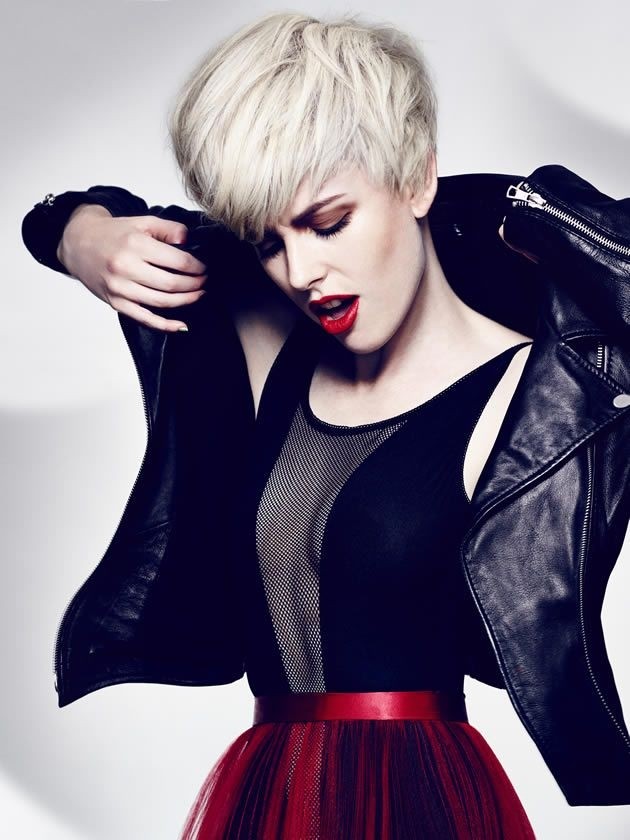 Pixie Haircuts: Very Short Hairstyle for Fine Hair /Via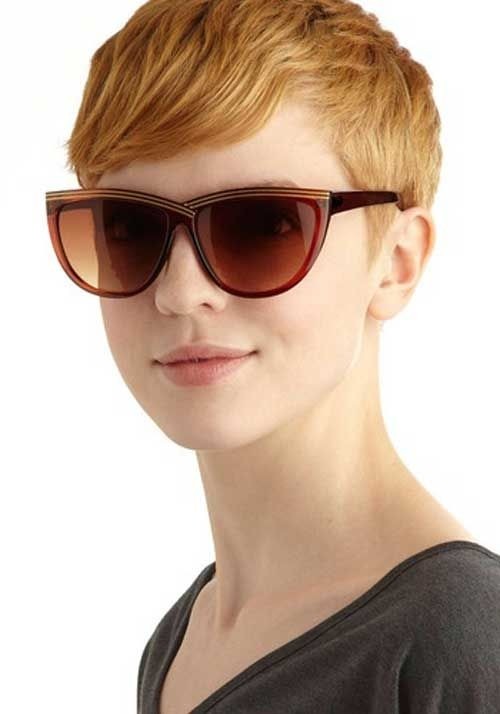 Pixie Haircut Back View: Short Hairstyles for Women Over 30 – 40 /Via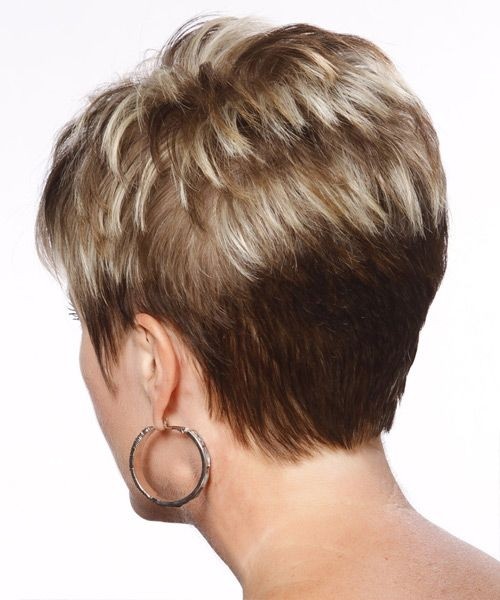 Miley Cyrus Short Haircut: Undercut Pixie for Short Hair /Via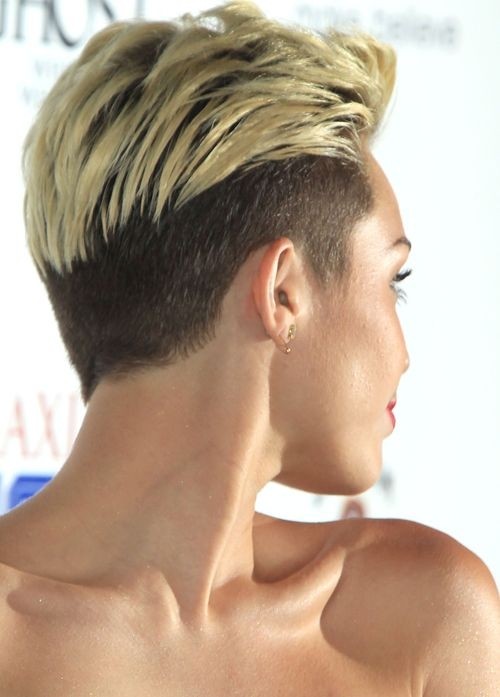 Trendy Pixie Haircut: Short Hairstyles /Via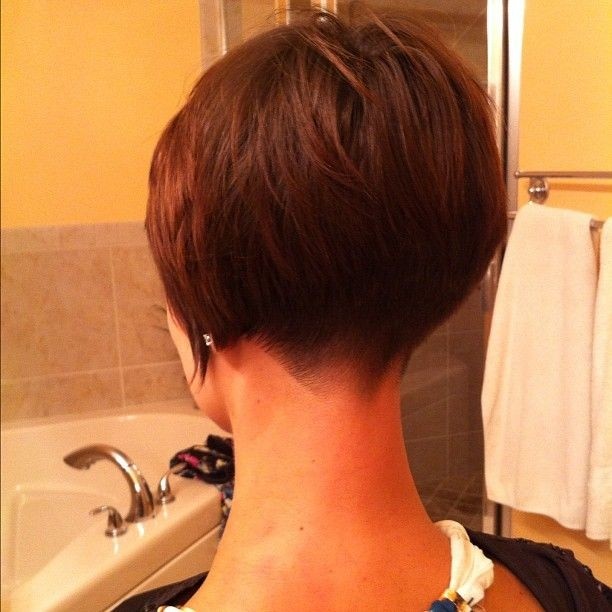 Messy Pixie Haircut: Stylish Short Hairstyles Designs for Women /Via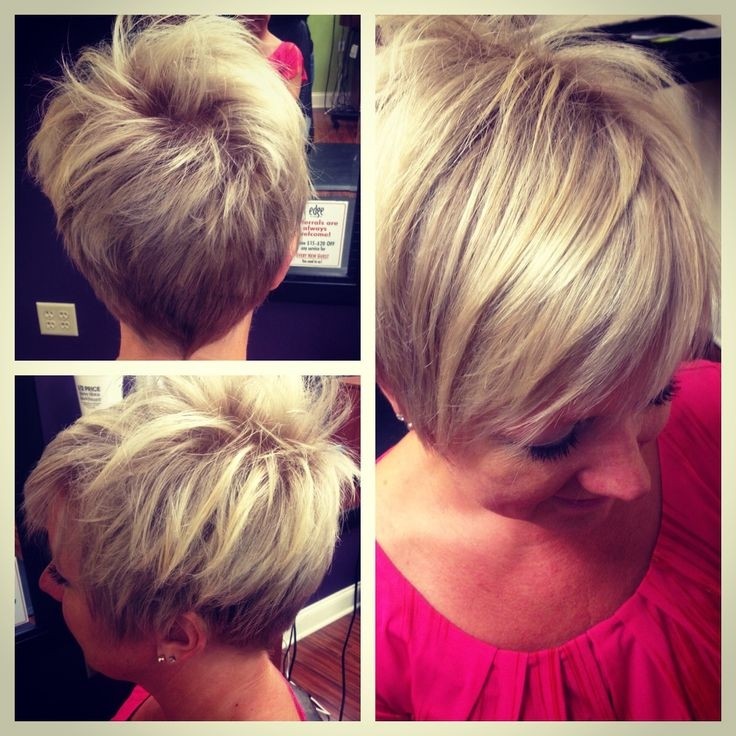 Messy Long Pixie Haircut /Tumblr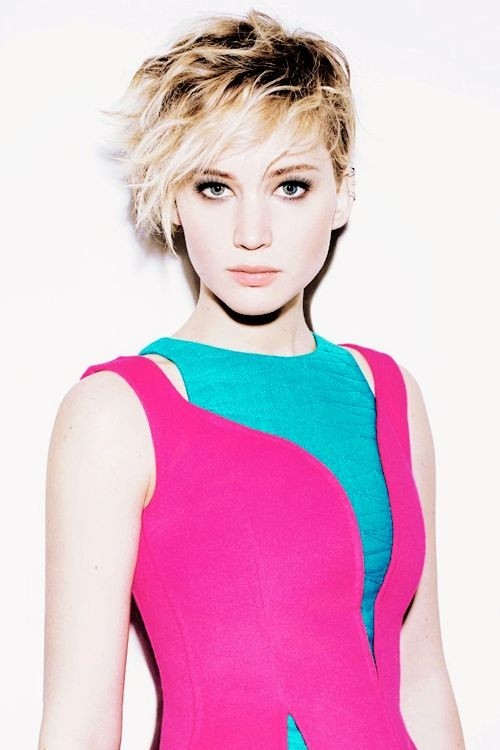 Lovely Pixie Cuts for Round Face Shape /Tumblr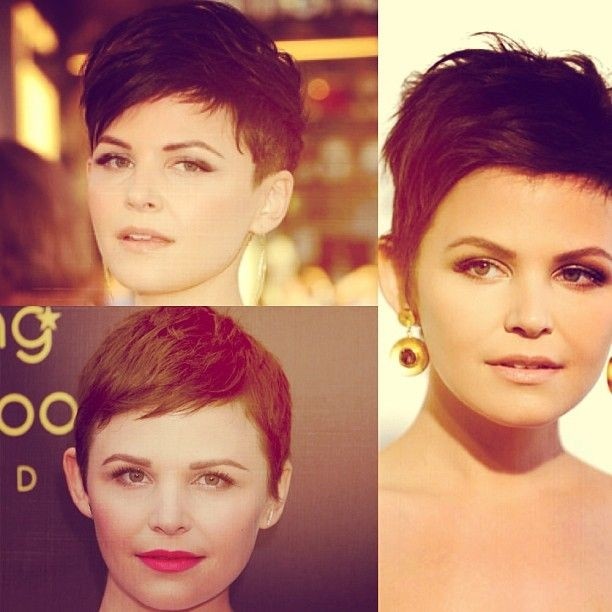 Layered Pixie Haircuts for Winter /Via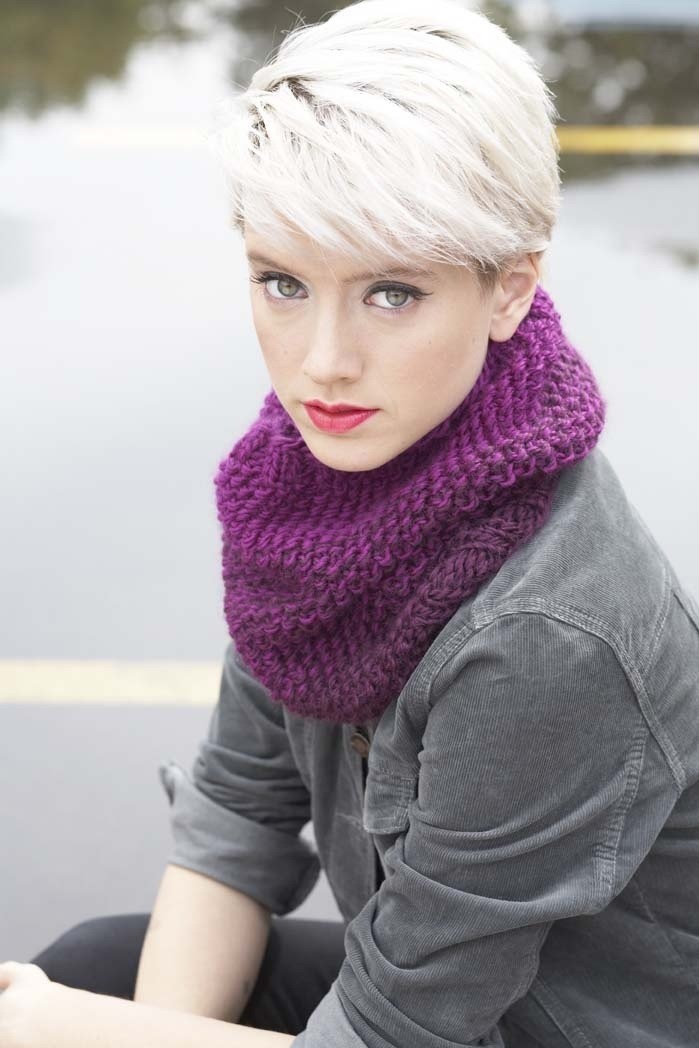 Feminine Short Haircuts Trends /Via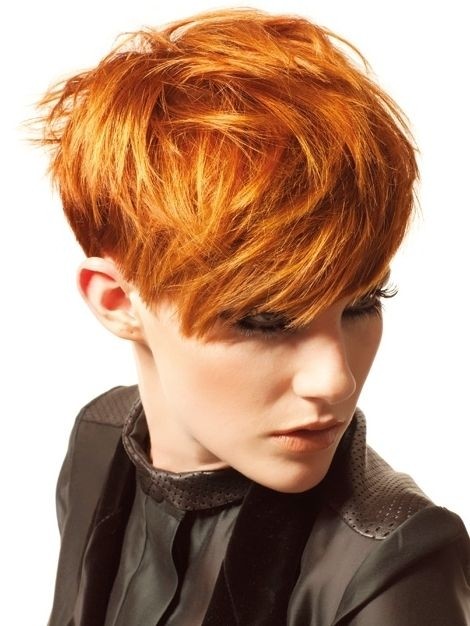 Very Short Hairstyle with Layers /Via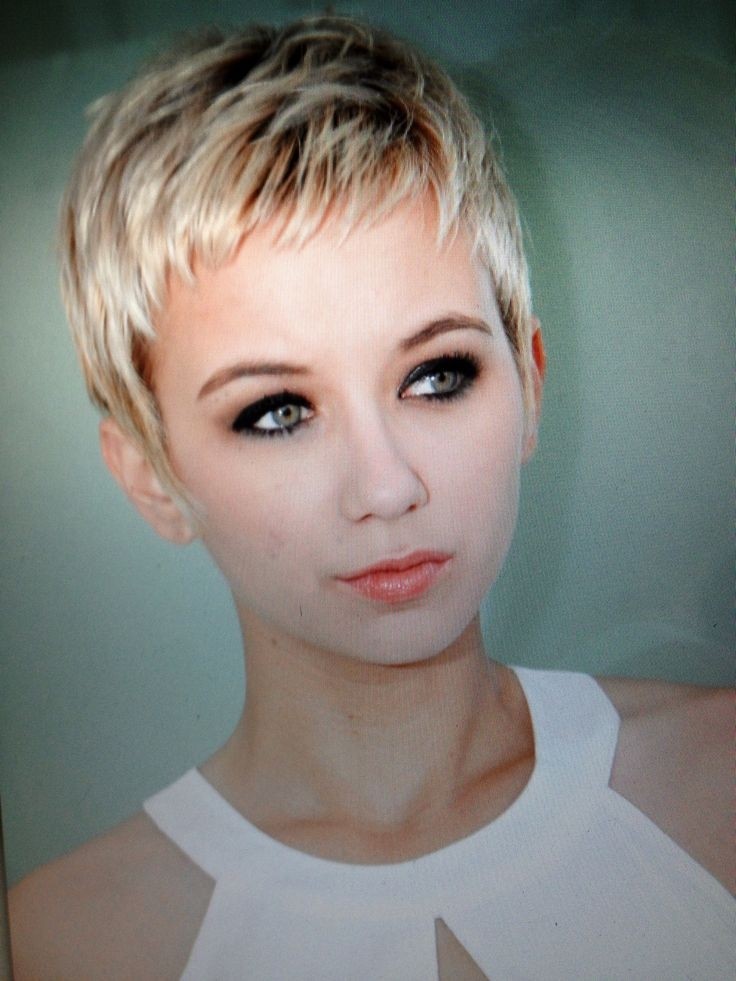 Cute Short Pixie Haircuts for Spring and Summer/Via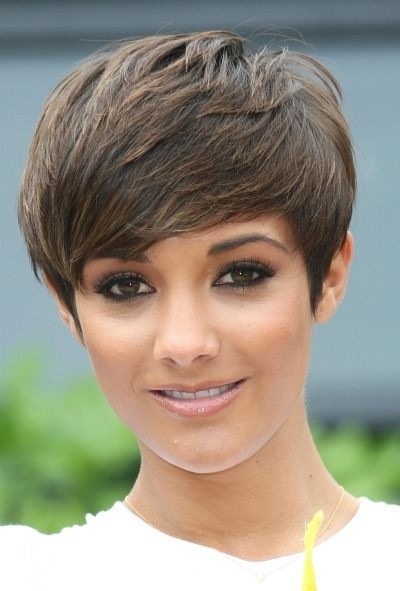 Chic Pixie for Women Short Hair /Pinterest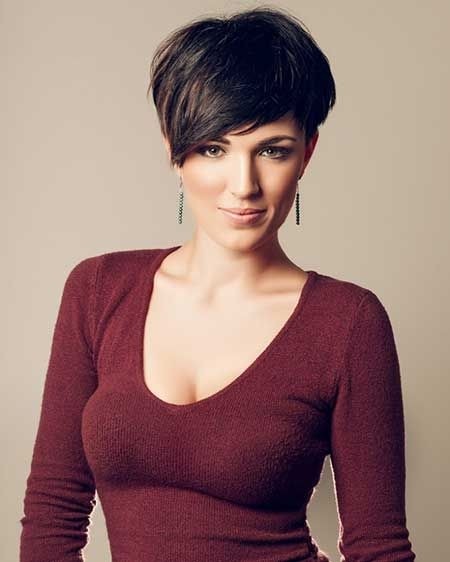 Pixie Haircuts for Girls and Women /Via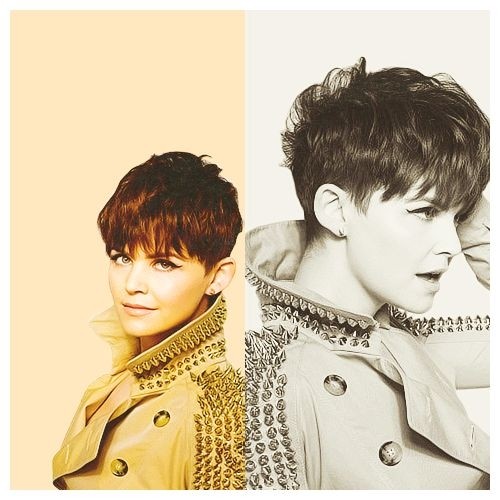 Well, what do you think? Have you found your perfect, textured style for this season? Or are you going to take inspiration from more than one of these trendy, new stylish pixie haircuts/short hairstyles? I'm sure you're going to love your new look!