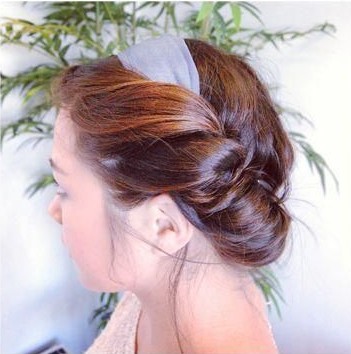 Scarf Updo Hairstyle Tutorial: Summer Hairstyles for Women
This scarf up-do looks quite charming and chic. It works excellently as informal haircuts, and also they are wonderful savers from a bad hair day. This splendid hairstyle is also suitable for beach tousled hair. It is fun and simple to create it. All you need to prepare is a scarf and several bobby pins.
Find a suitable scarf and cover it around your crown.
Fix the sides of the scarf with bobby pins around your temple.
Pull a section of hair from the front up and through the scarf.
Take a second section of hair from your first section into the rest hair.
Wrap your hair around the scarf.