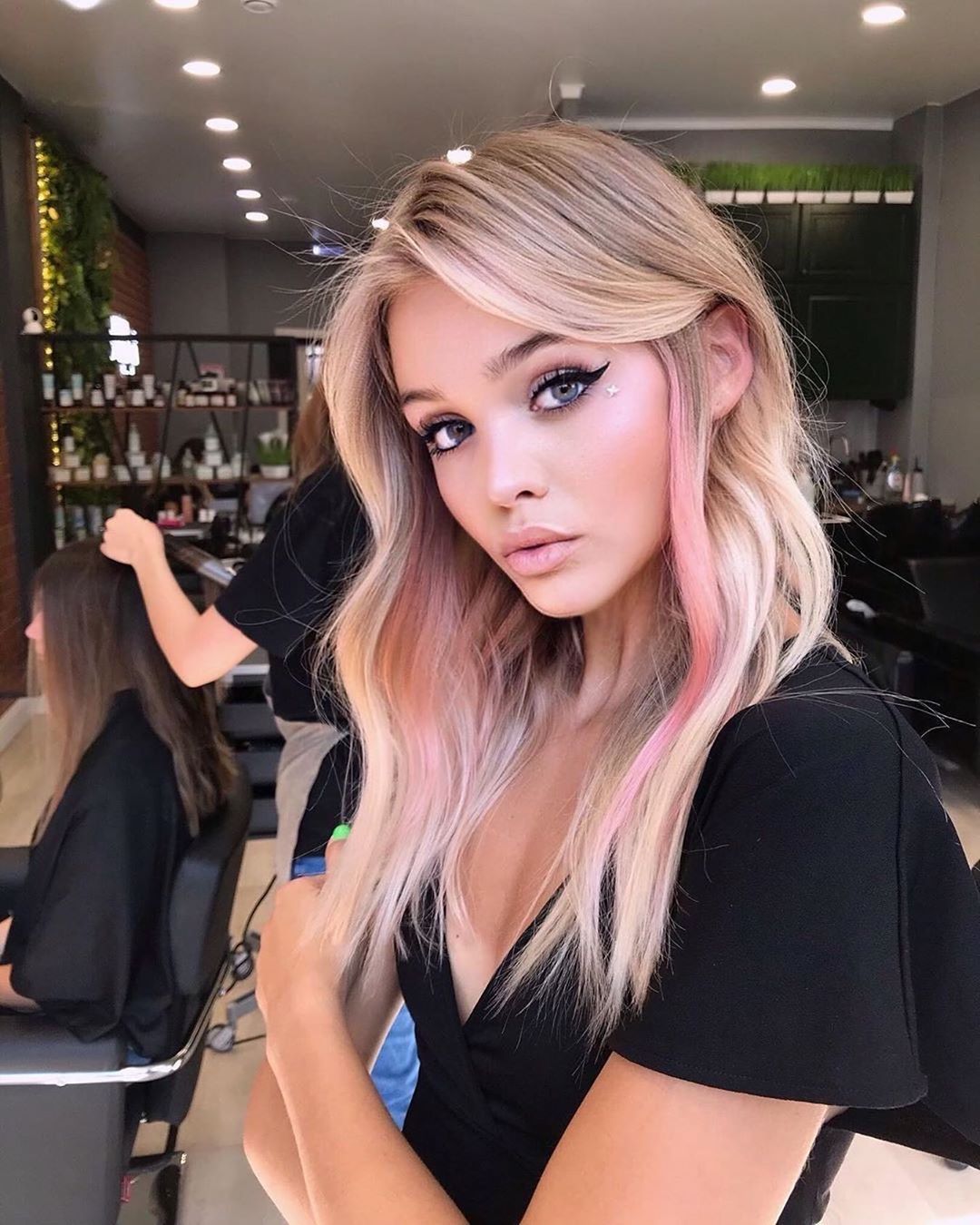 10 Medium Long Haircuts for Women Who Love New Hair Color Designs
Medium-long haircuts for women are so versatile, you can wear them up or half-up, in buns, braids, knots and pony-tails. And now that fantasy hair-colors are so popular, you can get some amazing special effects whether your hair is worn loose or in an upstyle! So buckle-up and get ready to see some fabulous new hair-color and cut ideas designed to raise high-fashion medium long haircuts to an even more exciting level!
1. White, gray & beige medium long haircuts for women
Show-off your beautiful blue eyes against a background of gray-blonde hair! This medium-long hairstyle works well on medium texture hair that's naturally blonde or fair. This is because you can't bleach-lighten hair too many layers without damaging it. The colorist has created a trendy color design with a mix of warm and cool shades. The roots and balayage are pale-beige and there are white highlights above trendy lavender balayage in the lower lengths!
2. Rainbow ombré on ash-white medium long haircuts for women
Dark roots transform into ash-blonde waves that become a gorgeously bright, 'cool', hair color design in the lower lengths. It's a fabulous, eye-catching look and a new twist on the fantasy hair color trend that's growing more popular every season! And if you like to wear braid hairstyles, imagine what fantastic color patterns you can achieve with these warm, and cool, but complementary colors!
3.   Green sheen on black – medium long haircuts for women
Deep-green is the latest fashion color to liven up dark hair. Green was one of the last colors to make it into the hair salon color spectrum, probably as it had such a strong association with lime-green punk mohican styles from the 70's and Hallow'een. But that prejudice is gone now and all shades of green are appearing on light and dark hair color designs. This green tint applied over black hair is particularly effective and shows-off the waves and healthy texture of the hair beautifully!
4. Style & color makeover for medium long haircuts for women
This is an interesting color makeover because it shows the same model wearing a warm beige-blonde hair color and then changing to a cool ash-blonde shade. So the question is how come she looks great with both warm and cool hair color? Normally we say that warm skin undertones need warm color and cool skin undertones suit cool colors. However, some women have neutral skin undertones and they can wear warm or cool colors successfully. I think she looks great with both hair colors, but more edgy with the ash-blonde waves. What's your opinion?
5. Yellow on pink with black lowlights
I love the artistic imagination of this colorist who designed a color pattern in golden yellow, candy-floss pink with black balayage lowlights. And it's certainly a trend-setter that uses the current fashion for matching cool and warm colors in unusual ways! The long, flicked-back hairstyle is a retro-look, inspired by 70's styles. But highlighting the flicked back, face-framing section in a completely different color is totally new and exciting! And adding touches of black balayage at the tips brings out the artistic beauty of the model's excellently drawn black tattoos!
6. Mid-brown with blonde margin highlights
This medium-long hairstyle is a great choice for fine hair, as it's short enough to be tousled and puffed out a little to add volume without the weight pulling it down flat to the head. The gorgeous look is very simple, with a center-parting that flatters the symmetry of an oval face. The main color is a neutral, light brown and the exciting feature is the cute beige-blonde margin highlight creating a pattern line all around the edges. And the quickest way to add edge and added volume to the ends of fine hair is to blunt-cut the tips and then add trendy, uneven texture!
7. Gray waves with yellow & white highlights
It's not so long ago that mature women with gray hair were always struggling to get any natural yellow tones out of their hair with purple-tinted shampoos. Now young women are asking for gray hair with trendy yellow vertical highlights! Fashion is all about change and innovation and this medium haircut looks fabulously high-fashion and individual!
8. Gray center-part waves with super black border
This lovely, dove-gray waved medium-length hairstyle has beautiful contours and a super silhouette created by the deep waves. And leaving the lower lengths straight takes away some of the cuteness and adds edge that's emphasisized by the inky-black border along the bottom edge. It's a long-bob cut with the sides gradually sloping down to the upper chest, with ends that point to the model's bust. So if you like to show-off your breasts, this is a good hairstyle style to subtly draw attention to your attractive figure, without you needing to wearing a low-necked top!
9. Ultra-violet, ash-blonde & green on mid-length waves
This is definitely a competition-winning hair-color design that's suitable for making a stunning impression at a special event! Those bright, ultra-violet splashes of color at the roots grab attention straight away. And the transition to lavender and ash-blonde in the mid-section has been executed perfectly by the talented colorist. But the choice of fresh shades of green to complete the tri-color look is truly inspired, creating an original and attractive new hair-color design!
10. Neutral beige-blonde with pink underlights
We've had highlights, lowlights, horizontal and vertical color streaks and balayage and now we have a new color pattern in 'underlights'! This soft-beige blonde hairstyle is a natural and alluring look for a fashionable young woman. But the addition of cool, candy-pink in the underneath layers is a clever, new way to add color in an unexpected and trend-setting way!