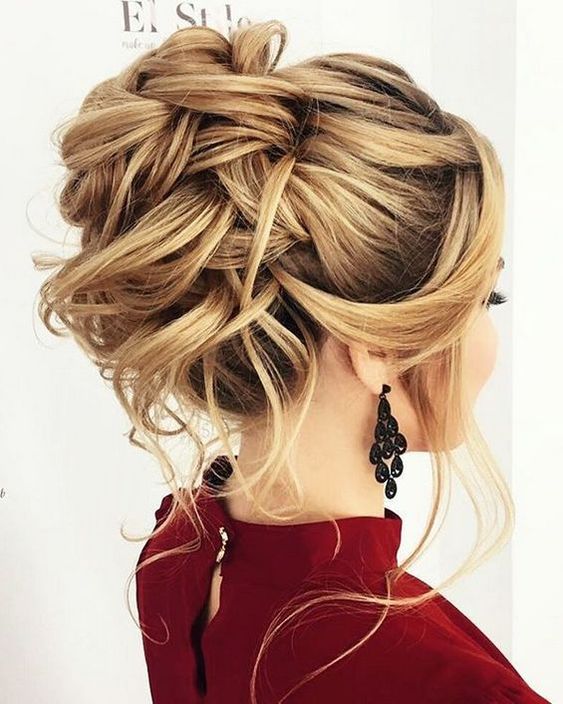 10 Updos for Medium Length Hair from Top Salon Stylists
When you need to look extra-special, there's nothing as impressive as an updo! For medium length hair, there's a wide range of new updo's designed to include a trendy and sophisticated edge. So whether your searching for a bridal updo, an elegant evening style or a cute look for a cosy dinner date – let these lovely looks inspire you!
Glam messy updo in mid-blonde – updos for medium length hair
This glamorous updo may look heavy, with all that hair 'piled up' at the back, but it isn't at all.  Mid-length updo's are all 'smoke and mirrors', with strands lightly teased and arranged to look longer and thicker!  Medium length hair and lobs are actually perfect for creating evening updo styles that are light and comfortable.  Gold tones offer a very flattering range of blondes, like this style with gold-brown roots and mid-gold, dual-blonde balayage. With a definite hint of 60's elegance in the woven shape, this semi-formal style will give you an expensive look!
Ivory- & beige-blonde with pink tones – updos for medium length hair
This simple style is full of modern color techniques creating the appearance of thicker hair.  It's a great choice for a medium-length updo on fine hair, as the chignon can be created using a cone-shaped base if required.  The 'tornado' shape of this chignon is a brilliant, new twist on the French pleat, with expert balayage emphasizing the whirlwind texture.  This girly blend of ivory, beige and pink shades is a great choice for pale skin with warm undertones.  The finish is casual, without being messy, making this is a great updo for chic, bridal hairstyle!
Ivory-white top-knot updos for medium length hair
Here's an updo that's never really been out of fashion, but has been given a new look in the latest colors!  Top-knots can look very formal if placed high up on the head, in front of the crown, as was popular in past decades.  But when you shift the focal point to be just below the crown, the effect is softer and more contemporary! This super-chic neutral blonde is a highly fashionable color option, which suits fair skin with a warm undertone.  Medium-brown roots soften the effect with an attractive contrast at the nape, but that lovely knot of hair is a real eye-catcher!
Glam rock-chick updos for medium length hair
This is a fabulous look that would look perfect on a red-carpet for rock music awards!  Like rock it's creative and rebellious, but never loses sight of its purpose, to adorn the head of a lovely young woman!  The bouffant, big-hair updo has a faux-hawk shape, from teased waves from forehead to nape, and smooth sides for contrast.  Adding a thick braid in a beautiful curve makes an attractive border and yet another texture to this funky updo.  A loose front section serves as long, wispy bangs and harmonised warm-brown and golden blonde soften the look beautifully!
Casual zig-zag braid & chignon in brown & gold blonde
This casual chignon updo is packed with color, texture and movement!  First of all, the balayage of antique gold shades on golden-brown roots ensures that the finished updo will have lots of interesting color shading.  The left-hand braid moves diagonally across the back in a short waterfall design, and creates focal point where it meets the fish-tail from the other side.  The low bun at the nape is a darker, coffee-brown shade decorated by lovely blonde balayage!  And you can wear this as a casual daytime look or dress it up with an elegant hair accessory for evening wear!
Ash-blonde & brown updo with 3-D effect
This high-fashion ash-blonde and brown chignon is also shown with a cute hair accessory making it all ready for a fun social occasion! The style depends on very light, ash-blonde highlights applied vertically over a warm brown base.  The extreme contrast between the colors creates that special, 3-D effect that's one of the season's favorite looks.  And when you see the fab texture and movement in the  loose braid above the nape, it's easy to see why!  Loose strands keep this style semi-formal. And there's plenty of pink toner ensuring this white-blonde updo matches fair skin with warm undertones!
Super-trendy Nordic beige-blonde messy chignon & braid with pink tones
I love creative, 'fusion' styles that take lots of different sources of inspiration and blend them to create a whole new trend!  This updo brings together Swiss milk-maid braids and cool Nordic chic, with a touch of playful pink color toning.  (You can also use a hair-piece for the loose chignon at the nape). The result is a young, casual updo that's perfect for any social occasion.  Warm pinky-brown tones add color to the neutral, beige-blonde ombré shades and emphasize the super-trendy mix of texture and movement!
Gorgeous blonde balayage on boho casual chignon
This boho low-bun is super-chic and totally eye-catching!  And that's because the colorist has done a great job blending 4 blonde shades into this attractive color combo.  And a simple low bun is all you need to show-off such a pretty color design.  I love how the hair strands covering the fastener have the lines of balayage moving horizontally.  And this contrasts nicely with vertical highlighting above and below.  Casual strands soften the line of this cute updo that's full of contemporary style!
Beautiful bridal updo for medium length hair
Bridal updo's continue to evolve to meet the demand for something different each season!  So how about this gorgeous creation that's as fresh as a bride's wedding-gown!  The look is natural, with unique style from the amazing twisted sections at the back.  The sides show lots of different texture, and loose strands soften the profile for a semi-formal finish.  The colorist has added very subtle balayage to highlight the fantastic movement in this modern bridal updo!
Chic brunette messy updo with hair accessory
I was never keen on adding thick, blonde streaks to brunette hair in decades past. Too many short styles appeared with clumpy, orangey-blonde blotches. However, fine blonde highlighting on brunette hairstyles can transform a simple updo into a sophisticated coiffure.  This loosely woven braid updo for medium length hair en  ds in a fashionable, asymmetrical bun at the nape.  And delicate highlighting reflects light and catches the eye to accentuate beautiful texture and movement!