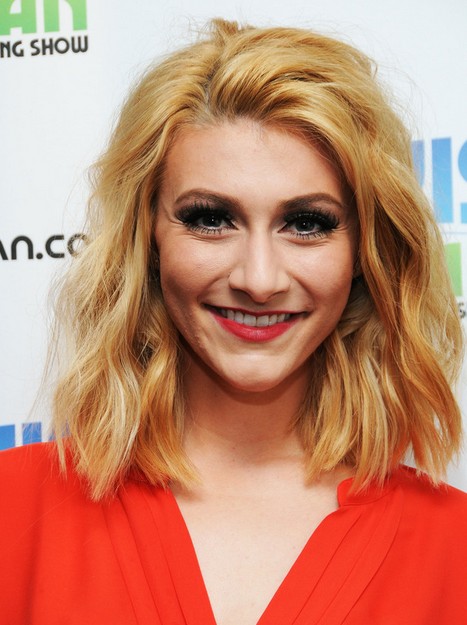 6 Amy Heidemann Hairstyles
Amy Heidemann is a popular singer from Seward Nebraska United States. She has glamorous, gorgeous and sweet look and she is quite talented songwriting, nailing melodies.
Amy Heidemann, female vocalist, is famous for her impressive and unbeatable rapping skills. Her hypnotizing raps have left a lot of people all in a tizzy. She raised the fame after releasing the "Brokenhearted" and "Hello" debut album, Hello.
Her suicide roll hairstyle has left people a deep impression and many people think that she wears the suicide roll hairstyle best among the celebrity. In addition, her mid-length and long hairstyles also enhance her look wonderfully.
Now, let's have a look at her fabulous and awesome hairstyles.
Amy Heidemann Hairstyles: Retro Curly Hairstyle for Medium Hair
Amy Heidemann changes her elegant long brunette hair into a amazing blonde mid-length one. The gorgeous hairstyle hits right at the shoulders with flattering outwards flipped soft curls and makes for a bold statement. The deep side part makes the hairstyle modern and softens the look.
Amy Heidemann Blonde Hairstyles: 2014 Blunt Shoulder-Length Hairstyle
The skillful shoulder-length blonde hairstyle allows the hair to follow natural flow. The overall softness is subtly contrasted with layers to add texture and volume. The mid-length hairstyle beams with sweetness and elegance. The straight sides just kiss the cheeks. Some shine spray can maintain the charming hairstyle polished.
 Amy Heidemann Haircuts: Medium Layered Hairstyle
The magic modern bob with a side part looks trendy and interesting. Subtle rounded layers lighten the bulk. Beach blonde create depth and dimension to the luscious medium textured hairstyle. It is perfect for outdoors. The gorgeous allure of the dynamic hairstyle can make you shine in the crowd.
Amy Long Hairstyles: Braided Updo Hairstyle
The hairstyle incorporates one cute rope braid as a coronet across the top of the head and the elegant textured braided knot anchors the balance of the hair. The braided knot pairs with the longer braided rope perfectly and gives a classy, cool look with modern refined elegance and ornate lines. You can also spice up your standard traditional braid just like Amy Heidemann.
Amy Long Hairstyles: Straight Hair
Amy Heidemann creates a kick-ass retro hairstyle and many people' head turns. She was the first ladies to own the Suicide Roll and then she becomes more popular because of the retro-inspired hairstyle. This super-awesome hairstyle can be a cool option for the bold.
 Amy Long Hairstyles: Fun Long Curly Hairstyle
The fun long curly hairstyle shows off thick curls that really soften this blunt bob. The front part is carefully crafted, and smoothed in an arcing line. The long hairstyle with a delightful mass of curls swirling in the lower half creates it much volume and movement. A bit of nourishing hair oil can maintain the loose curls a brilliant and shining sheen.