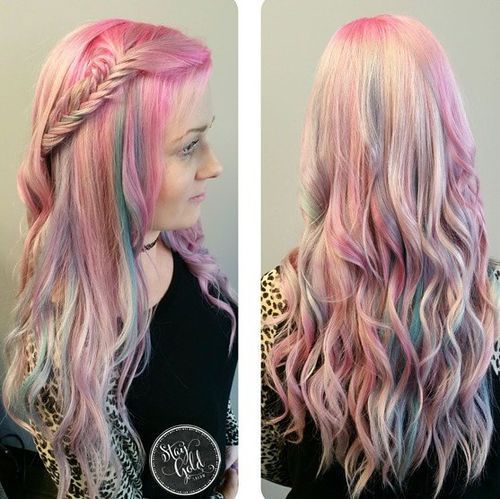 19 Glorious Pink Hair Style Ideas for Spring
Springtime! The flowers are blooming, the sun is peeking its head out, and summer is quickly approaching. Match up with the beauty of spring by indulging in one of these glorious pink hairstyle ideas. Pink is ALL the rage, so if you're feeling daring, there's no better time than spring to really GO FOR IT!
Peachy Pink Ombré Long Hair: Pastel Hair Color Designs
Choosing a pink with peach undertones can give you a more realistic effect than opting for a pastel or deep hue of pink. While of course this style is anything but all natural, it still has a sophisticated and subtle beauty that can't be dismissed. For even more sultry appeal, throw in some loose bouncy waves.
Pink-Blonde-Grey Trio: Ombre Hairstyle Ideas for Shoulder Length Hair
Creating that "wow" factor in your hair is really as easy as breaking the mold and inventing your own color palate. This lovely lady opts for a striking trio combination of light pastel pink, platinum blonde, and some deep grey Ends. The result? A combination that's both eye-catching and unforgettable.
Peek-A-Boo Unicorn: Long Hair Color Ideas
Wildly vibrant hair colors are all the rage right now, otherwise known as "unicorn" hair. This unicorn hairstyle is a break from the mundane, with peek-a-boo lilac and mint pastel highlights hiding behind a pixie-like pink hue. This keeps things fun and interesting, and just imagine how fascinating these strands would look tossed up into a ponytail!
Blonde, Light Pink Ends: Ombre, Layered Long Hairstyle
Truly there's nothing girlier than blonde and pink hair. Let out your girl power and showcase a look that's dainty and oh-so-cute by doing a lovely light pink and blonde half n half combination that's made even prettier with soft waves throughout.
Curly Hot Pink Tips: Ombre, Curly Short Hairstyle
Black and hot pink– is there any better combination? This hip and saucy style is the perfect go-to when you're rocking those all-natural kinky curls, loaded with volume and loaded with sass you're suited to be the hit of any party with this 'do.
Dainty Pink Ombré: Shoulder Length Hairstyles with Wavy Hair
If punk rock hot pink is just a little too much for you, consider a more feminine take on pink hair by indulging in this soft and dainty hue. Pairing well with her smoky brunette roots, it's a subtle yet highly feminine hairstyle that's enhanced with some flowy loose curls.
Pink and Blue Blend: Pastel Hairstyles, Layered Wavy Long Hair
Super long hair can be a bit boring when left just one color, so if you're sporting some sexy long locks, consider adding some vibrant shades! This platinum beauty throws some hot pinks on top with subtle flicks of blue intertwined for a ravishing style that looks extra sexy with some loose curls.
Dusty Rose Sombre
The beauty of a Rose is simply unmatched. A soft, delicate, and divine flower that's long been the holder of romance and love. Infuse this romantic and sultry appeal right into your hair by opting for a dusty pink rose coloring, placed naturally against a platinum blonde base. With just a hint of wave tossed through her mane she ultimately creates a delicate and tremendously beautiful 'do that looks extra stunning on lengthier manes.
Soft Pink and Blonde Curls
A delicate pink such as this blends perfectly with a platinum blonde base. Here we see the perfect balance between the two shades, creating a visually appealing hairstyle with plenty of depth and personality. Add some curls to your mane to bulk it up and make it bounce with girly attitude.
Pink and Turquoise Side by Side
Love the idea of unicorn hair but want something a little more bold and vivid? Then consider a side by side combination that's both trendy and exciting. Filled with colorful personality, she chooses turquoise and pink for her combo- but really there's a whole color wheel of pastels to choose from, so feel free to pick your favorites and be as creative as you want.
Bold Strawberry Pink Highlights: Balayage Hair Styles with Straight Long Hair
Pink is lovely, red is fierce. If you want the ultimate combination of girly attitude and sex appeal, then definitely go with a strawberry pink. The placement of these highlights are astounding- thick and bold between her brunette base so they're clearly seen at every angle.
Rose Gold Bob: Chic,  Blayage Hair Styles for Women Short Hair
Rose gold is undeniably one of the hottest colors right now, and it works for women of all ages; but it's especially flattering on older women who want to indulge in something colorful without looking like a midlife crisis in action. Rose gold is a soft, subtle pink with hues of red throughout, so choose this color if you need something subtle and not too outrageous.
Cotton Candy Balayage
Forget highlights, forget ombre! Douse your locks in pink if you want to truly be the talk of the town! Her cotton candy balayage is vibrant and funky, with tons of colorful personality you won't want to take your eyes off of. And hey, after all, who doesn't LOVE cotton candy? You'll be looking sweet as ever with this nice pink balayage 'do.
Purple/Pink Color Melt
Some girls need pink hair that's barely noticeable, a soft take on things that won't completely rock everyone's minds. On the other hand, there's the girls who want to be the star of the show and really rock out! This spicy and vibrant 'do is loaded with dazzling shades of pinks and purples for a truly remarkable mermaid number that's sure to have all eyes on you.
Coral Pink: Cute, Blayage Hair Style
Stepping onto the scene as if you've just stepped OUT of the ocean, this coral pink hair is truly a stunner that will take the crowd by force. It's delicate, yet untraditional, making it a truly remarkable number. Rock that coral, you beautiful mermaid, you!
Lavender-Pink
With pink and purple both being on-trend colors for 2017, it may be hard to decide. If you're like this gal and have a deep, passionate love for all things pink and purple, choose a shade of pink that has lavender undertones. Such a sweet color that's really brightening and fabulous!
Sherbert Short Bob Hair Styles
I don't know about you, but I'm a huge fan of sherbert ice cream; so much that I may actually indulge in this striking and delicious color blend! A vibrant pastel pink coats this white-blonde base for a look that's truly magnificent- it's almost good enough to eat.
Unicorn Curls
Thin hair is in desperate need of one single thing: dimension! Don't let your thin, fine locks fall short; instead, amp them up with some vibrant colors! This spicy number has 'My Little Pony' written all over it, with a complex and magnificent blend of blues, pinks, and purples. Curl them for added body and flare.
Pink Orange Braids: Stylish Balayage Hair Style, Medium Hairstyle with Side Braid
As with any other hair color, going pink doesn't have to mean settling for one tone of color. Instead, tell your stylist to mix in a blend of lowlight and highlight pinks for a crafty 'do that's loaded with depth and flavor. Add even more spice to your locks by contrasting heavily with a deep orange shade- it looks amazing together when wrapped into a lovely side braid!