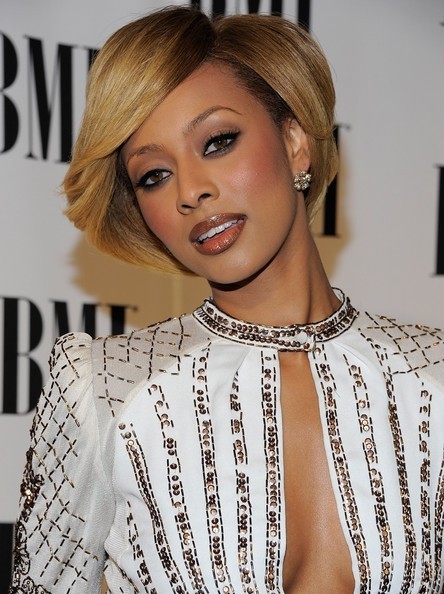 26 Sure-Fire Short Afro Hairstyles: Cool Hair Cuts
Cutting off your damaged hair to grow natural and healthy hair doesn't have to be traumatic, if you choose one of these totally trendy short Afro hairstyles.
Pixies and bobs with an asymmetric, unconventional or shaggy finish shape often end up making you look younger and tons more stylish!   Remember that short Afro hairstyles put the focus on your eyes, so you can wear brighter eye-makeup without looking overdone!
Pretty Short Bob Haircut for Black Women /Getty Images
Get a promotion at work!
Another advantage of short Afro hairstyles is they can be skilfully cut to correct any imbalance in your face shape. Moreover, a recent Yale study says that women with short hairstyles are perceived by others as being more intelligent and better educated!
So even if weren't planning on cutting your hair short, after reading these benefits – maybe you should!
Asymmetrical Short Haircut for Side Bangs /Via
Shaggy short Afro hairstyles
If your hair is fairly straight or 'relaxed', try one of the edgy asymmetric short cuts with a shaggy finish. These cuts work beautifully on coarse, thick hair that's 'sliced' into sharp lines with exaggerated long tips.
Chic Shaggy Bob Haircut /Via
Boy-cuts emphasise femininity
The latest short Afro hairstyles are very attractive, so try a short boy-cut bob that will emphasise your femininity. Instead of a buzzed side, try one side flattened to the head in parallel twists and the rest of the hair swept over from a low side-parting.
Without a fringe, this style will add length to a low forehead and with a long side-swept, curly fringe you can 'shorten' a long face and show off the natural texture of your hair!
Pretty Short Afro Hairstyles /Via
Stay cool – look 'hot'
Textured pixie cuts are great for keeping cool, but looking hot in the summer. And if you've spent the last few years struggling for hours to straighten your hair, it's time you took a break! You'll love the freedom you get from pixie-short afro hairstyles.
Funky Short Pixie Cut /Via
Short Afro hairstyles – the modern 'fro
This is a new, but retro short Afro hairstyle that was so popular during the '70's that men and women with straight hair were regularly getting an Afro-perm! And with the huge shift towards natural hair, this infinitely variable natural style is set to be with us for the next few years at least.
If your hair is curly, just wind strands around your finger when damp and leave it to dry naturally.Then use an Afro-comb to tousle it a little and you're done!
Cute Easy Pixie Hair Cuts /Via
What's next in short Afro hairstyles?
I've been looking at a preview of the next 'wave' of short Afro hairstyles today and they feature the stretched modern 'fro, cut in a range of amazing geometric shapes, some short and some very 'big hair'. They're very urban chic and 'arty' creating a fabulous contrast away from flat-to-the-head-and-straight, or curly, styles!
Anyway, enough chat – it's time to choose yourself a fabulously trendy new look from our Pophaircuts.com latest Inspiration Gallery of high-fashion short Afro hairstyles!
You are going to love your hair!
Natural Short Curly Hair /Via
Easy Pixie Haircut /Via
Straight Long Bob Haircut /Via
Asymmetrical Short Pixie Haircut /Via
Lovely Natural Curly Hairstyle for Heart Face Shape /Via
Stylish Short Afro Hairstyle Side View /Via
Trendy Shaved Short Afro Haircuts /Via
Beautiful Short Afro Hairstyle for African American Women /Via
Afro Pixie Hairstyle: Black Women Short Haircuts /Via
Easy, Curly Pixie Haircut /Via
Super Cute Pixie Cut /Via
Short Shaved Haircut /Via
Shaved Sided Hair in Mohawk Hair Style /Via
Vogue Afro Hairstyles for Short Hair /Via
Pretty Straight Pixie Haircut /Via
Curls Pixie /Via
Easy Afro Pixie Hairstyle: Everyday Haircuts /Via
Styles for a Pixie Cut /Via
Blonde Pixie Cuts /Via
Cute Short Curly Hairstyle /Via