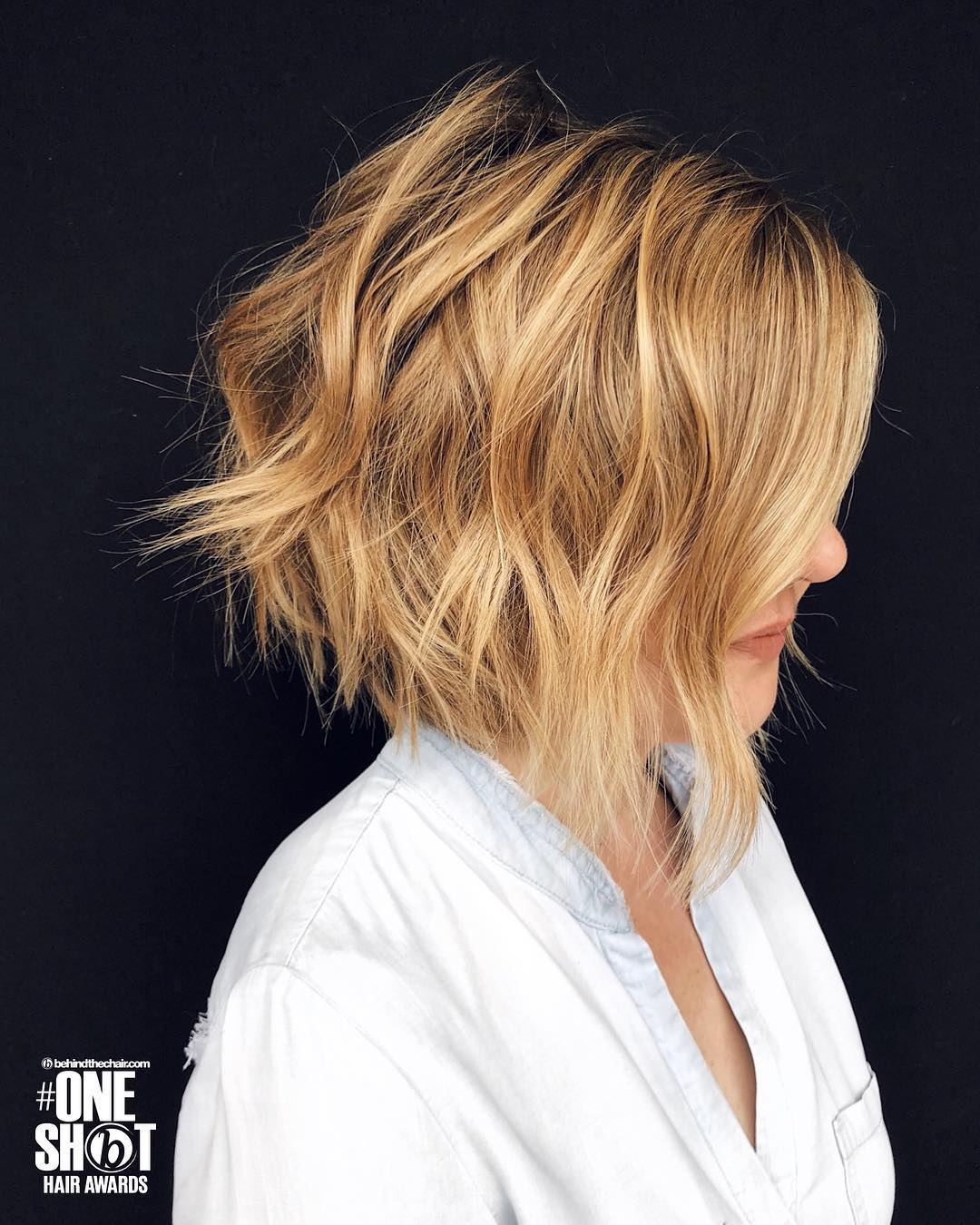 Top 10 Best Short Bob Hairstyles for Summer
When the weather gets warmer, long hair can start to feel like a heavy, sweat-inducing burden against your skin. A shorter, lightweight cut can be an instant refreshing solution to help you beat the heat.
As summer approaches, consider making a change by transforming your long locks into a polished shorter style. These ten short bob hairstyles are the perfect stylish cropped cuts to keep you cool all summer long.
A-Line Bob with Beach Waves
This A-line bob's subtle slant enhances your jawline and keeps your back layers short and lightweight. Its fresh-from-the-ocean beach waves are easy to style and perfect for summer.
Style this bob with a flat iron to create loose, beach-y waves. Scrunch in a texturizing spray for a tousled, natural-looking finish.
Messy Bleached Bob Hair Style
This bleached bob is a modern, manageable style that's both practical and ultra-trendy.
Achieve the messy-on-purpose style of this cut by flat ironing your bottom layers and curling individual strands of your top layers into loose, natural-looking waves. Add a small amount of lightweight texturizing spray to keep your strands perfectly tousled all day long.
Blunt Chin-Length Bob with Highlights
This blunt, chin-length bob is cute and classic, with warm, pink-y highlights that add a unique, feminine twist.
To style this bob, start by rough drying your hair with a blow dryer. If necessary, use a round brush or a flat iron to tame your ends for a polished finish.
Short Straight A-Line Bob Haircut
This A-line bob's back layers are cropped very short, which makes this cut more easily manageable and perfect for beating the summer heat. Its longer front layers add interest and femininity to this style, while its pin-straight strands give it a sleek finish.
Use a flat iron or a blow dryer and round brush to straighten this cut. Separate your hair into small sections to make sure no strand is left untouched. Finish styling with a lightweight smoothing serum to tame flyaways and ensure an ultra-sleek look.
Rounded Chin-Length Bob
This classic chin-length bob is a simple, polished style. Its blunt cut complements almost any face shape, and its short length keeps your hair up off your neck at all times.
To achieve the streamlined, rounded finish of this short bob at home, use a flat iron to curl the ends of your heavier bottom layers toward your face.
Violet-Silver A-Line Lob
Rock the silver hair trend this summer with this ultra-modern A-line long bob. This long bob cut falls an inch or two above your shoulders. Its slanted layers make this bob lightweight and manageable in the summer heat.
This versatile bob style works both curly and straight. Use a flat iron to create tucked-under pin-straight locks or loose curls. Add a smoothing serum and shine spray for a sleek finish and more vibrant color.
Curly Shoulder-Length Bob with Lilac Highlights
This shoulder-length bob is the perfect summer style for women who want a change but are hesitant to do anything drastic to their hair. This shoulder-length cut keeps you cool without taking away your option of a lazy-day ponytail. Its subtle lilac highlights add a pop of color to your locks without looking too over the top.
Curl your hair using a fat curling rod or a flat iron with wide plates. Tame and set this style with texturizing spray in lieu of traditional hairspray to achieve loose, relaxed waves instead of tightly-wound ringlets.
Curly Rose Gold Chin-Length Bob
Pink hair can be hard to pull off, but this chin-length rose gold bob is a flirty, feminine style that is subtle enough to keep gaudiness at bay.
Use a thin curling rod to style this bob. Wrap small sections of your hair loosely around the rod to get the perfect relaxed ringlet curls shown above.
Short Silver Bob with Side Bangs
You're guaranteed to stay cool with this cropped silver style. Its cool-toned, bleached white-blonde color adds a modern finish to this cut. This bob's ultra-short layers in back contrast with its longer front layers in a bold, adventurous style.
Use your fingers to scrunch texturizing spray into this bob for an intentionally tousled look. Flat iron your front layers and apply a smoothing serum to tame flyaways and give this style a sleek, streamlined finish.
Short Orange A-Line Bob with Asymmetrical Part
Make a statement with this ultra-short, bright orange bob cut. This bob's A-line slant frames your facial features, while its asymmetrical side part adds interest and style. A fiery orange hue adds an extra touch of boldness to this style.
To style this bob, start with damp hair and draw a deep side part. Rough dry your hair and flat iron it straight. You can also skip the flat iron and use a blow dryer and round brush as your straightening tools instead. Finish with a shine spray to help the bright orange color of this bob gleam even brighter.