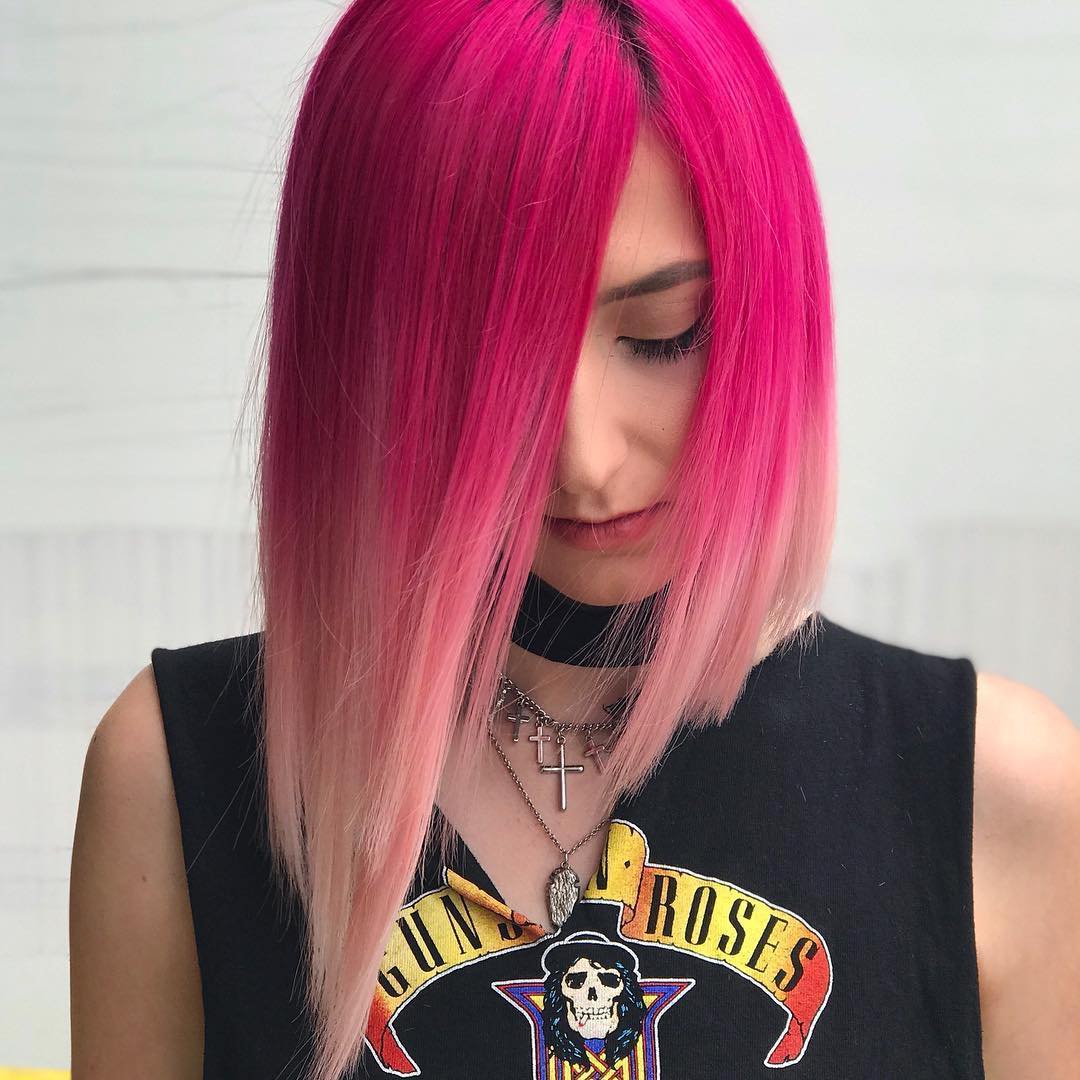 10 Stylish Medium Bob Haircuts for Women
There's something special about every one of these medium bob haircuts for women.  Some are ultra-chic, or daring in shocking-pink and others are face-flattering in a casually tousled way.  But each exciting new, medium bob cut is a fab fashion statement just waiting to help you update your look! So whether you're blonde, brunette, gray or white-haired – this gallery is full of appealing new hairstyle ideas.
Fuchsia with salmon-pink ombré – medium bob haircut for women
Here's a great, new color combo designed for rock-rebels and art-students!  And this vibrant blast of fuschia is a fab alternative to the same-old, platinum-blonde hair uniform of rock-chicks.  The black roots are still in place, but the vivid color fading expertly into a trendy, salmon-pink is fresh.  This bright, straight style is a subversive and easy-care version of the angled bob!
Classic ash-blonde chic – medium bob haircut for women
Here's a fab way to show off long, thick hair in a classy and sophisticated look.  The cut is an elegant long, angled bob with fashionable disconnected layers at the side.  And thick, long strands are swept over the forehead to create casual bangs.  The shorter hair at the back is puffed-out to create attractive rounded volume.  And very casual waves adorn the tousled finish.  With darker roots and a beautiful blend of ash, white and beige blonde, this is an expensive, classy look!
Trendy angled bob with defined wavy texture – medium bob haircut for women
So what if your hair isn't thick enough for the lovely previous style?  This adorable wavy version of the long, angled bob is a great way to wear medium or fine hair in a cute, lively look!  The long layers have lightly tapered tips and defined, twisty waves make hair look instantly thicker and more interesting.  Light-brown and beige colors are given 3-D color depth from subtle pale blonde balayage.  And the overall effect is very natural, youthful and appealing!
Squared-off medium bob haircut for women with fine hair
This lovely medium-bob haircut is perfect for summer days when it's too hot to fiddle about with complicated hairstyles!  Cut in layers with lightly textured tips retains most of the density of fine hair, whilst avoiding the limp, lank look of a long style.  Cut just below the chin allows you to change the style from straight to wavy, and wear up- and half-up styles for lots of flexibility.  This delicate shade of beige-blonde, has lovely balayage in white-blonde and light-copper emphasizing the superb, tousled finish!
Smooth brunette A-line bob with vertical highlights
By contrast, this brunette style is super-smooth and eye-catching, for its well-judged color contrasts.  The off-center parting suits faces that are almost oval and don't need too much balancing.  Sleek sides allow you to add strong, mid-blonde highlighting in vertical lines that soften the face and accentuate the streamlined shape.  This retro angled bob is very close to the original 1960's look and as you can see, the model's eye-liner is a vintage cat's-eye shape, too!  It's easy-care and trendy for work and social occasions.
Perky ash-blonde bob with surface texture
This short angled bob is perkier than long versions, showing-off the model's neckline.  As a chin-length bob, it will suit almost all face-shapes and can easily be tailored to flatter women of all ages.  This ash-blonde version of the trendy bob also has hints of pink toner, white balayage and dark gray roots.  And it's a great choice for fashion fans, under and over-50, as the older you get, the easier it is to match this contemporary hair color!  This cut suits medium and thick hair types and long layers have fab surface texture from defined, waved tresses.
White-blonde bob with disconnected layering for thick hair
This lovely white bob with dark-gray roots is a real show-stopping look for any unconventional young woman.  Or for a trendy, white-haired over-60, who knows that white blonde is the height of fashion again, this season!  The basic shape is a face-flattering chin-length bob.  However, the extra-long disconnected layers on either side of the chin, definitely add a boho vibe!  The hair is lightly layered and shaped into a pretty curve at the back, which hugs the nape.  And from a side-parting, the extra-long bangs are swept across the face in a casual, peek-a-boo style.
Classy tousled beige-blonde bob with lowlights
For the busy, fashion-conscious, woman this style creates an attractive smart-casual look that can be fixed, fluffed and forgotten!  The fantastic beige-blonde shade is perfect for skin that has warm undertones.  And blended blonde shades, with subtle brown balayage low-lights, adds color-depth to a very natural blonde look.  With a high side-parting, this style flatters an oblong face with a strong jawline.  Side-swept bangs cover one corner of the forehead, as asymmetry breaks-up the square-ish face shape.  And the volume in wavy, tousled sides adds width in the centre-face, which breaks up the vertical line of a long or thin face.
Trendy bob haircut with V-point uneven edge & disconnected layers
This fantastic, new style is suitable for fine and medium hair types.  It needs the silky texture of fine hair to flow and drape into the carefully shaped 'cap'.  The innovative features here include a 'jagged', zig-zag line along the bottom edge, which we've never seen before.  The layers around the crown are cut to create a pretty, little 'cap' shape and there are long, disconnected layers framing the face.  The full, straight across bangs is separated in defined strands to soften the line and the rich, natural chestnut color has a touch of highlighting on the tips.
Hi-fashion black angled bob with burgundy-red balayage
This medium haircut look best on thick, strong hair with some natural wave, as it's a fabulously textured look.  The hair is cut in a gently-angled bob with disconnected front layers.  And there's a strong line of movement from the beautifully highlighted red and maroon strands, creating fashionable surface patterns.  The tousled finish is complemented by textured tips that remove bulk from the ends and create a trendy, uneven line along the bottom.