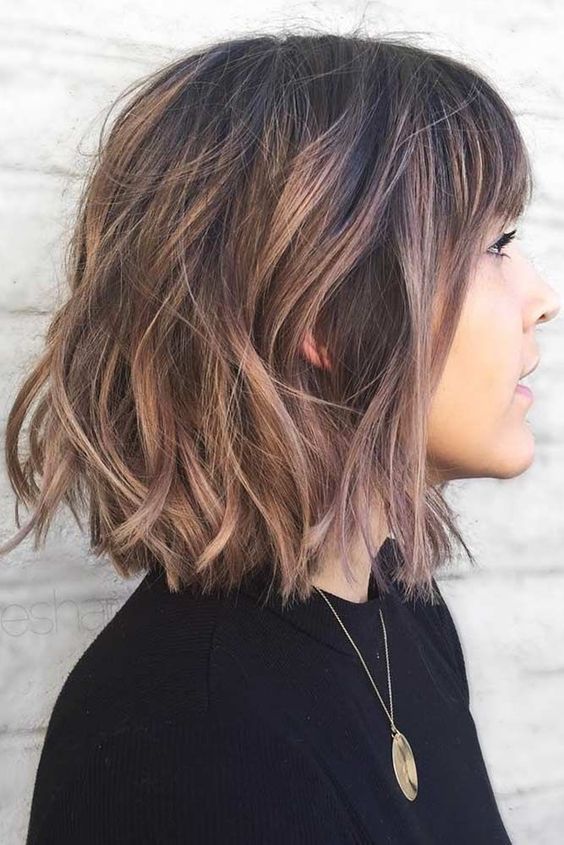 20 Cute Short Haircuts with Subtle Balayage
Cute short haircuts are very varied and trendy right now. And you can wear anything from a same-length bob haircut to a long pixie cut and know you're right in fashion! Tousled finishes add plenty of interesting texture, but what's grabbing attention today is the expert use of soft balayage colors.
Cute short haircuts with subtle balayage – and some with quite bright balayage – make up today's coffee-break, inspiration gallery. All arranged to help you choose your next big makeover and hair-fashion update!
One of the many advantages of short haircuts is that you can change the color more easily and frequently, without spoiling your hair condition. And as long as you keep going back for your regular trims, your haircolor and style will stay in peak condition!
So if you want to get the best from your new season hairstyle, take a look at these gorgeous, cute short haircuts!
1. Chic curvy soft-blonde bob – cute short haircuts with subtle balayage
Golden-blonde roots look wonderful on this pale-blonde puffy, angled bob! There's such warmth in the top roots and at the nape, which makes a soft contrast with the white-blonde balayage on the surface strands.
Adding various, closely matched blonde shades and then a brighter highlight is the perfect way to add texture and interest to a straight style. And it makes all hair types appear thicker, too!
2. Messy half-wave bob with blue balayage-ombré – cute short haircuts with subtle balayage
This high-fashion wavy bob is full of interesting color balayage! The theme is 'rebel', because the finish is deliberately messy, with highly textured 'uneven' tips. And this is carried through in the fabulous hair color design, which is an inspired mix of color trends.
Darker, gray-brown roots create a grungy vibe on top, which transitions to glamorous golden-blonde and platinum blonde below. But to stop the look being too 'glam', funky blue tones have been added to the platinum lower lengths!
3. Sassy quiff pixie cut with shaved back & sides plus glasses – cute short haircuts with subtle balayage
The latest spectacle frames are larger and deeper than last year's fashions, so you need to ensure your hairstyle suits your frames. This cute pixie haircut is cutting-edge, just like the wire frames and square-shaped frames.
As the frames cover a lot of the face, it's best to have a haircut that leaves your face free of fancy waves and draped-down sections. Otherwise, you would have too much hair and frames obscuring your features. Buzzed short sides and back leave a clean line around the head to match the clean, modern lines of the frames!
4. Classic ash-blonde angled bob – cute short haircuts with subtle balayage
This sophisticated ash, beige and lavender angled bob is steeply angled to get lots of volume on thick hair. The sliced layers are perfect for shaping thick hair and taper down beautifully to sharp tips that add trendy, spiky texture.
The base is a silvery-ash blonde color, with hints of beige balayage accentuating the puffy curved back volume. And cool lavender on the contrasting sharp tips adds to this wonderful blend of curves and defined texture!
5. White-blonde center-part bob with blue balayage
White-blonde is such an eye-catching color that it looks best on a fairly simple style, like this straight bob. It's a color you can only achieve successfully on naturally blonde hair, as the amount of lightening chemicals needed to bleach darker hair would damage your hair's condition.
However, for this who can wear it, this subtle balayage of warmer beige and cooler lavender stripes adds lots of texture and interest. And I love to see 'natural' same-color roots, as a welcome change from darker ones. The center-part is a huge trend right now and those cute side wings will highlight your eye color beautifully!
6. High-fashion brunette bob with bangs & ash-blonde block sections
If you're into the latest, 'cut-out' and 'asymmetrical' fashion clothes, you really need a high-fashion hairdo to get the overal trendy image. And this symmetrically cut bob, with unusual blocks of cool blonde dividing up brunette hair is a fabulous choice!
Ash-blonde is the right degree of cool color to go well with the model's natural coffee brown hair color. So the effect isn't cute, but modern and quirky!
7. Bright yellow & peach crimped bob with bangs
Hmm – well no-one can accuse this haircut as having 'subtle' balayage! But I've included some brighter hair-color trends because they're just so gorgeous and fun! Not everyone can wear such eye-catching colors in their workplace, but for those who can – why not?
This trendy, young look combines cool yellow with soft, warm peach in a groovy, high-fashion combo of cool and warm colors. And they look absolutely fabulous and so individual! The lovely symmetrical bob has unusual loose, crimped waves and a full, straight-across fringe. Go for it!
8. Delicate blonde & golden beige balayaged straight bob
White and golden-blonde are unusual colors, as not everyone has natural hair that's light enough to go this pale. So you already have an eye-catching look, without needing to add decorative curls or waves. Instead, this simple bob with an off-center parting just needs added texture to show it's a trendy, contemporary look!
Half-waves are set mid-way down the hair and blunt-cut ends are carefully textured to create a lightly 'broken' bottom edge. And golden-blonde balayage breaks up and softens the white-blonde look that shows off blue eyes to perfection!
9. Golden-beige bob with bangs & fiery-orange border highlighting
After so much random highlighting, which is the art of balayage, 'border' highlights are a totally new look! And that means they are a youthful look, because it's usually the youngest fashion fans who are ready for a change to the styles their mothers wear!
This simple bob breaks all the recent 'rules' by being symmetrical, having a straight-across, full fringe and including 'curtain bangs' at the sides, too! But the totally new idea here is the fabulous border balayage that creates a super flattering face frame!
10. Mink-brown lowlights on a choppy straight-cut platinum bob
Platinum-blonde looks futuristic when applied to a choppy, straight bob at chin-length. Parting the hair to show an ear is the current alternative to pushing hair behind one ear, and it allows you to show off earrings on longer hairstyles.
But the main feature is the gorgeously soft, mink-brown lowlights, applied in random stripes. This is a great haircut and color for fine hair, as the blunt-cut tips add bulk at the tips. And the original stripey texture and color add interest, instead of volume!
11. Same length balayage bob with bangs – cute short haircuts for daily wear
Medium and fine hair types look great in a same-length bob, which also makes a popular easy-wear, everyday hairstyle. Instead of blunt-cut ends, the latest twist is to ask your stylist for heavily textured tips. And this adds a casual, uneven vibe to the tousled, bendy waves. But it's the gorgeous balayage tones that really bring this lovely new haircut to life! Soft beige tones in mid-blonde shades lighten brunette hair and those dusky pink side sections are totally now!
12. Retro chin-length bob with flicked tips – cute short haircuts for medium to thick hair
Here's another natural looking, easy-style short haircut that also has a modern, 'vintage' twist to it. The deep side parting is a flattering choice for round, heart, long and square face shapes. And your stylist will be able to tailor it to fit your face-shape perfectly. The casually styled side-swept bangs frame the eyebrows and eyes. And those cute pin-curls by the mouth accentuate pretty lips. Flicked out tips echo flipped-out styles popular in the 1960's, and add width to a narrow or pointed chin.
13. Big bold shaping on high-fashion ash-blonde cute short haircuts
The almost bouffant volume on this very sexy, blonde wavy bob accentuate the model's large eyes and full lips. The length is just below the chin, which suits lots of different face-shapes. And a deep side-part will flatter long, round and heart shaped faces. Adding swept-over height above the forehead helps lengthen a round face. And adding volume along the sides will widen a narrow face. So ask your stylist which is best to suit your face. The trendy, beige, platinum and ash-blonde balayage hair design is eye-catching and very sexy!
14. Everyday A-line brunette bob with fine balayage – cute short haircuts for thick hair
This popular haircut is the perfect way to control and show-off your thick hair texture. The stylist has cut the hair in 'sliced layers', which are vertically cut and expertly tapered to remove bulk at the ends. And this creates a sculpted, curved shape that falls back into place after washing. The side-part can be adjusted to flatter any face shape. And very fine blonde vertical highlighting adds texture – and blends in any gray hairs you'd like to cover!
15. Choppy blonde chin-length bob
Here's a super, chin-length bob with lots of lively personality! It can be achieved on all hair types, as even if your hair is fairly fine in texture, lightening it will thicken the hair strands and make your hair look denser. The long layers taper at the tips, but choppy texturing creates a trendy uneven texture. The dark roots switch to two main shades of blonde, one quite cool and the other a little warmer on the longer side. It's a lovely face-framing, asymmetric look with tousled texture creating a fabulous 3-D effect!
16. Metallic gold balayage on light-brown medium bob
This natural look bob has glamorous golden balayage framing the face with soft, blonde wings. So it's a very clever combination you can wear everyday, in casual half-up or pony-tails and lovely up-styles for special dates! You can achieve this style on medium and fine hair types that have a silky texture, to get lots of shiny light reflecting from the blonde balayage. And the tousled finish gives it the casual, windswept look so popular with 'off-duty' models.
17. Subtle pink balayage on brunette bob hairstyle
This popular asymmetrical bob haircut has been brought right up-to-the-minute with a touch of plum-pink hair color. So if you love this easy-wear style for every day, but just want to give it a modern spin, this blue-pink shade is a great choice for skin that has cool undertones. And this is also a great make-over haircut to get your longer hair into a contemporary look. Chin-length, angled bobs suit almost every face shape and are a youthful style that suits women of all ages!
18. Windswept short bob with bangs for thick brunette hair
Texture has taken over from curls and that's great news for those of us who used to struggle with rollers and curling tongs! This straight, short bob haircut has lots of attractive features, that have been 'cut in' by the stylist. And that means it's very easy to style after each wash. It's a long-layer, short haircut, with a cute spikey line along the nape. And there's lots of sharp, tapered movement in the side pieces worn to show the ear-lobe and a favorite ear-ring on one side. The wind-swept bangs, and cute flipped-out tip on the long side are totally up-to-date!
19. Ash-blonde blunt-cut chin-length bob
Blunt-cut bobs are a great way to add density to fine or medium hair textures. And if you also lighten your dark blonde/mousey hair color, you'll also thicken the individual hair strands. So this is a contemporary look that's suitable for most hair textures. Notice how the stylist has cut a concave shape into the tips of the long layers. This removes the bulk from thick hair creating a natural curved shaped that falls naturally. And ash-blonde with hints of pink toner is very trendy this season!
20. Ash-blonde & pink short pixie-cut with buzzed back and sides
This is actually a brunette, blonde and pink pixie haircut that combines several different trends into a super-cute new look! The back and sides have been buzz-cut for a shaved look, which is completely softened by the pretty pink/ash-blonde waves above. Flattering height has been added on top with wavy, defined texture for a young and flirty basin cut pixie. With pretty pearl earrings and subtle pink eye-shadow, this cut and color will really flatter brown eyes.
And remember that ash, blue, pink and plum shades are suitable for skin with cool undertones. If your skin has warm undertones, you look best with coral pink, copper, beige-blonde and golden tones.