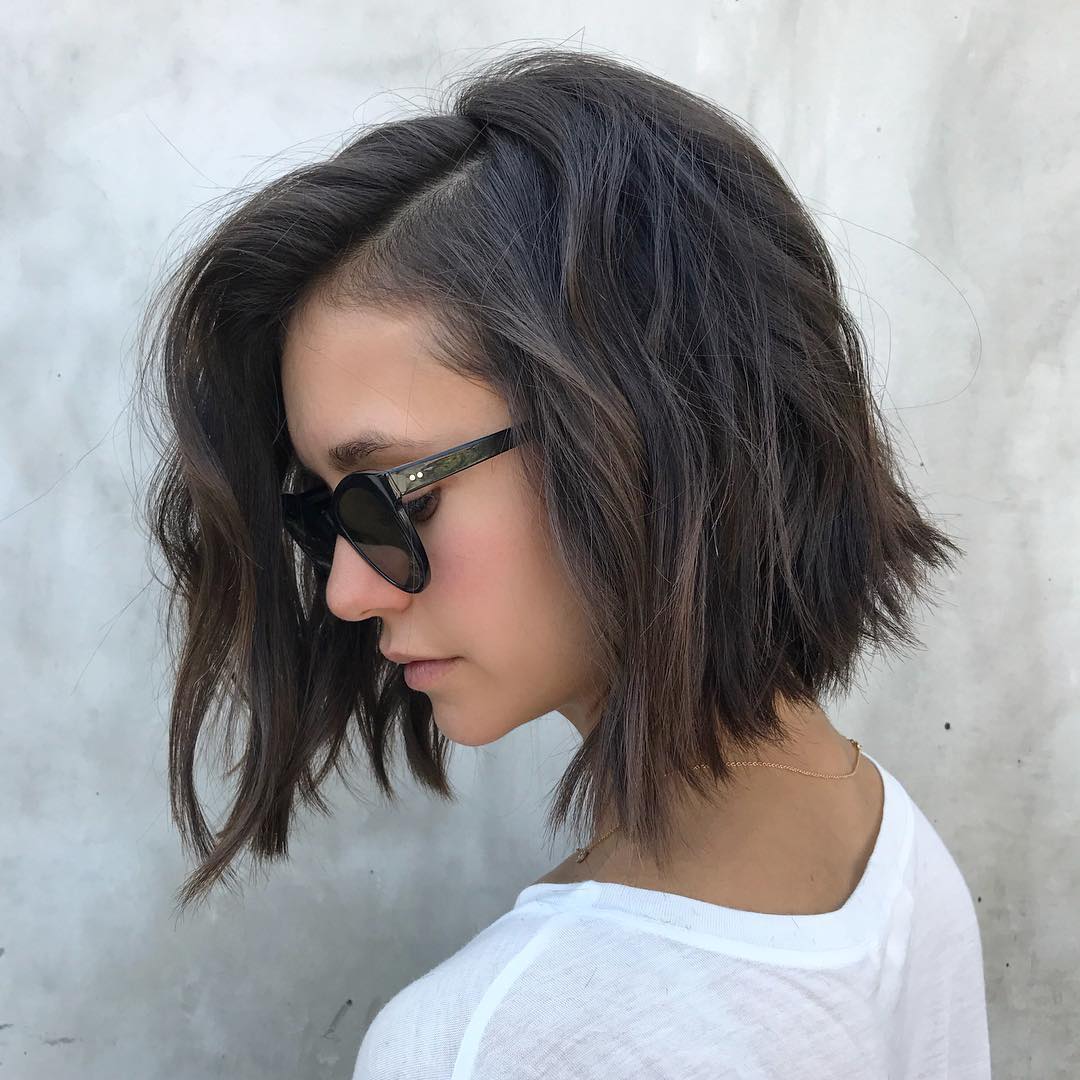 10 Low-Maintenance Short Bob Cuts for Thick Hair
When you have thick hair, it can be difficult to pull off short haircuts like bobs or pixies. Shorter styles tend to look heavy and bulky in thick hair, so a drastic chop is a risk few thick-haired women are willing to take.
However, there are short bob cuts that complement thick hair without requiring you to thin it. These ten modern, fashion-conscious styles are all lightweight, low-maintenance, short bob cuts that you can rock because of your thick hair rather than in spite of it.
Wispy Honey Blonde Chin-Length Bob
Wispy top layers keeps this classic chin-length bob from looking bulky without requiring any major thinning of your heavier bottom layers. The bob's bright honey blonde shade adds extra bounce and a lightweight finish to this style.
Styling this blunt bob is easy. Clip up your top layers and use a round brush to curl the heavier bottom layers of your hair under as you blow dry. If necessary, run a flat iron over your wispier top layers for a smoother, polished finish.
Textured Orange A-Line Bob for Short Hair
The stacked layers of this orange bob keep it lightweight and prevent bulkiness. The layers are cropped short at the nape of your neck in back and get longer in front to frame your face and add femininity to this stylish cut.
Using a round brush, blow dry the back of this bob to keep any shorter, unruly hairs from sticking up. Spray a lightweight texturizing spray through the rest of your hair and scrunch to add volume and a tousled finish.
Straight Mid-Length Bob
This mid-length bob falls between your chin and your shoulders to create a balanced style that doesn't look too heavy and complements almost any face shape.
Unless your hair is naturally straight, you'll need a heated styling tool to smooth and straighten this bob. Use a blow dryer or a flat iron to achieve the desired pin-straight, tucked-under finish of this style.
Beachy Bob with Balayage
The slight slant of this layered beach-y bob frames your face and creates a flowy swing that defies bulk. Subtle balayage adds interest and balance to this bob without disrupting its all-natural style.
To get the classic beachy look of this bob, use a flat iron or curling rod to create loose wavy curls. In lieu of hairspray, spritz a lightweight texturizing spray through your hair and scrunch to relax your curls into loose, natural-looking beach waves.
Wavy Bleached Bob, Balayage Short Haircut
This wavy bleached bob is an ultra-modern cut that adds sleek style and cheerful bounce to your look.
Create the subtle wavy curls of this bob with a fat curling rod. Focus on curling your hair at the middle of the shaft to add volume. Don't try to tame or tuck the ends of your curls. Leave them free and flippy to give this style a bouncy, lightweight finish.
Blunt Bob with Bangs
This blunt bob falls just below your chin in a modern style that always looks polished. The graduated length of its bangs naturally complement your facial features and prevent your fringe from looking too heavy.
Styling the short bangs of this bob is quick and easy with a blow dryer and a round brush. Break up the bluntness of this bob by creating subtle curls that add bounce and volume.
Curly Textured Lob, Office Hairstyles for Short Hair
This lob—long bob—falls just above your shoulders to prevent heavy layers from disrupting the natural shape of your face. Its tousled, textured curls give this bob an effortlessly stylish, woke-up-like-this finish.
Use a thin curling rod to create loose ringlet curls in your hair. Leave the bottom layers of your hair uncurled for a more natural look. Finish styling with a texturizing spray instead of traditional hairspray for added sexy tousled texture.
Flippy Bleached Bob with Side Bangs
This mid-length bob's flippy ends and bleached color give it a flirty, cheerful look. Its shorter layers in front create stylish side bangs that add interest and balance to the lightweight cut.
You can style this flippy bob in minutes. Just use a blow dryer and round brush to flip out your ends and tame your bangs for a bouncy, polished finish.
Straight A-Line Bob with Blunt Bangs
This pin-straight A-line bob is the picture of ultra-modern polish and professionalism. Its steep slant and blunt bangs give it a balanced, streamlined finish and break up any bulky layers.
Part your hair straight down the middle and use a flat iron to achieve the pin-straight, tucked-under style of this bob. Finish styling by spraying your hair with a smoothing serum for a shiny, sleek finish.
Messy A-Line Bob with Asymmetrical Part
The slight slant of this mid-length, messy-on-purpose bob makes styling easy and keeps bulkiness at bay. An asymmetrical part breaks up heavy layers and gives this style a modern finish.
Create the intentionally tousled style of this bob by scrunching a liberal amount of lightweight texturizing spray through your hair in multiple layers. If your hair is naturally wavy, you can leave it completely natural. If necessary, use a flat iron to tame and smooth your ends before you add the texturizing spray.