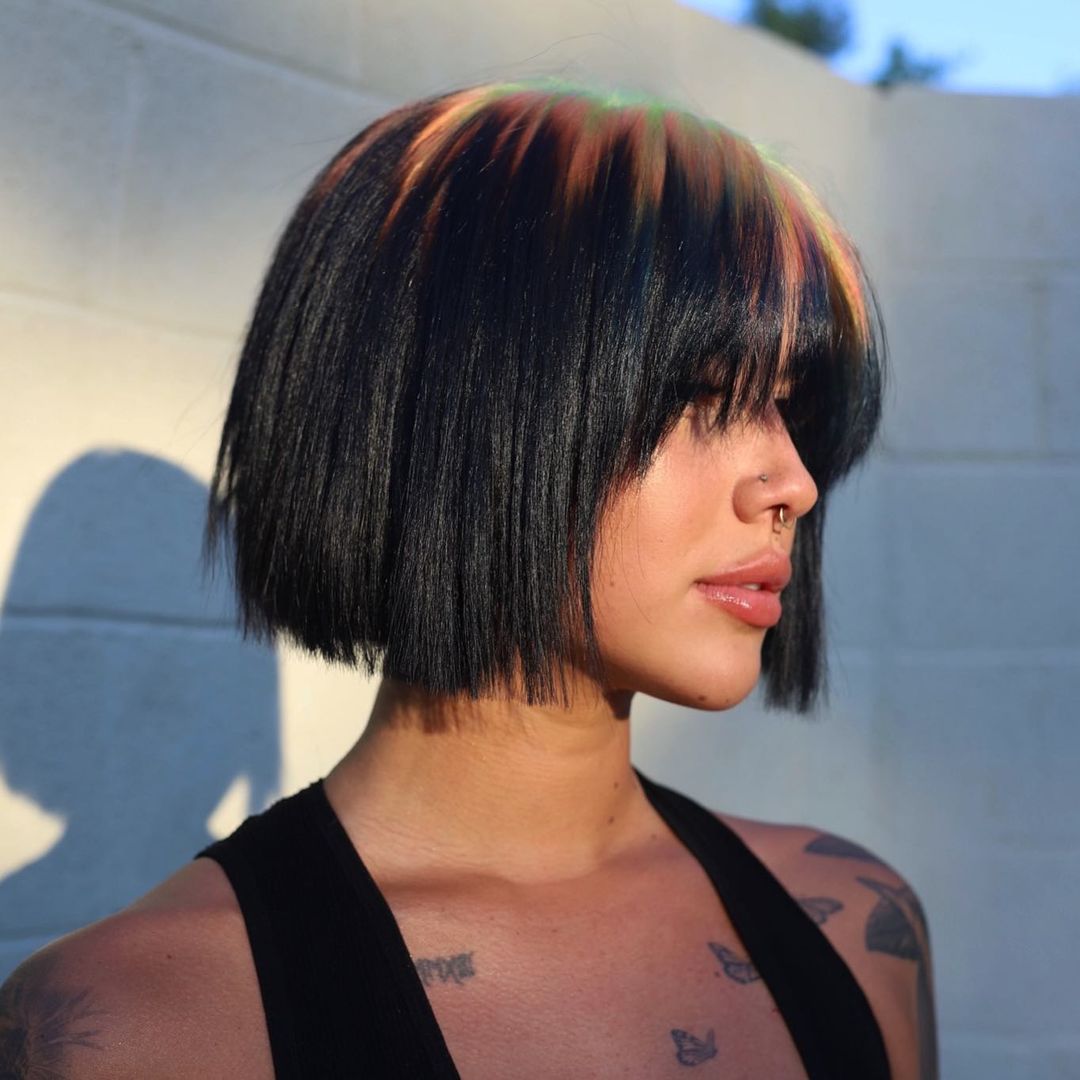 20 Stylish Simple Short Haircuts for Trend-Setting Ladies
If you're looking for the very latest in hair fashion, you'll always find it in the new simple short hair cuts for ladies! Short hair is where talented hairstyle designer do their most experimental looks. And not only experimental styles, but also the most flattering, easy-care styles, too! So come on in and see how you can update and improve your beauty look with a new, simple short hair cut!
These 20 stylish simple short haircuts for ladies are full of fresh styles and hair color designs! And that's what we want for each new season, isn't it? Today's gallery includes a wide range of haircuts with new cutting techniques, like feathered layers, and uneven step layers. And there are some gorgeous, new highlighting patterns for you to try.
So if you are looking for a super, new, makeover hairstyle or just need to update your bob or pixie haircut, read on and feast your eyes!
1. Smooth uneven-lengths medium brunette bob – stylish simple short haircuts for ladies
This is a fabulous laid-back look that combines smoothly styled curves with windswept asymmetry! And it's perfect for making the best of thick hair.
The shorter side is cut in long layers with shaping at the tips to make the lovely, natural curve that hugs the jawline. And on the longer side, the hair drapes seductively down over the eye and finishes in contrasting, wispy, flipped-out tips!
2. Trendy long pixie with curly long bangs – stylish simple short haircuts for ladies
This is a jaunty look with extra long bangs cascading down over the eyes in cute curls. It's a great haircut for fine hair, as the back and sides are cut in short layers that are easy-care.
And the side-part means you can sweep your hair across the top for face-flattering volume and density. Loose wavy curls add volume effortlessly and create a fun vibe. And gorgeous beige-blonde balayage highlights the top and softens the line beautifully!
3. New asymmetric full bangs on neutral blonde – stylish simple short haircuts for ladies
Here's another great choice for showing off fine hair. It's long enough to swish about, but short enough to maintain the natural thickness of fine hair types. This neutral-blonde color is trendy and eye-catching for this season.
And the wispy-tipped, medium-length bob is an easy-care fashion look. These gorgeous, slanted bangs add a new look to a cute, symmetrical bob haircut – moving down from eye-lash length to create peek-a-boo asymmetry that emphasizes the eyes perfectly!
4. Messy choppy bob with balayage – stylish simple short haircuts for ladies
This chin-length bob is given lots of modern edge by having choppy, blunt-cut ends. This haircut is good for making fine hair appear thicker, as the hair is kept in long layers which are the same length all around the head.
Balayage in darker hair colors adds loads of extra texture, as it creates attractive, light reflecting sections. And casual waves around the style give this bob extra volume and attractive movement!
5. Oat-blonde curvy bob with golden-beige roots
This gorgeous light beige blonde shade is truly trendy and eye-catching! The golden-beige roots are a great way of softening a white-blonde hair-color design.
And the white and beige balayage also add a more natural look to this daring hair color. The back is cut in a modern curve, that hugs the nape. And feathered layers create lovely texture on the top layers!
6. Apricot & strawberry-blonde bob with feathered layers for thick hair
This voluminous short bob has a fantastic profile owing to the gorgeously curved back section! And the unusual light-copper and neutral-beige balayage creates a very special look.
I especially like the fact that the roots are just a little darker, keeping the color contrast soft and feminine. And showing this is one of the latest updates for bobs are the attractive feathered layers decorating the surface!
7. Straight chin-length bob with striped copper-blonde highlights
Here's another easy-care, high-fashion haircut that is totally up-to-the-minute! The bob has a lightly graduated A-line moving down to the front, with textured tips adding shape at the ends.
And the centre-part drapes in modern curtain lengths over the face. But the outstanding feature is the expert color transition from dark-copper roots down to light-copper stripes ending with neutral-blonde framing the face!
8. Black choppy bob with bangs & orange/green starburst highlight on top
This is a fabulous 'alternative scene' bob haircut that truly at the 'cutting-edge' of modern hair fashion! The thick hair is cut in avant-garde, uneven lengths with blunt-cut, choppy tips. And the full bangs are long and tapered down at the sides to soften the line.
But the orange and green starburst balayage on top is a wonderfully, eye-catching new look! This is a completely new highlighting and cutting style for those who love to set the trends!
9. Asymmetric angled bob with new beige & brown color combo
Every angled bob can have its own personality these days, with new and modern twists that keep the look fresh and fashionable. And this beautifully cut bob has cute, wispy tips that break the smooth line with a fluffy texture.
But that's not all, the lovely asymmetrical hair color design frames the face with wavy beige-blonde strands that brighten up natural brunette hair perfectly!
10. Chic short hairstyle with gray roots under oat-blonde feathered layers
Feathered layers are the latest trend in cutting techniques and they create lots of fabulous texture in defined strands! And along with darker gray roots, they also add the look of thicker hair when contrasted with ash-blonde in the rest of the hair.
This high-fashion look has a modern V-shaped nape and lighter, side-swept strands softening the line around the face. It's a chic, tousled look that flatters a wide range of face shapes!
11. Curly top with short straight back & sides – simple short hair cuts for ladies
This classic short haircut comes back into fashion with extreme regularity. And that's because it's a glamorous and easy-care look! If your hair isn't naturally curly, just get a curly, half-head perm, which works well with this look. There's lots of height and volume here, with a feminine half-head faux-hawk vibe!
12. Clean cut asymmetrical pixie with side-swept long fringe – simple short hair cuts for ladies
And this is another classic cut, brought right up to date with fabulous, fine copper highlights. You can see how much more interest and personality you can get on simple brunette short cuts with highlights. I love how the highlights accentuate movement in the lovely side-swept fringe and add texture. Light copper-beige is highly fashionable shade of copper-blonde this season. And it lightens hair in a very attractive, natural way!
13. All-over edgy white-blonde pixie cut – simple short hair cuts for ladies
With a buzzed short back and sides, this pixie haircut is easy to style and maintain. All you need to style is the longer top, which is styled forwards to create a long, full fringe. White-blonde suits women with cool or neutral undertones to their skin. And although this is a young look on this youthful model, it's a style that also looks trendy and attractive on elders with naturally white hair, if you like this cut, here is another short pixie haircut you may love.
14. Forward styled ash-blonde bowl-cut – simple short hair cuts for ladies
And now for the latest update on the traditional bowl-cut, which the colorist has brought right up-to-the-minute with a trendy color. This cool ash-blonde shade is good for skin with cool or neutral undertones. And styled forwards with full bangs to eye-lash length creates a super, contemporary twist. With buzzed sides and back, and simple styling this chic and playful look is actually great for women of all ages!
15. Bland blonde long to short makeover to edgy asymmetric bob with black/white color
Change your image from bland to edgy and gain a new, confident personality, too! This fabulous makeover has changed the model from a cute girl to a woman who knows what she wants from life. The deep side-part is more interesting and shows off more of her face, rather than hiding it. And the dark brown-black color with dual balayage is dramatic and daring!
16. Chic beige-gray blonde asymmetrical geometric bob
This chic, geometrical bob has changed the model's naturally dark neutral hair to blonde in a very clever way. Instead of going for an everyday golden blonde shade, this unusual medium gray makes a fabulous style statement! There's a slight undercut on the shorter side of this asymmetrical bob, which creates a cute, brunette side point.
17. Silver & purple blonde angled bob hairstyle
However, if you love the asymmetric short haircut, but prefer a little more color – try this pretty silver-purple blonde! The top has gorgeous purple balayage, which transitions beautifully down to ash-blonde with eye-catching, silver balayage. The slanted shape creates a lovely sounded back and fabulous profile.
18. Short black bob with tousled finish for thick hair
If you think your hair is too dark for blonde balayage, look more closely at this lovely black short bob haircut. The clever colorist has placed a few very fine, white-blonde balayage highlights on the side and around the crown. And the purpose of this technique is to add the illusion of more shine to hair, because it looks as if light is being reflected off the hair! Clever stuff, eh!
19. Straight short bob with even ends and center part
This is a lovely minimilist style that frames a pretty face perfectly. Oval faces don't need specially shaped haircuts to balance them out, as oval is the most attractive face shape. So you can stick with a short, simple haircut, with a center part and know you'll always look great. This lovely warm, light brown shade has subtle, vertical blonde highlights to add movement and texture!
20. Messy white-blonde asymmetric bob
And here's a super, glamorous black and white trendy short haircut for making an impression wherever you go! The white-blonde has a high fashion ash tone to it, with dark gray short roots and classy dove-gray balayage. So unlike the 'street version' of white blonde with black roots, this is a softer, more sophisticated style!
So whether you're looking for an easy-care style for a professional office, a super-trendy Boho cut and color or a chic, modern cut for every-day wear, you've got lots to choose from for this new season! So get on the phone to your salon right now and book yourself a fresh new look!