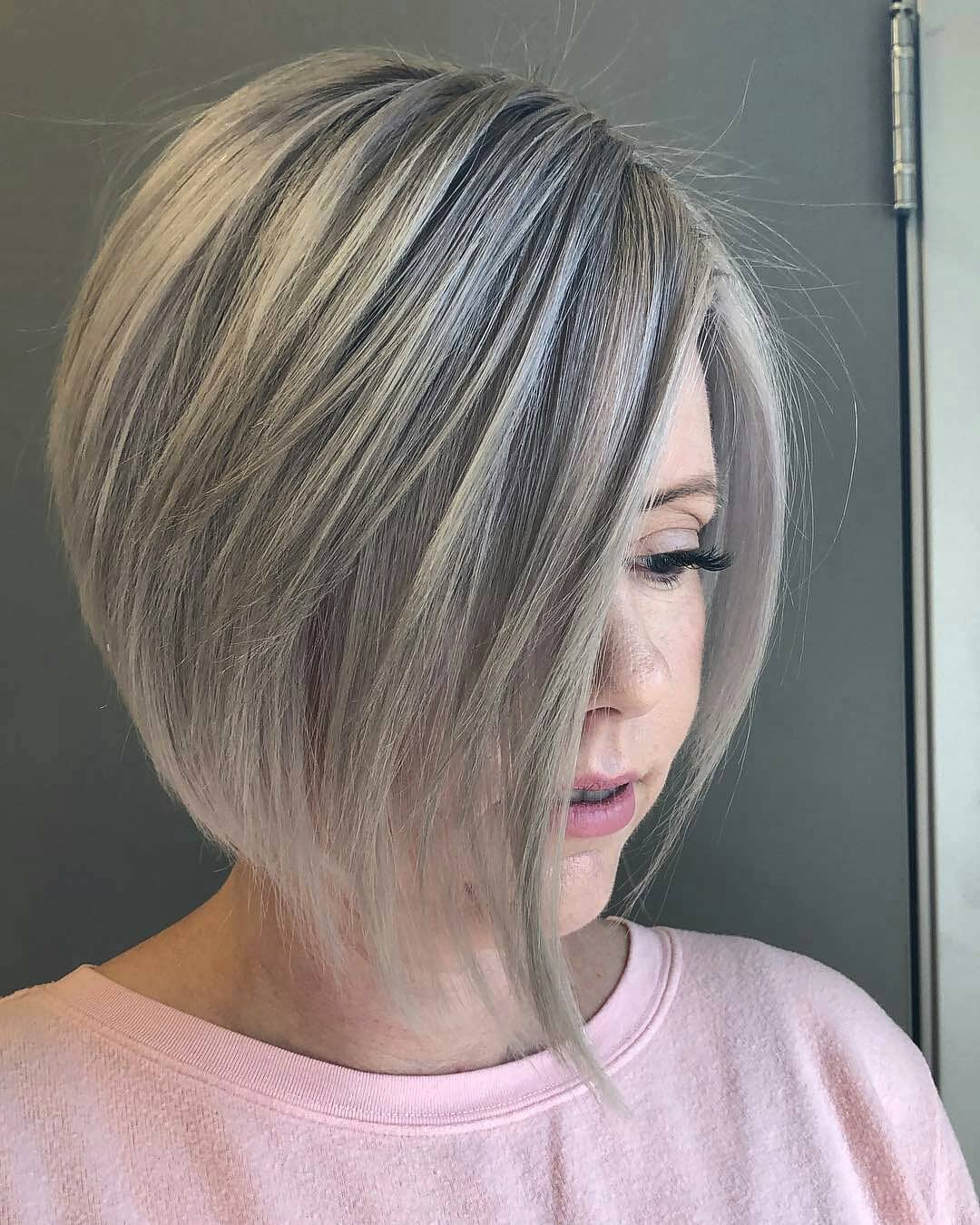 10 Simple Short Straight Bob Haircuts
The latest hair-colors and cute styling textures are great for updating simple short straight bob haircuts. So if you love to be the first with a trendy, new look you must see this fabulous new gallery! From gray-blondes to mid-blonde and black with purple sheen, check-out the best new cut and color ideas for short bob haircuts now!
Gray-beige blonde bob with blue balayage – simple short straight bob haircuts
Freshen up your look with a sympathetic color makeover that blends in any gray hairs and gives you a totally trendy image! The inverted bob is a chic haircut that's easy to style and will stay in place all through the day. This contemporary version uses lots of subtle color shifts to create 3-D depth and lots of interesting texture.
Purple haze – simple short straight bob haircuts for thick brunette hair
Charcoal black hair is perfect for warm plum and purple-blue sheen for a sophisticated twist. You need thick hair for this bob haircut, which has a fashionably rounded back given extra height from teasing/back-combing. Instead of smoothing the top layer over the back-combing, the stylist has left the finish more casual and this adds texture and movement, too!
Triple gold-blonde medium bob – simple short straight bob haircuts
It's amazing how much extra style you get with this carefully blended multi-blonde bob haircut. The lighter blonde highlights contrast with the darker shades to make your hair look a lot thicker. And the defined swept-back strands add 3-D structure for trendy movement and texture. The rounded back has been styled to look lightly tousled, adding a relaxed vibe to a chic look!
Natural mid-blonde chunky bob – simple short straight bob haircuts
This contemporary version of the medium bob has the chunky look instead of a steeply layered, stacked-back. It creates a fabulously curved profile around the back! And this contrasts with the flatter sides for a chic image. The gentle beige-gold balayage livens up 'mousey' hair in a very natural way. And a lighter gold, side-swept fringe makes a very flattering face-frame!
Warm plum highlights on puffy brunette bob
Adding plum color to black or coffee-brown hair can really lift your glamor profile! This edgy, steep inverted bob for brunette hair is straight out of the vintage 1960's hairstyles book and hasn't lost any of its sassy, high-fashion impact. And swept-back surface strands add a totally modern twist! This style is best on thick hair.
Subtle balayage on brunette asymmetric bob
This glamorous asymmetric bob creates a flattering frame for a rounded forehead via a swept-over front quiff. And you can get added texture by adding subtle ash-brown-blonde balayage in vertical highlights. This style is great for adding length to a round face, reaching down to the collar-bone and breaking the round-symmetry with uneven sides.
Apricot-gold with silver balayage on edgy short haircut
This new look shows how to sculpt thick hair into a very strong silhouette, balancing a rounded bouffant back with straight sides perfectly. The base color is a rich, golden apricot shade, which is beautifully highlighted with pale silvery-blonde. Choppy tips finish off this super-trendy bob haircut for fashion fans of any age!
Brunette bob with gray & beige highlights
We love the subtle stripes in this cool blue-gray and beige balayage design. Longer layers at the sides have been expertly styled to create a swept-back pattern finishing in a cute shape at the nape. This style is great for adding lots of fashion style to thick hair through sliced layers and trendy, cool hair-colors.
Pewter-blonde bob with horizontal band highlighting
This classic bob turns dark gray hair into a trendy, fashionable look. The ash-blonde ombré reflects lots of light to emphasise the gentle curve of the sides and back. And instead of styling it with a totally smooth surface, the stylist has left separated strands to show the 3-D effect of dark/light hair-color. The disconnected layer completes an edgy, chic look!
Mirror-shine classic black bob with centre part
Mirror-shine hair conditioning treatment is a fabulous way to reflect more light off dark brunette hair. And this classic long, inverted bob also has a few gray-blonde highlights in there to add even more 'shine'. So whether you have natural gray strands or have to pay for them, they add extra texture and highlight the lovely curve of this edgy, steep long bob with spiky tips!
As you can see, you can have a simple short straight bob to flatter any face-shape and bring you lots of high-fashion, beauty impact – without needing complicated daily styling!