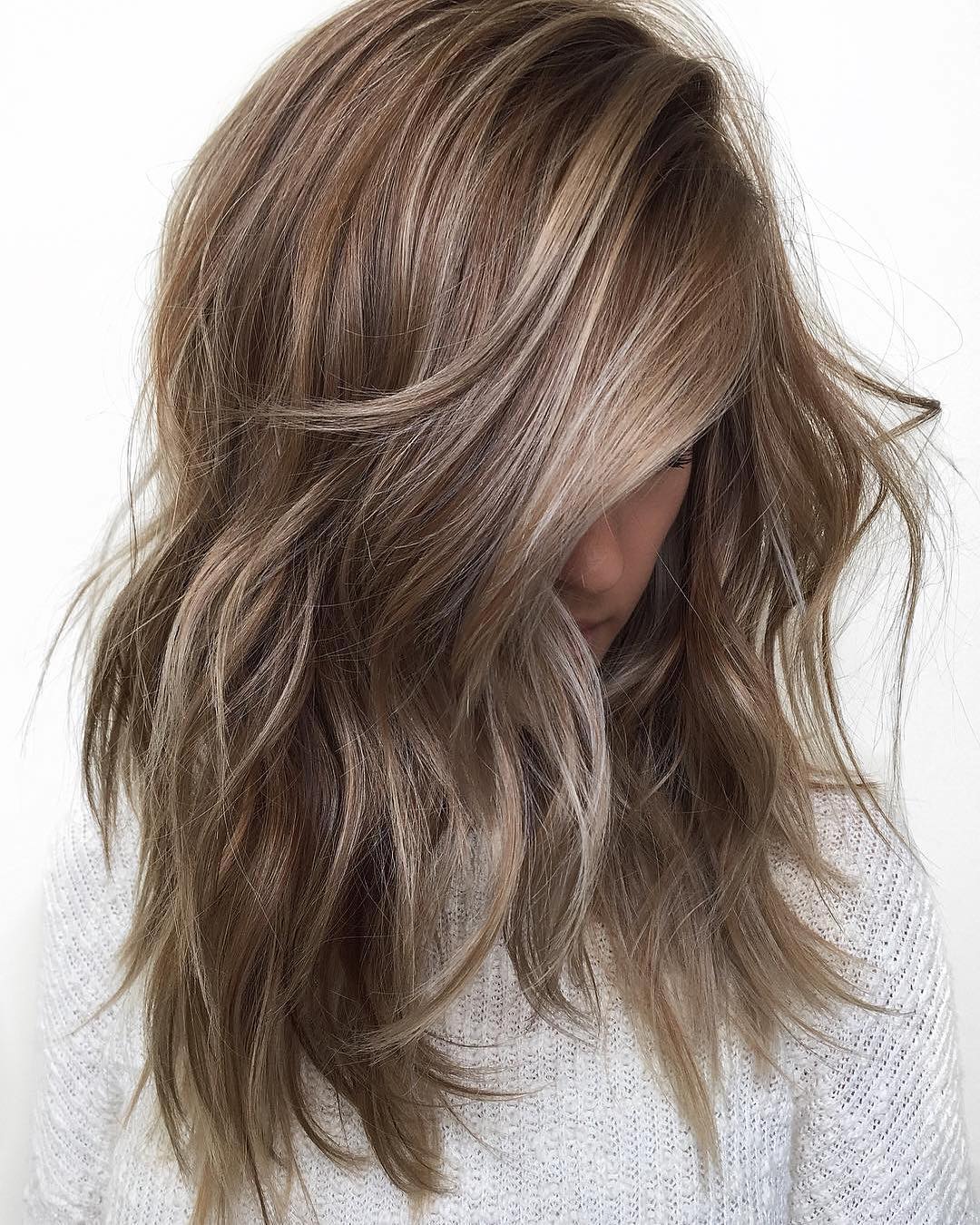 10 Medium Length Hair Color Heaven – Beige – Brown – Blonde & Gray Blends
Whether you're after a new hair color for yourself, or checking the latest trends as a professional, this is a wonderful hair-color, master-class!  Our new gallery of medium length hair color ideas will update you with all the latest colors and techniques.  This year's colors are soft and flattering, with lots of careful blending achieved with shades not far from the base.  And if that sounds simple enough to you, believe me, it's not!  With today's colorists using 4 – 6 different tones, plus toners, there's a lot of complicated technique here!
Softly blended beiges medium length hair color design
This gorgeous color design adds so much to medium length hair.  Colors have been selected from the same color range, and at least four light and dark shades have been expertly blended.  You get a more natural finish when colors are within a tone or two of each other, which suits a casually tousled hairstyle.  The sophisticated technique avoids regular vertical streaks, in favor of balayage in an artistic design.  Shades include ash-brown, medium-ash-brown, cool beige, ash-blonde and caramel, so you need an experienced colorist for this style.  Extra highlighting in the long, swept-over front makes a flattering frame for the face in this expensive-looking bronde, shag-cut!
Bright white ombré on coffee – eye-catching medium length hair color
This eye-catching medium length hair color uses bright, white-blonde to create a fabulous color-contrast!  As it's only layered towards the ends, you don't lose any volume, so it's a haircut suitable for medium – fine hair. There's attractive shaping in hair cut shorter around the face and neck, dipping to a graduated U-shape at the back.  The tips are heavily textured to create a ragged-edge look, contrasting with the smooth, straight styling.  And there's a hint of warmth in the warm-brown band fading to a white-blonde reverse ombré!
High-fashion ash-blonde bob – medium length hair color
If your hair is naturally fairly light, and you have blue or green eyes, this white/ash-blonde hair color is for you!  Although it's a brilliant white-blonde, there are plenty of balayage touches that soften the color.  The roots are dove-gray, and there are lovely pearlized beige-blonde shades in the blend, too.  Pearlized colors have a gleaming finish that makes pale blonde shades gentler and more flattering against your skin.  And to make the colors match this model's coloring perfectly, there are hints of pink toner, too.  It's a wonderful, wavy angled bob that's all ready to make an 'entrance' at any special occasion!
Dove-gray angled bob with purple toner – medium length hair color ideas
The popular trend for ash and gray hair colors has really shaken up people's response to gray hair!  It's no longer something we have to hide, fearing its 'ageing' effect, but a high-fashion option for all ages.  This is a great example of blended grays, with a little purple and violet toner adding warmth.  The medium length angled bob is suitable for most hair types and very trendy this season.  Gentle waves add extra volume to fine hair and the blend of grays, from ash-white to graphite-gray roots, create fashionable 3-dimensional density!
Shaggy medium bob & copper/blonde ombré for thick hair
This edgy, razor-cut style is a high-fashion look that's perfect for getting the best out of thick hair!  Long layers are thinned out and textured at the tips, creating a shaggy, ragged vibe that's casual and trendy.  Brunette roots gradually become warm copper balayage, before turning sun-bleached blonde at the tips.  The sides and back ends are ash-brown, so you appear to have naturally sun-bleached hair around the front.  But this is an expert color technique which creates a warm band of color between the roots and the tips.  It's a fabulous way to add tons of style to a simple, straight hairstyle!
Flattering beige-brown update for brunette medium haircuts
No wonder this hair-color expert can't help showing-off her handiwork in an exciting, new color-design!  Warm, medium-beige is such a great way to add a lighter, softer look to dark, coffee-brown hair.  It's also a fabulous hair-color option for updating dark-blonde/mousey-brown hair, instead of boring blonde streaks!  This medium hairstyle is cut in long layers, retaining the natural volume.  Shaping is added at the tips which are textured and cleverly highlighted/lowlighted to look thicker.
Fashionable gray to ash-white medium bob on fine hair
Want a simple, easy-care haircut for medium to fine hair?  Well, here it is!  This no-nonsense bob can be cut to the same-length, or be graduated down to the front.  Long layers help fine and medium hair types look thicker.  And the choppy look of the ends, which are also heavily textured for a shaggy vibe, adds trendy 'edge' to this fashionable style.  Gray roots are gradually lightened to cool, ash-blonde ombré.  And this model has also chosen a hair color that harmonizes well with the deep-blue and red in her shoulder tattoos!
Shaggy medium haircut in light-gray & ash-blonde
Here's a great way to go 'blonde', without worrying about your hair having a harsh or 'brassy', yellow tone.  It's a youthful medium haircut, cut into medium – long layers, so it's easier to get a messy finish.  There's definitely a hint of glamor in the loose wave pattern, but the heavily textured tips are edgy and ragged.  The windswept styling is a great way to add volume to fine or medium hair.  And super-trendy graphite-gray roots gradually lighten to cool ash-blonde, balayage highlights and ombré.
Blended brown & gray taupe with pink & gold tones
What a fabulously subtle blending job this is!  It's difficult to say whether it's brown or gray, so I reckon the best description is 'taupe'.  'Taupe', is just the French word for, 'mole', (if you've ever wondered).  And as very few of us has ever seen a mole, they are supposed to have brown-gray fur.  Anyway, it's a hot, new hair-color this season for anyone with dark-blonde, light-brown or mousey-brown hair.  The effect is slightly 'grunge', for those who love a grungy fashion style.  But like many color designs this year, toners have been added to warm-up and highlight the hair in an exciting new way!  And on an easy-care, long bob this super blend of brown, gray, gold and purple brings the whole look to life!
Spectacular white ombré on brunette long tousled waves
And finally, here's a vibrant, cut and color that's so full of texture, color and movement it almost bursts off the page and starts dancing in front of you!  I have cheated a little bit, by including a long hairstyle in my gallery of medium haircut hair color ideas.  But this fantastic brunette, copper brown to beige and white-blonde ombré would work just as well on a medium-length style.  The graduation and balayage work is outstanding and a great hair-color inspiration to end with!